Burnett dazzles again in proclaimed final season
Veteran righty acknowledges that adjustments have improved his results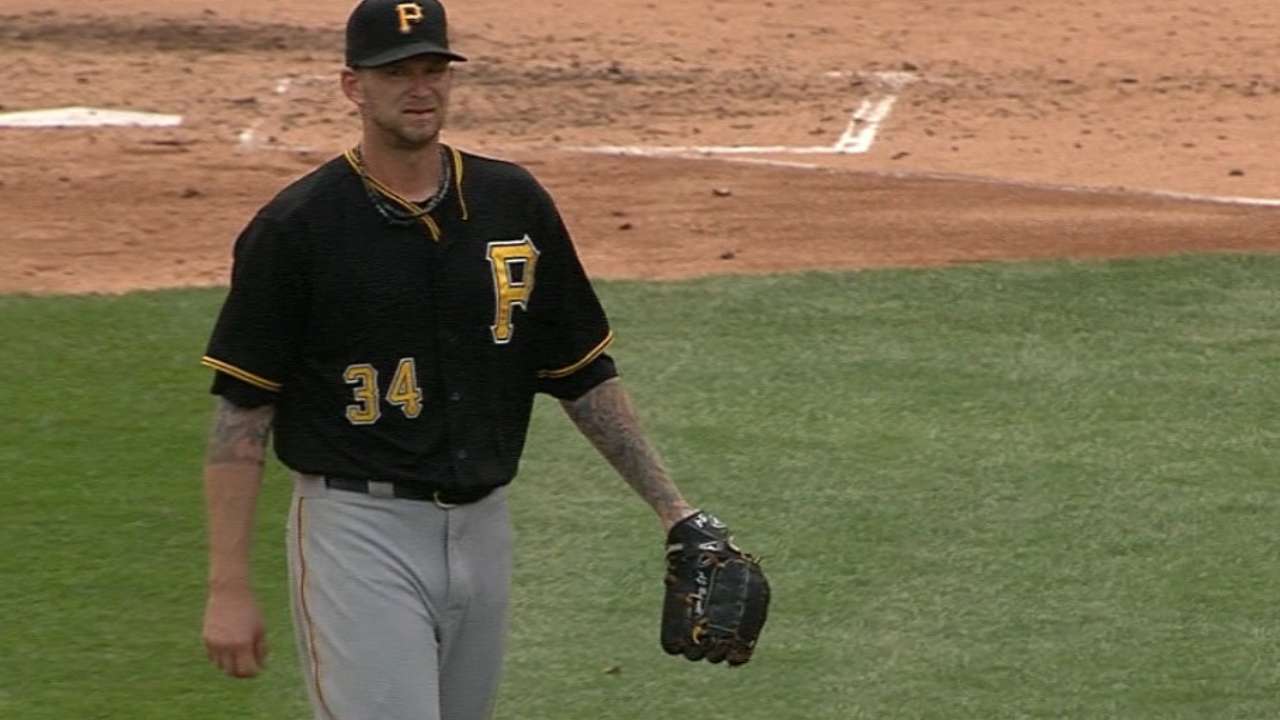 CHICAGO -- Unlike Shelby Miller 1,200 miles away, A.J. Burnett didn't pose a no-hit threat. He gave up a knock to his second hitter of the game. But 24 batters later, the Cubs had only two other hits, and Burnett's ERA (1.38) was a tick behind Miller's (1.33) as the National League's lowest.
How's that for a farewell tour? Burnett didn't want people to make a big deal of what he proclaimed his final season. But he's turning it into a very big deal himself.
Burnett made his eighth start of the season in the Pirates' 3-0 sweep-averting victory Sunday. He has yet to allow more than two runs in any of them, unprecedented in Buccos history.
"That's legit," Josh Harrison nodded enthusiastically. "Nothing A.J. does amazes us, because we know what he can do and what he does."
As Burnett continued his flight, he ended the Pirates' plight.
"Just what we need," manager Clint Hurdle said after Burnett took 93-mph fastballs and dive-below-the-knees curves to the Bucs' four-game losing skid. "He pitched with a will to win. He competed very, very well."
The manager punctuated that last remark with a chortle, as if to say, 'Hey, how's that for an understatement?"
Burnett has acknowledged what fuels the absolutely best pitching he has ever done. And it's definitely not high-octane.
"Just trying to keep the ball down in the zone, not get away from my game no matter what they're trying to do," Burnett said. "I'm still going to get my strikeouts when I need them, but not trying to strike everybody out."
As he did for most of his career. At 38, as he has often noted, he had to change. Right now, that change is about on a par with Babe Ruth's change from pitcher to hitter.
"He has really settled in on just making the next good pitch," Hurdle said. "No diversion, no panic, no urgency. [The Cubs'] lineup has been stringing out counts -- we've seen it all weekend -- and they did a little bit of the same to him.
"He stayed on it, kept mixing it up. Kept changing angles on the curve. Most importantly, he got outs when he needed to."
The biggest ended the fourth in what still was a scoreless game. Walks of Anthony Rizzo and Miguel Montero around Starlin Castro's single loaded the bases with one out.
Using that focus to which his manager alluded, Burnett threw three called strikes past Jorge Soler, then retired Chris Coghlan on an uncomplicated fly.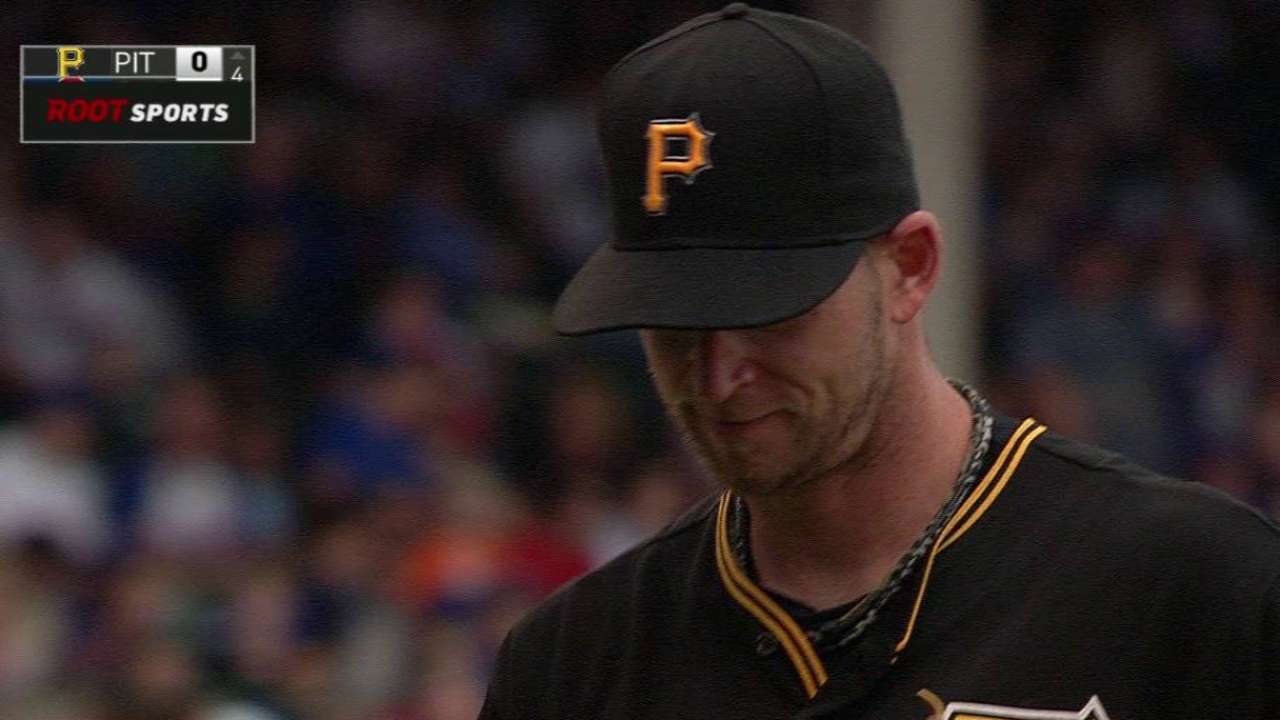 "Trusting your stuff, and your defense," Burnett said with a light shrug. "Just trying to execute one pitch at a time and not worry about how the last pitch turned out."
"At this point in his career," Hurdle said, "he's more concerned with the process than with the result -- and the results are showing up."
Tom Singer is a reporter for MLB.com and writes an MLBlog Change for a Nickel. He can also be found on Twitter @Tom_Singer and on his podcast. This story was not subject to the approval of Major League Baseball or its clubs.