McGee dominant in long-awaited return to hill
Reliever strikes out two in 2015 debut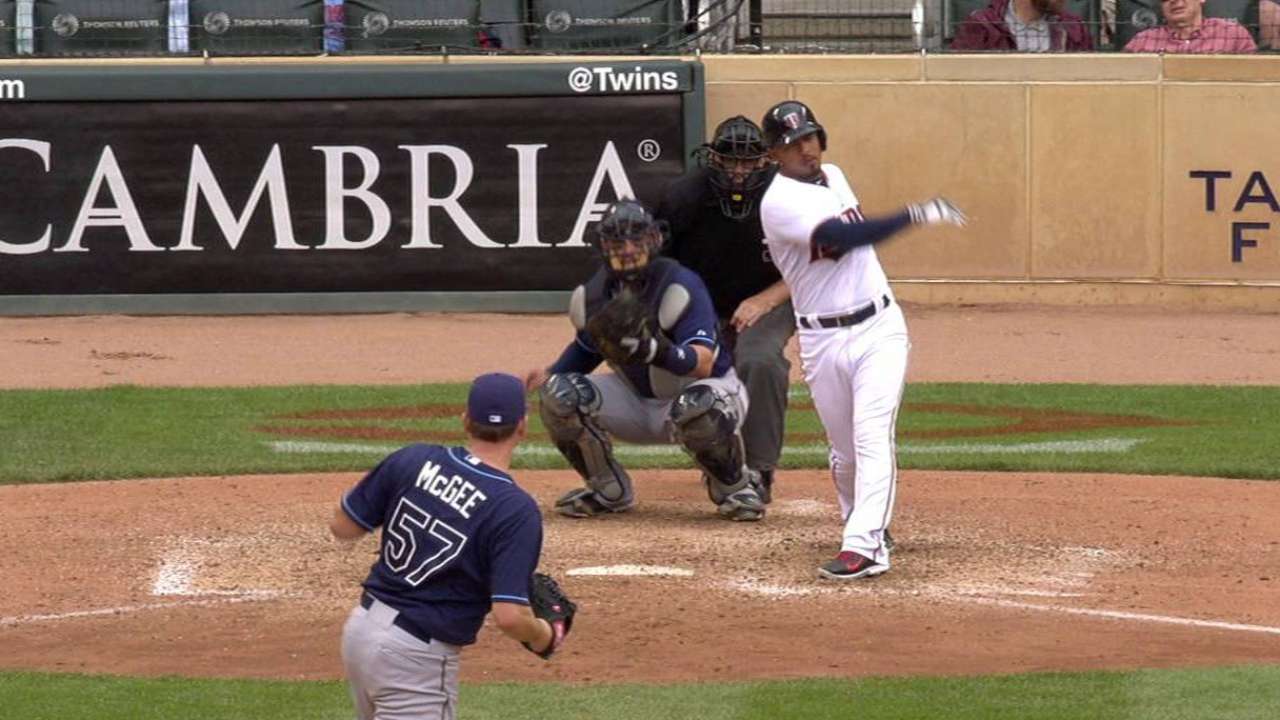 MINNEAPOLIS -- If there was a prettier sight than the scoreboard for Rays fans Sunday, seeing Jake McGee back on the bump had to be it.
"It felt good to get out there," McGee said. " ... It was good to get out there. Feel good, throw strikes and get ahead of guys."
The hard-throwing left-hander pitched the seventh inning of the Rays' 11-3 victory over the Twins, marking McGee's first appearance in a Major League game since Sept. 27 against the Indians.
"That was exciting," Rays manager Kevin Cash said. "Ideally, that's the kind of game we'd like to get him in in his first appearance back. So it worked out well."
McGee had "loose bodies" removed from his left elbow in a December surgery that delayed the start of his season.
McGee led the team in saves in 2014 with 19, but Cash wanted to ease McGee back into the fray. A seventh-inning appearance with the Rays holding an 8-1 lead afforded the perfect opportunity for McGee to reintroduce himself to Major League hitters.
McGee dominated from the beginning, getting ahead of the first batter he faced, Trevor Plouffe. He finished him off with a 94-mph fastball that Plouffe swung at for strike three.
Eduardo Escobar then struck out swinging at a 95-mph fastball before McGee retired Chris Herrmann on a fly ball to left.
McGee threw 14 pitches, of which nine were strikes. He also threw two curves, which is unusual for the southpaw who lives almost exclusively with his fastball.
"I figured I wanted to mix in a few of them," McGee said. "My location was pretty good today so even if I missed with a curveball I could come back with a fastball at the right location."
Going forward, McGee hopes to "try and build off" of Sunday's outing.
"My biggest thing is [to] get ahead of guys and throw strikes, and good things will happen more than likely," McGee said.
Bill Chastain is a reporter for MLB.com. This story was not subject to the approval of Major League Baseball or its clubs.