Rays get welcome offensive outburst in big 6th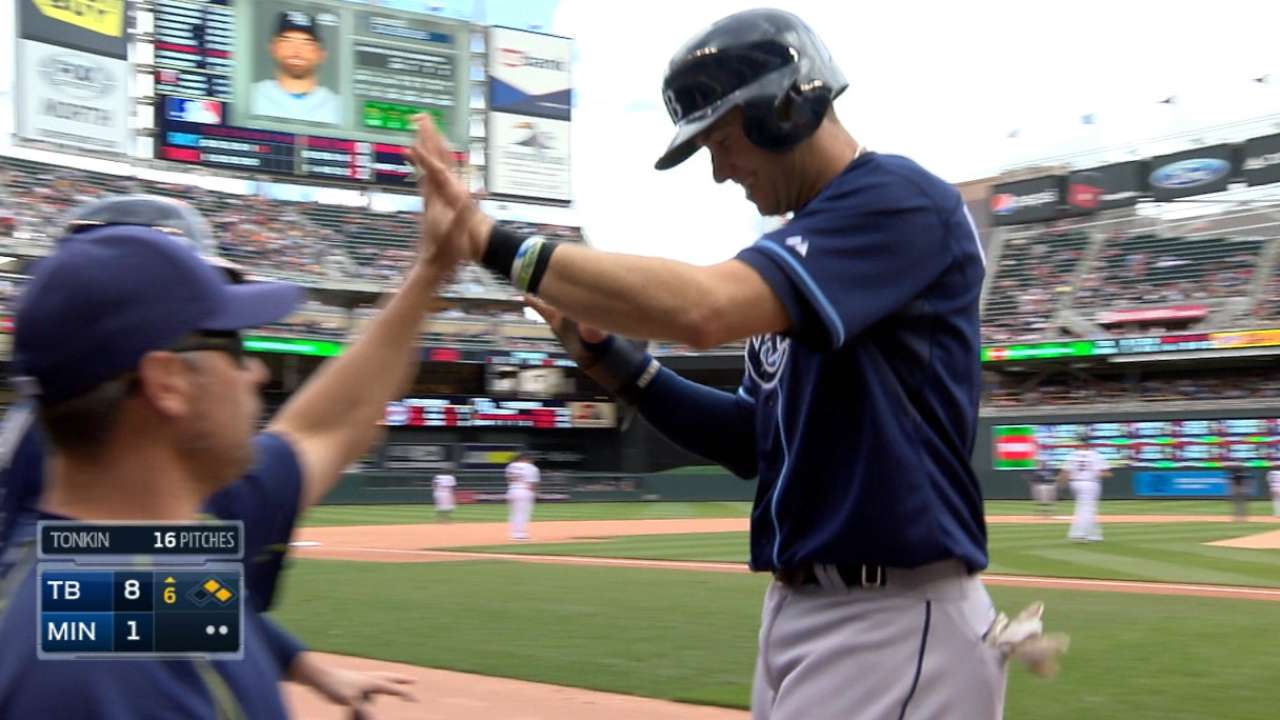 MINNEAPOLIS -- Pitching and defense is all the Rays' offense ever hears when there's talk about the team.
Sunday afternoon at Target Field the Rays' offense became part of the conversation, showing what it's capable of doing in a five-run sixth inning that salted away the 11-3 win over the Twins.
"It's really nice to see when you have a lead and you're able to separate it and add on," Rays manager Kevin Cash said. "We did that today."
Not since the fifth inning of the Rays' 12-3 win over the Blue Jays on April 24 had the team scored five runs in an inning.
The Rays already held a 3-1 lead when they began their assault in the sixth.
Nick Franklin started things with a one-out double to left-center off Brian Duensing. After Bobby Wilson walked, Kevin Kiermaier singled home Franklin. Michael Tonkin took over for Duensing at that point and he hit the first batter he faced, Logan Forsythe, to load the bases for Evan Longoria, who singled home two. James Loney and David DeJesus added RBI singles in the inning that put the Rays up, 8 -1.
"Just one of those good offensive spurts," Longoria said. "We put together a good offensive inning. Just good at-bats with runners in scoring position. That's pretty much the gist of it. You know you get guys out there and you're able to put together good at-bats, push guys across the plate when you have the opportunity, it makes it easier."
While the sixth inning proved to be the highlight of the Rays' day offensively, the overall performance of the offense shined on an afternoon that saw them collect a season-high 19 hits.
In addition, the 11 runs were the most since scoring a season-high 12 in that April 24 win over Toronto.
Bill Chastain is a reporter for MLB.com. This story was not subject to the approval of Major League Baseball or its clubs.