Bruce shows signs of heating up with 3 hits, homer
After rough start to season, outfielder posts consecutive multihit games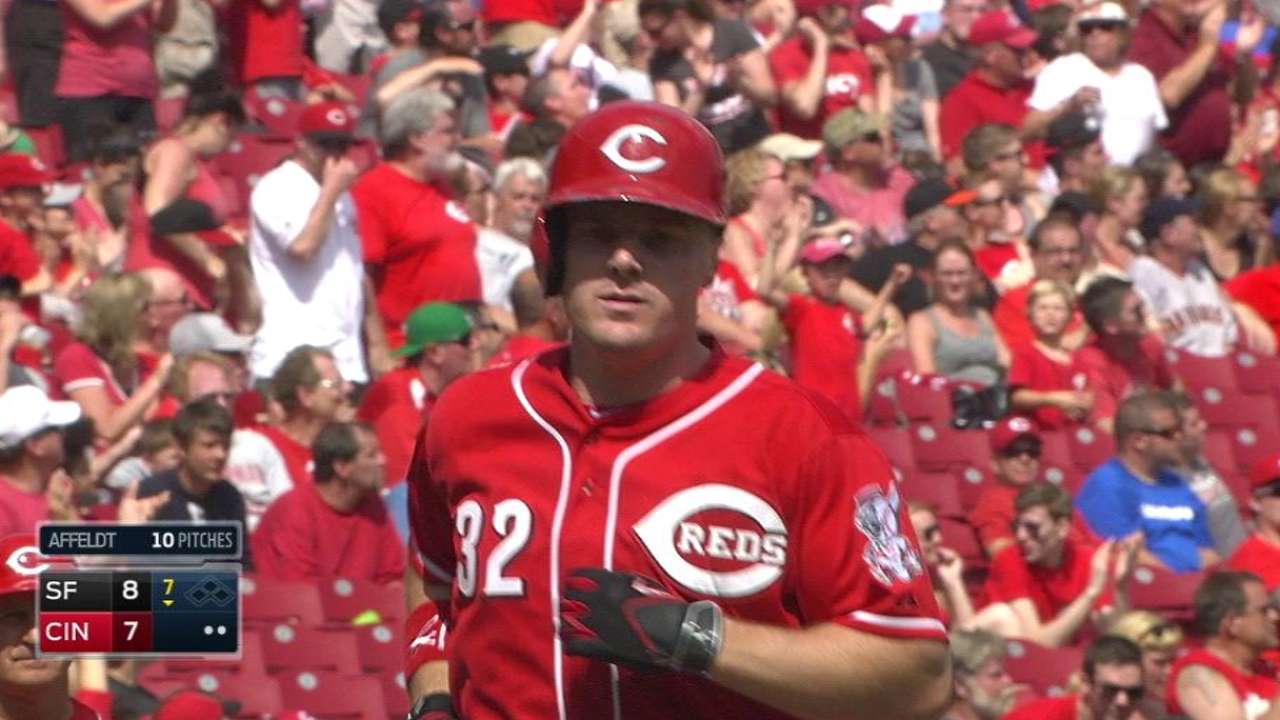 CINCINNATI -- The long drives and near misses this week seemed like signs that Reds right fielder Jay Bruce isn't far from finally heating up at the plate. Even though the Reds were handed a 9-8 loss by the Giants on Sunday, Bruce's bat was a big part of the thwarted comeback attempt.
Bruce was 3-for-5 with a solo homer in the seventh inning, which gave him consecutive multihit games for the first time since Aug. 3-5, 2014. He also had homers on back-to-back days to end the series.
"Honestly, I haven't felt bad all year. I felt super normal," Bruce said. "I've felt healthy. I've felt strong. It's just missing. I'm going to keep working and keep doing everything I've been doing all year and continue to try and get everything I can get."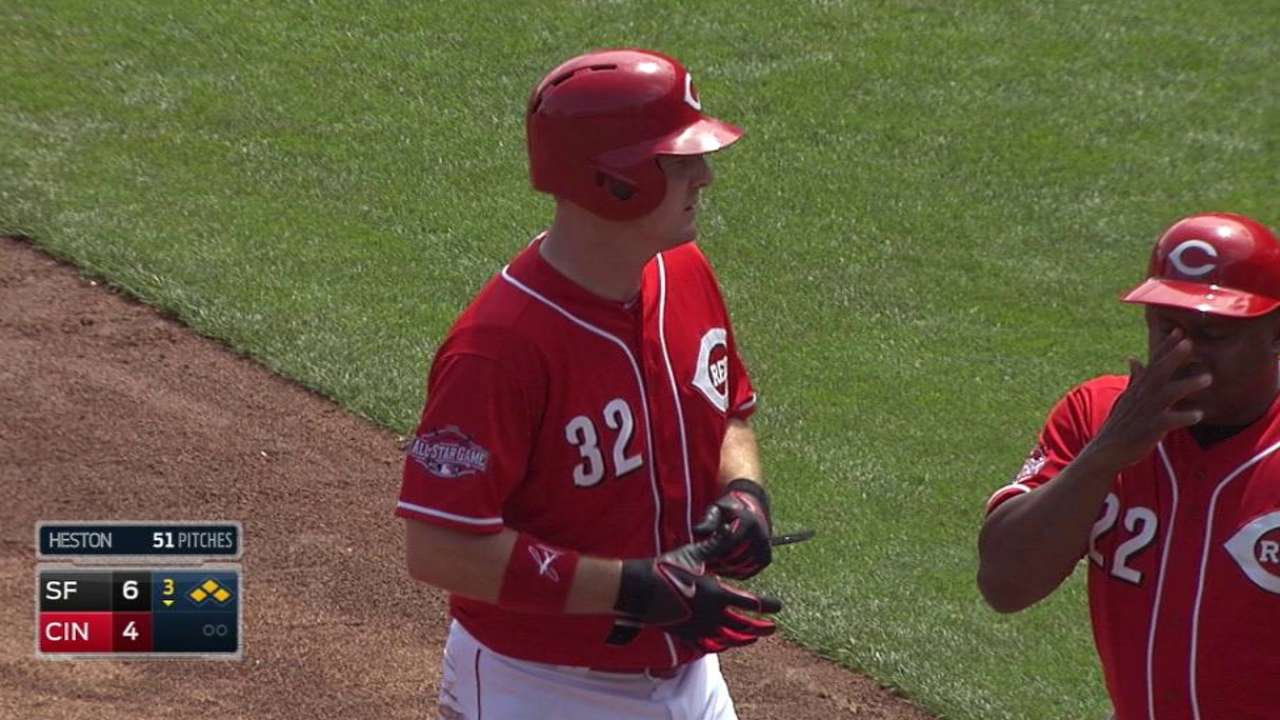 Last season, amid a rushed return from left knee surgery, Bruce batted only .217 with 18 homers and 66 RBIs. With a clean slate and rehabbed knee, he's still been batting under .200 most of the season and was at .190 with seven homers after Sunday.
On Thursday in the series opener, Bruce just missed hitting a grand slam with a drive caught at the warning track in right field. On Saturday, he had another drive caught at the wall before he hit a single off the end of his bat against the shift to the left side. In the sixth inning of the 11-2 loss, he slugged his first homer since April 29.
In the third inning on Sunday, Bruce just missed a grand slam again with a drive off of the wall in right-center field that went for a RBI single. In the seventh inning against Jeremy Affeldt, he sent a 2-0 pitch into the right-center-field seats.
"There is no doubt that confidence is fed by success. That's a no-brainer," Reds manager Bryan Price said. "To have a three-hit day with a homer and smoke that ball off the wall -- those are big things for him, for anybody. Hopefully it continues to spur him offensively. That would be a big piece for us, especially hitting seventh."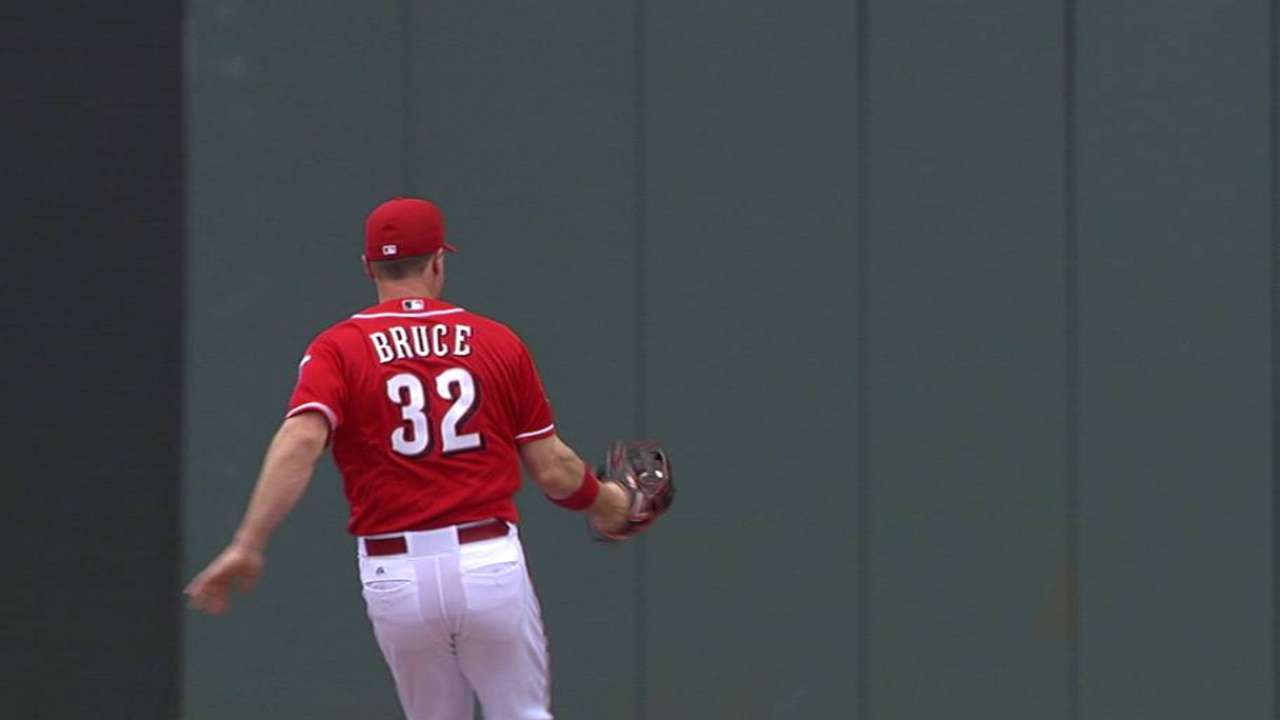 Despite his year-long funk, Bruce had been encouraged by a few things. He's shown better pitch selection and is second on the club with 18 walks after walking 44 times in all of 2014. He's also not relying on pulling the ball as much.
"I kind of take a pulse of every game, every at-bat -- kind of go back and reflect, and it's been good," Bruce said. "It's been good this series. I've been very cognizant of where I'm hitting the ball on the field. I think I've been using the whole field more than I have my entire career. I just have to continue to get the pitches that I get and don't miss. That's the biggest difference-maker."
Mark Sheldon is a reporter for MLB.com. Read his blog, Mark My Word, follow him on Twitter @m_sheldon and Facebook and listen to his podcast. This story was not subject to the approval of Major League Baseball or its clubs.