Tigers' offense quieted by Lynn in series finale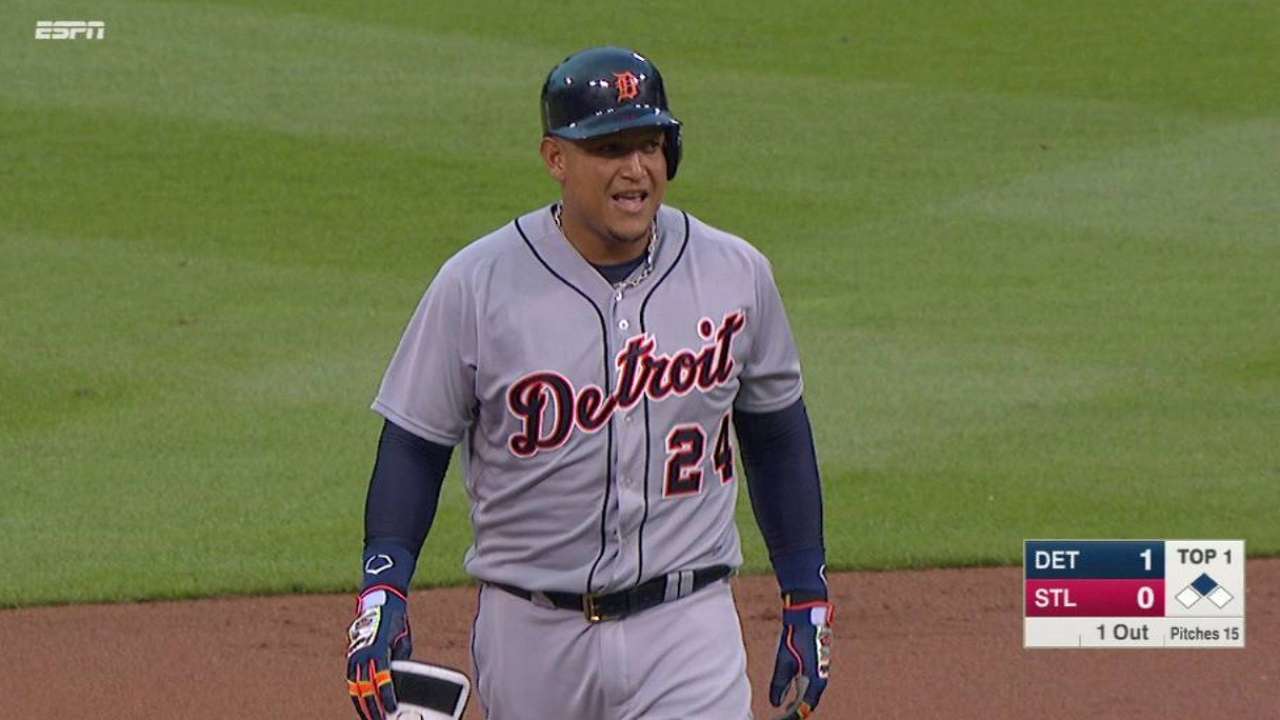 ST. LOUIS -- The Tigers' offense rode a wave of production into Sunday night's game at Busch Stadium, but that wave crashed against a solid effort by Cardinals starter Lance Lynn.
After scoring 27 runs in their previous three games, the Tigers scored just once in the first inning in a 2-1 loss to the Cardinals. The loss snapped the Tigers' three-game winning streak.
Lynn pitched 7 1/3 innings, struck out seven and surrendered six hits and two walks. Lynn became the first Cardinals starting pitcher to go more than six innings in their past eight games.
"Lance Lynn's a good pitcher, he's got a track record," Tigers manager Brad Ausmus said. "Kind of sneaky, throws from a little behind his shoulder. He's one of those guys that can pitch up in the zone very effectively."
Ian Kinsler and Miguel Cabrera provided the Tigers' only run in the first. Kinsler reached on a single and scored on Cabrera's RBI double.
It was RBI No. 1,399 for Cabrera's career and it capped a stellar series for the Tigers' first baseman. Cabrera went 5-for-13 (.385) during the three-game set, with two home runs, four RBIs and three runs scored. The weekend included career homer No. 400.
Outside of Kinsler and Cabrera, the rest to the Tigers' offense sputtered, going 4-for-27 against Lynn and relievers Seth Maness and Trevor Rosenthal.
Take away a two-hit night by James McCann, and the numbers get even worse.
"He hit his spots," McCann said of Lynn. "He did exactly what the scouting report says he tries to do; uses his fastball, 4-seamer away, 2-seamer in, and kept guys off balance all night."
The lack of offense wasted a quality start by Alfredo Simon, who gave up two runs in six innings. Simon's only mistakes were allowing an RBI single to Lynn in the third and the game-deciding home run to Kolten Wong in the sixth. Simon fell to 4-2 this season.
"You know that was a close game," Simon said. "That was a quality start. I feel really good today. They didn't get a lot of base hits today, but you know the game's like that. Sometimes they hit it, sometimes they don't, but I feel really good right now."
Ausmus isn't worried about the lack of offense carrying over when the Tigers return home Monday to face the Brewers.
"Lynn was a matter of running into a good pitcher," Ausmus said.
Joe Harris is a contributor to MLB.com. This story was not subject to the approval of Major League Baseball or its clubs.