Bumeter honored to be Cards' bat girl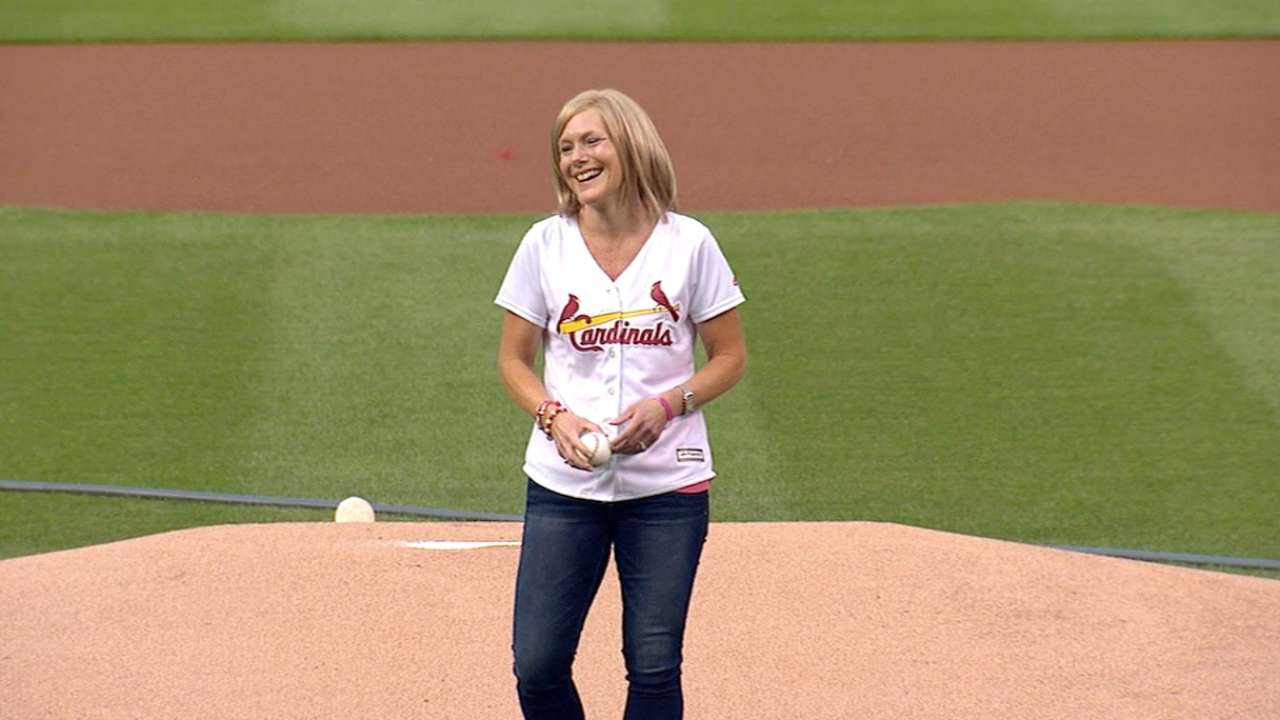 ST. LOUIS -- Kathy Bumeter threw the first pitch before the Cardinals' game against Detroit at Busch Stadium on Sunday night, and she made it a curveball for a specific reason.
"Because life threw me one," she said.
Bumeter, the mother of 14-year-old Madison and 11-year-old Mackenzie, is fighting breast cancer and was named an Honorary Bat Girl by Major League Baseball earlier this month after her sister-in-law, Andrea Burke, nominated her for the annual contest that places one winner with each of the league's 30 teams.
"It has been an overwhelming, wonderful nomination," said Bumeter, who brought a cheering contingent with her that took up the first nine rows of section 368. "I didn't even know [Burke] was submitting it. But then again, no one ever knows they're going to get breast cancer either.
"There's no prevention, so that's frustrating, but this experience has been phenomenal."
Bumeter is nearing the end of an 18-week chemotherapy stint at Siteman Cancer Center and said she has continued working out three days a week during her treatment.
She worked out even more frequently before she was diagnosed, however, and encouraged others - even those who consider themselves healthy - to stay alert.
"I think it's very important for all women to be tested," Bumeter said. "Follow up on your mammograms, but more importantly, just the awareness of cancer. As healthy as I was, I never thought in a million years that I'd be the one battling it."
As she took a baseball and walked toward the front of the mound on Sunday night, with Sam Tuivailala waiting behind home plate to receive her pitch, Bumeter's supporters in the stands chanted her name.
"I truly believe what has been the biggest help for me to get through this is all the love and support and the prayers," she said.
Bumeter added that she "absolutely" believes the Cardinals have what it takes to overcome the loss of Adam Wainwright and make a postseason run in 2015.
"I couldn't be more honored to be an honorary bat girl for the Cardinals, because they really are a winning organization," Bumeter said. "And I want to be a winner."
David Cobb is an associate reporter for MLB.com. This story was not subject to the approval of Major League Baseball or its clubs.