White Sox reach .500, ready to take next step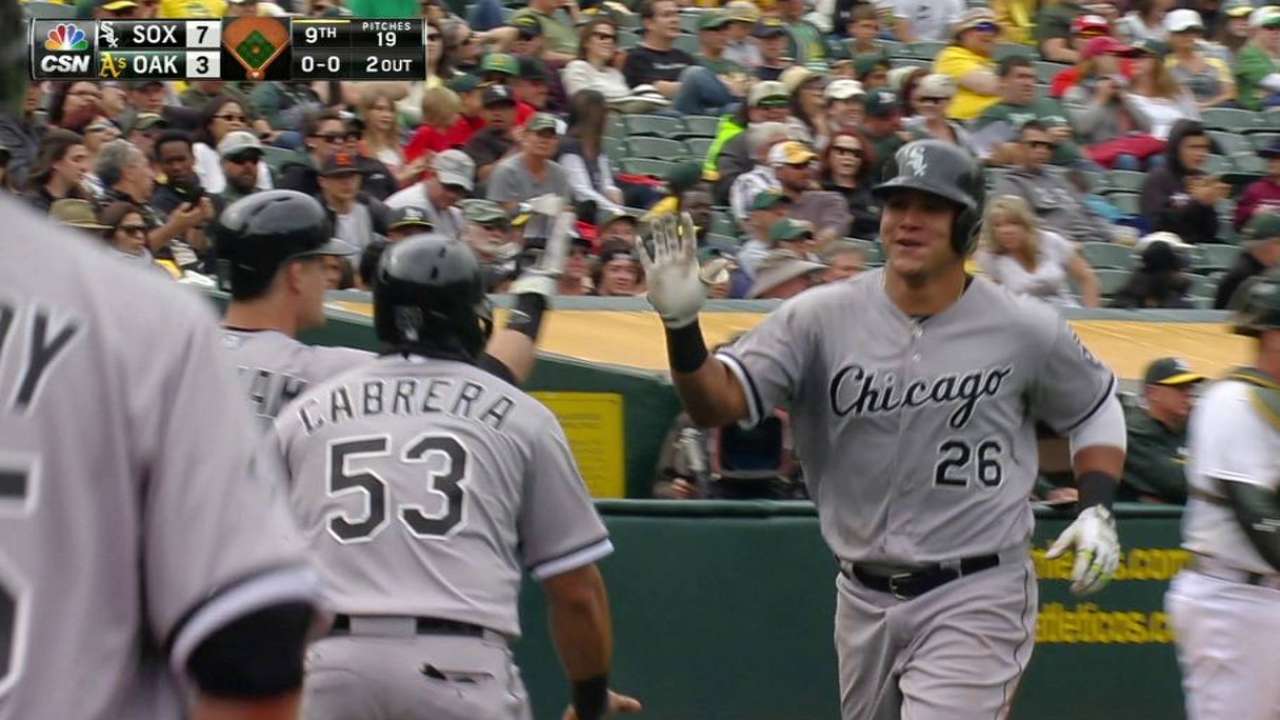 OAKLAND --- The journey to .500 started with the White Sox getting swept and ended by them sweeping.
Sunday's 7-3 victory against the A's moved Chicago to 17-17, an even record for the first time in 2015 and brought with it a feeling that the White Sox can start over from here.
Five straight wins and a series sweep against Oakland, owner of the worst record in baseball, will do that.
"We started a little slow, but it's part of the gelling process as a team," said Adam Eaton, who on Sunday extended his hitting streak to six games. "When you have so many new guys, it takes a little time to gel together as a team and understand each other.
"I think that with this little streak that we're on [we're] starting to play a little bit better baseball and understand each other and [we'll] continue to build upon it."
A 9-6 record in May is one piece of the puzzle. So is the emergence of the core pitching rotation members: Chris Sale, Jeff Samardzija and John Danks.
"First we got good pitching, and that's the big thing for us," manager Robin Ventura said. "We were counting on that, and these guys did it. The Big Three who everybody was talking about, they did man's work and got us to a point, and the offense eventually was going to click. You clean up the defense and it looks a lot better."
Samardzija took major steps to regain his form in Sunday's win. He went eight innings, scattering eight hits and allowing three runs while tossing 120 pitches, the most he's thrown in an outing this year.
"It's good to be back to .500 as a team, win five in a row, [get] on a roll," Samardzija said. "The .500 mark is important, especially early in the year. You want to be around there to make sure come summer and fall you're in the hunt and playing for important games.
"Usually if you're under .500 you're not doing that. So it's good being there and now we can take a deep breath and go home and hopefully feel comfortable playing there."
The combination of Jose Abreu and Avisail Garcia in the No. 3 and No. 4 spots in the lineup is blossoming. Abreu has a 12-game hitting streak along with a team-high six home runs, 22 RBIs and a .295/.368/.496 slash line. Garcia (.346/.380/.492) smacked his fourth homer Sunday and he's hit safely in 19 of his last 21 games.
"I think we're tremendously talented," Garcia said. "Everyone's pretty much healthy. It's still a young season, but we have veteran talent and we have young talent. We're a really focused team, whether we win or whether we lose."
Willie Bans is a contributor to MLB.com. This story was not subject to the approval of Major League Baseball or its clubs.