Defensive breakdowns keep hurting A's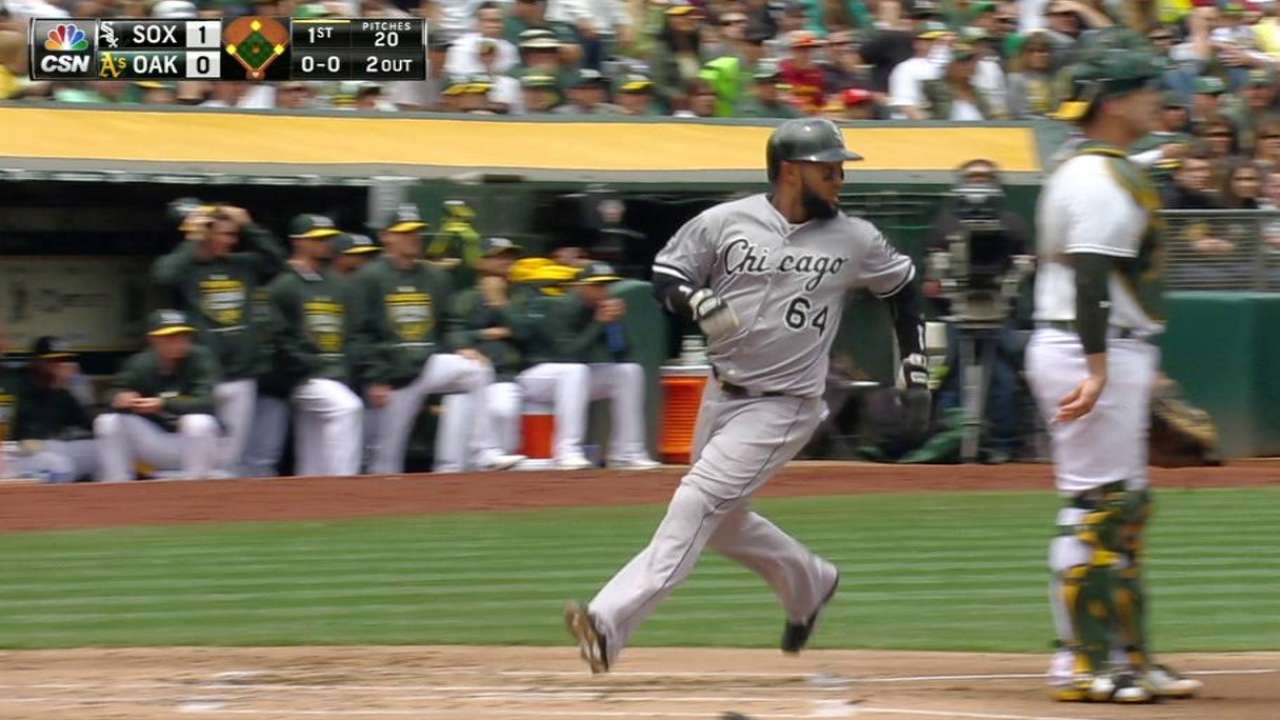 OAKLAND -- As it has so many times, defense played a big role in the A's loss on Sunday afternoon. This time around, Oakland committed four errors as part of a 7-3 defeat to the White Sox, sending the A's to their fourth straight loss and 10th in 11 contests.
The A's have committed an MLB-worst 42 errors through 39 games, which has led to 29 unearned runs, the highest total for any team in the Majors. Sunday marked Oakland's third contest of at least four errors, which is also tops in MLB, while the A's have committed an error in 14 straight games.
"Just snowballing on us right now," A's manager Bob Melvin said, "to where I think guys are thinking about it quite a bit -- don't make an error -- and we ended up doing it. We're not playing clean games at this point. They're ugly-looking games. It affects how you play. It affects your confidence."
Shortstop Marcus Semien has become the focal point for Oakland's defensive woes this season. With two more miscues on Sunday, Semien now has 13 errors, the most of any player in the league. Semien couldn't cleanly field an Adam Eaton ground ball to lead off the top of the fifth, setting the stage for Chicago's four-run rally.
"I don't focus on the number of errors," Semien said. "I focus on fixing them, making the play, making the next play. If I see the number of errors building up, it's not going to affect me. That's what shows up in the box score. That can't bother you as an infielder, as a defensive player."
A's starter Scott Kazmir was beating himself up after the game for his throwing error in the first inning, which allowed Eaton to reach third before scoring the game's initial run. Stephen Vogt also made a throwing error in the first before Kazmir escaped with just one run of damage.
Jose Abreu's run-scoring single in the fifth, which tied the score at 2, scooted right by the glove of A's third baseman Brett Lawrie. Alexei Ramirez's two-run single in the frame also deflected off Kazmir's glove, while the A's couldn't record an out on a ground ball hit to Eric Sogard during the rally.
Despite the added pressure from the defense, Kazmir shouldered the blame for the loss after going just 4 1/3 innings, his shortest outing of the year. He gave up five runs, three earned, on seven hits and three walks while striking out six.
"Just got to put my team in a better position," Kazmir said. "I didn't get it done. So many pitches in the first couple innings, the bunt that I didn't make -- it's tough."
Alex Espinoza is a contributor to MLB.com. This story was not subject to the approval of Major League Baseball or its clubs.