Offense has rough time against O's in finale
Sunday's loss marks sixth time in nine games that Angels score three runs or fewer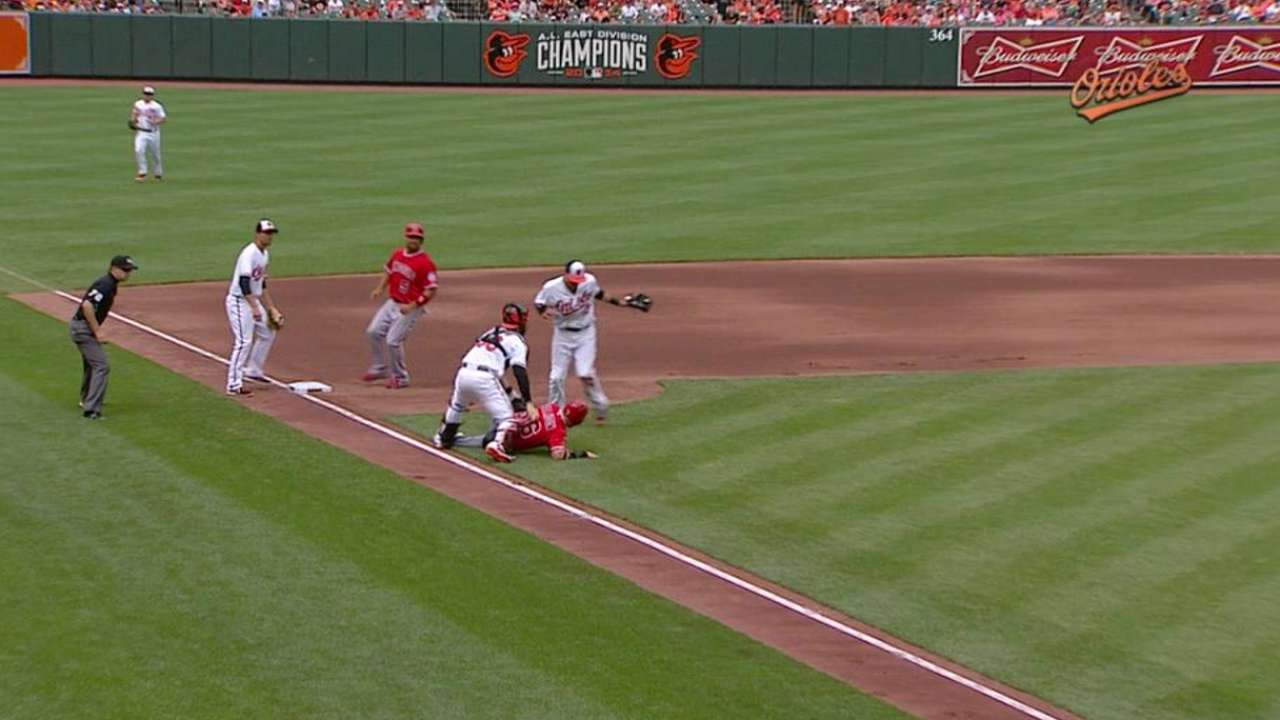 BALTIMORE -- In the fourth inning on Sunday afternoon, the Angels put runners on second and third with one out, looking to break a scoreless tie. Instead, they came away with nothing, and that's as close as they got to pushing a run across in a 3-0 loss to the Orioles at Camden Yards.
A day after the Angels scored six runs in a game for the first time this month, their offensive woes returned. The Halos couldn't do much against Baltimore starter Mike Wright, who was making his Major League debut, and they scored three runs or fewer for the sixth time in nine games.
With manager Mike Scioscia's ballclub languishing near the bottom of the rankings in most offensive categories, it still might be a matter of waiting for some established hitters to perform better. Only two qualified Angels, Mike Trout and Kole Calhoun, have an OPS of at least .700.
"We're constantly talking internally about some options that might pop up," Scioscia said. "But the fact of the matter is, until we get more guys swinging the bats the way they can, we're going to have to really execute well in those situations like you saw today that can score the runs we need. If these guys get comfortable and break out, start swinging it, we'll see."
Sunday's matchup was a challenge for the Angels, who had to rely on scouting reports and limited video from Wright's time in Triple-A. The 6-foot-6 right-hander came out throwing in the upper 90s, and the Angels never got much going against him over his 7 1/3 innings. Still, Angels designated hitter Albert Pujols said the lack of preparation was "no excuse."
"You don't see video in Spring Training that much on guys coming out of the [bullpen], and you have to go with the scouting report. ... Sometimes it works and sometimes it doesn't," Pujols said. "I think we took good swings, and he mixed and matched, pitched well, kept us off balance all day, and that's how it goes."
The Angels' best chance against Wright came in the fourth, when Erick Aybar came to the plate with those two runners in scoring position. Aybar, moved into the cleanup spot on Saturday, had two hits in the game, but this time he slapped a ground ball to third. Calhoun was caught in a rundown between third and home and was tagged out, and then Johnny Giavotella struck out to end the inning.
"We had second and third, and we had two guys we really feel comfortable can put the ball in play," Scioscia said. "Erick did, and unfortunately it was right to the only place really where Kole wasn't going to be able to score. But right now, every situation becomes magnified because we're not swinging the bats to our capabilities."
• Pujols slid awkwardly into second base beating out a potential force play in the ninth inning, but he said afterward he felt "fine."
Andrew Simon is a reporter for MLB.com. Follow him on Twitter @AndrewSimonMLB. This story was not subject to the approval of Major League Baseball or its clubs.