MLB.com Columnist
Richard Justice
Miller's time now as dominant force on mound
Braves right-hander should have plenty more chances for no-no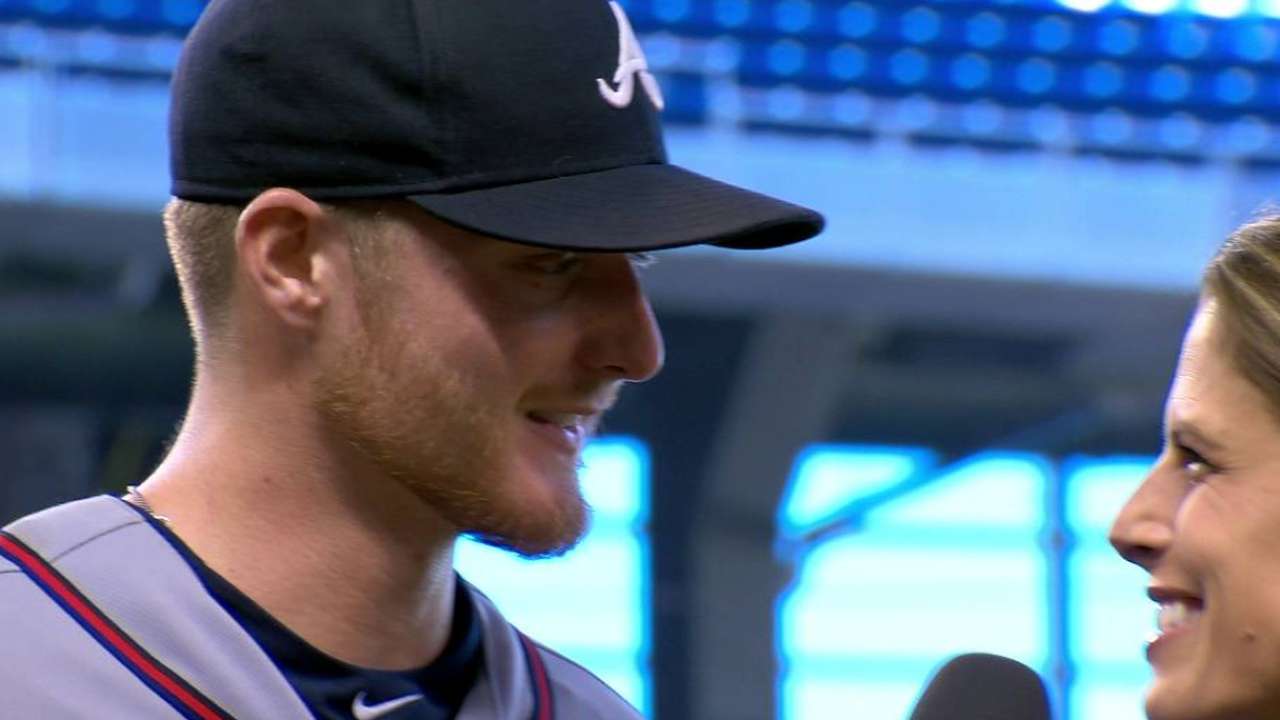 We are seeing the continued emergence of one of baseball's dominant pitchers. That's really what Sunday afternoon was about for Shelby Miller and the Atlanta Braves.
So Miller was unable to get the no-hitter against the Marlins? Big deal. He's likely to have other opportunities. There's some luck involved in these things anyway. Miller was rolling along with a nearly perfect afternoon when Miami's Justin Bour slapped a 95-mph fastball up the middle with two out in the ninth inning.
Miller was rightfully disappointed despite a 6-0 victory that nudged one of baseball's surprise teams to a game shy of .500 at 18-19. The guy who acquired Miller last offseason from the St. Louis Cardinals, Braves president of baseball operations John Hart, might be one of the happiest men in the game today.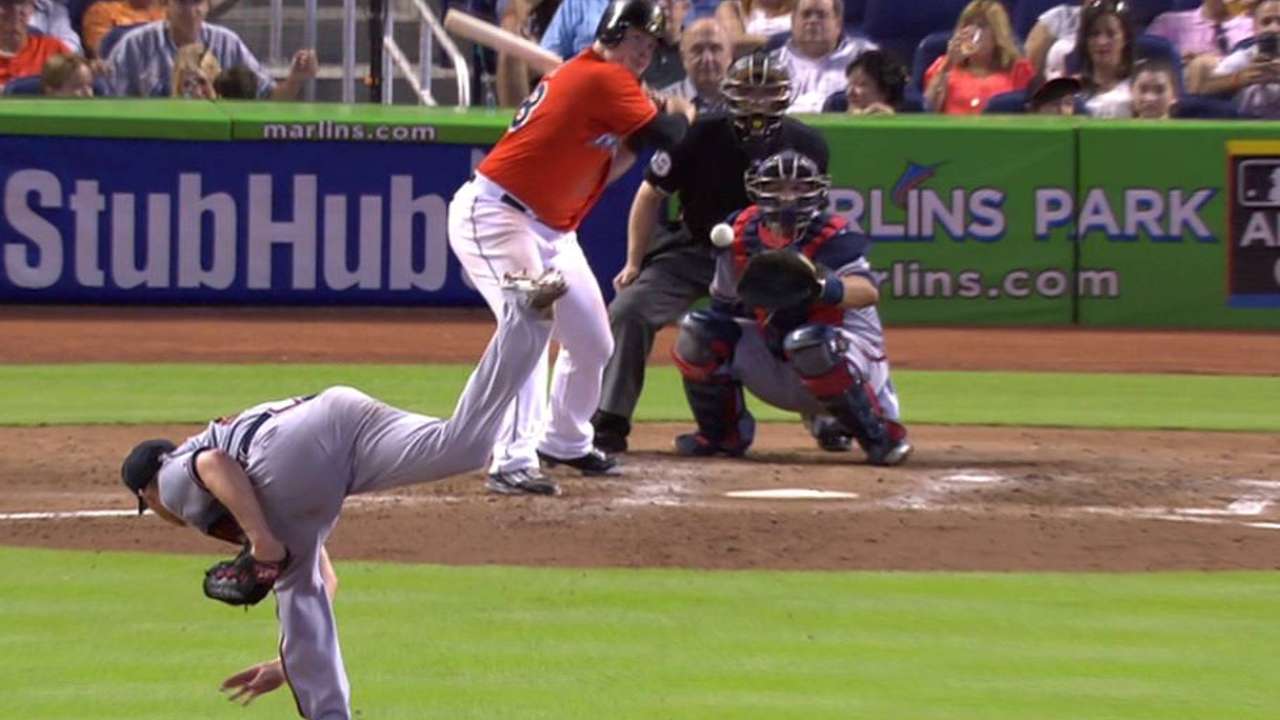 Marlins leadoff man Dee Gordon tagged Miller for another single in the ninth, and then Miller finished off a two-hit shutout, a brilliant 94-pitch effort that was power pitching and strike-throwing at its best.
"He threw the ball as good as you can," catcher A.J. Pierzynski said.
Once Miller finishes with the congratulatory text messages and phone calls and interviews, he surely will take a moment to reflect on what the first two months of this season have meant to his career.
At 24 years old, Miller has become the true top-of-the-rotation starter a lot of scouts predicted he'd be back when they flocked to Brownwood High School to see the tall, skinny kid throw three straight no-hitters during the Texas prep playoffs one year.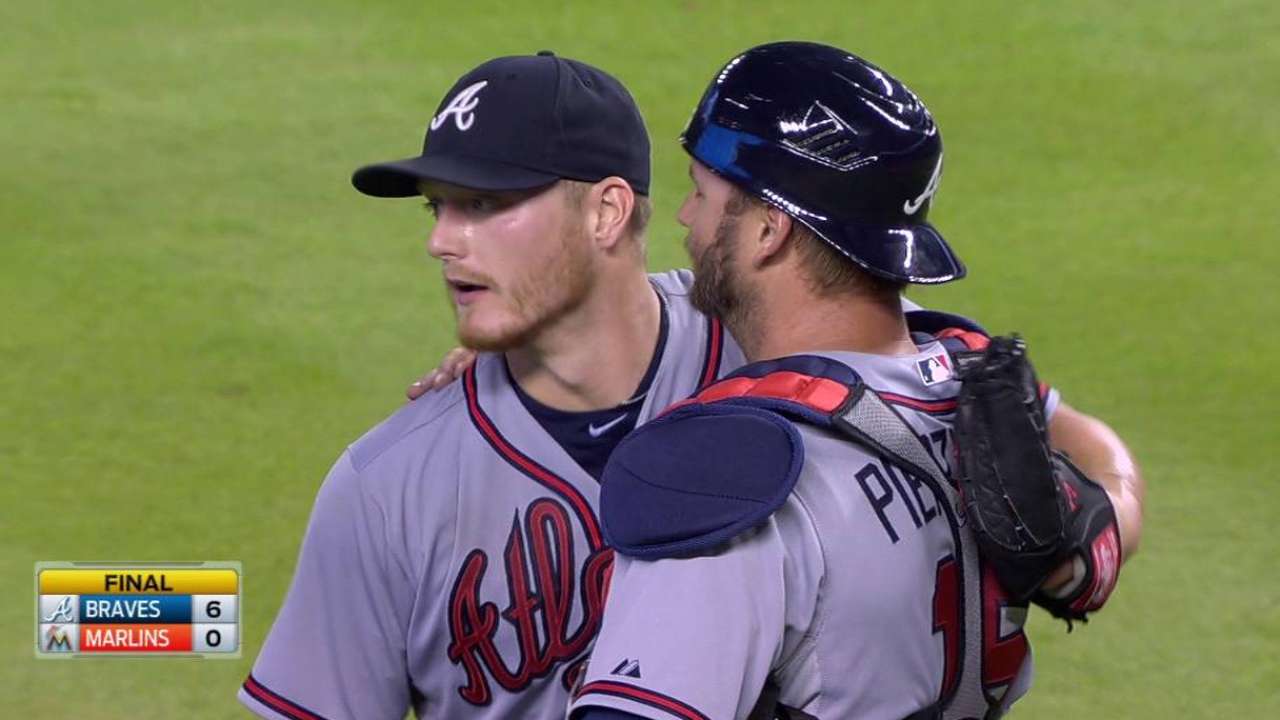 When a young pitcher throws hard in Texas, scouts run down a short checklist. Is he going to be the next Roger Clemens or Nolan Ryan? Kerry Wood? Josh Beckett? Miller matched up with any of them at a similar age.
When the Cardinals used the 19th pick of the 2009 First-Year Player Draft on Miller, the guy who owned the Houston Astros at the time was crushed.
"I just wanted to cry," Drayton McLane said.
McLane's team picked 21st that year -- two selections after the Cards -- and he'd spent a lot of nights dreaming up marketing campaigns for the next great Texas flamethrower. And then Miller ended up pitching for one of the Astros' biggest rivals at the time.
All that was promised has been realized. Miller is the only National League pitcher ranked among the top five in ERA (1.33), wins (5), innings (54) and WHIP (0.83). Perhaps most impressive is that he has yet to allow more than two earned runs in any start. Miller is the first pitcher in Atlanta history to accomplish that.
Miller is basic in his approach. He throws hard. And then he throws harder. And then he throws even harder. Almost 90 percent of Miller's pitches would be classified as fastballs. He throws three versions -- regular four-seamer, cutter and sinker -- to give hitters different looks. But he doesn't mess around much with offspeed stuff.
Against the Marlins on Sunday, Miller dominated the game by throwing first-pitch strikes to 24 of 30 hitters. That number reflects both his ability to throw the ball where he wanted and the confidence to challenge hitters.
Miller walked only one and got to a three-ball count just one other time. He touched 93 mph or better 64 times, 95 or better 30 times. He threw only nine curveballs, but he spaced them out enough that the Marlins knew it was a possibility. Miller didn't throw a curve until the third inning and then just one after the sixth. But it was there.
During Miller's three seasons with the Cardinals, there were times they believed he might anchor their rotation for years to come. And there were other times when they weren't sure if he'd ever be a complete pitcher.
Miller believes he achieved another level last summer when the Cards acquired Justin Masterson from the Indians. At the time, Miller had had a tough 18 months on the mound and finally reached the realization -- along with some encouragement from Adam Wainwright -- he needed another pitch to give hitters, especially right-handed hitters, another look.
When Masterson arrived, Miller watched how he threw his sinker -- some call it a two-seam fastball -- and imitated it the best he could. By Opening Day this season, Miller had complete confidence in it.
"I felt like that really took me to the next level," Miller said.
Miller still throws more four-seamers to left-handed hitters and to get ahead of right-handers. It's hard, too, around 93 mph, but is a different movement. But he uses the sinker -- one of baseball's hardest at 94 mph -- to finish off right-handed hitters.
If the art of pitching is location, movement and changing speeds, then Miller is as good as anyone on the planet. The Cardinals knew he might be a future ace when they traded him for right fielder Jason Heyward last offseason.
But the Cards felt comfortable with their pitching staff -- and still do. Given that they're 24-12 and atop the NL Central, they're probably happy with the makeup of their roster.
As for the Braves, they saw Miller -- super talented and getting better -- as the kind of player they wanted to reconstruct their roster around. And after watching him for eight starts, they're more convinced than ever.
Richard Justice is a columnist for MLB.com. Read his blog, Justice4U. This story was not subject to the approval of Major League Baseball or its clubs.