O'Sullivan revels in first victory since 2011
Survives D-backs' rally, ball to throat to secure win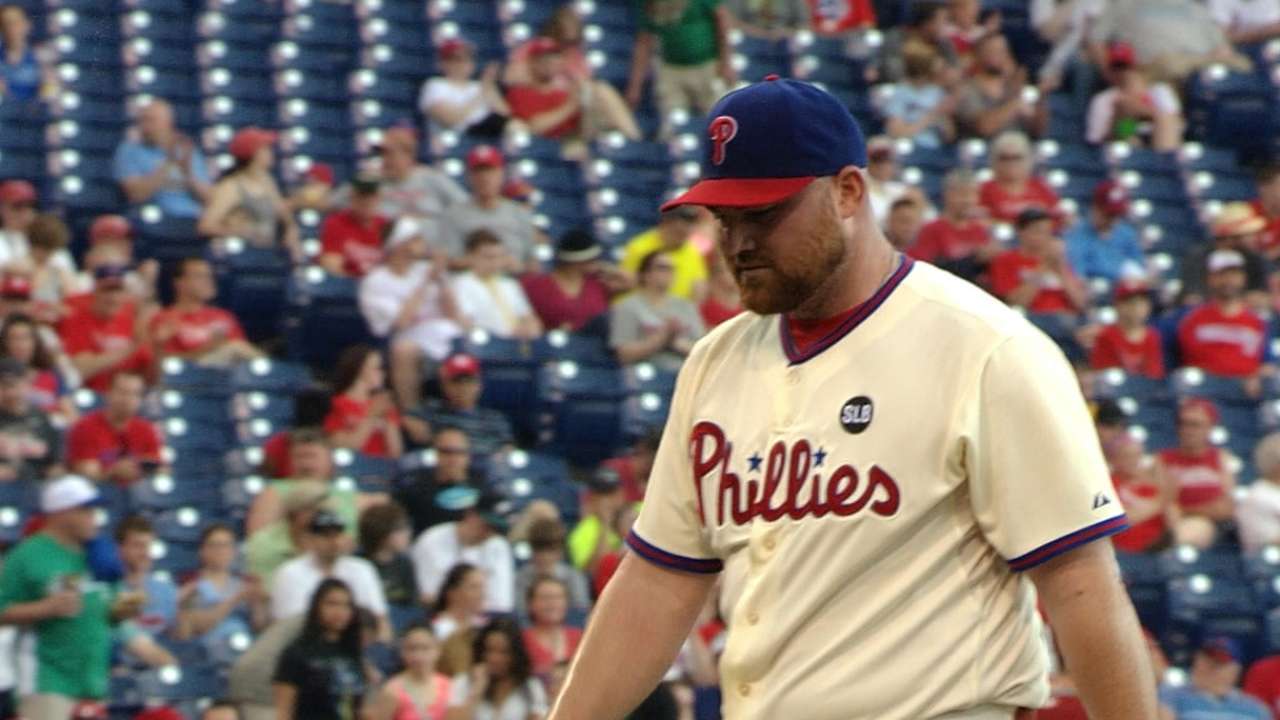 PHILADELPHIA -- Pitching wins still matter to some people.
Exactly four years ago Sunday, Sean O'Sullivan, then a member of the Kansas City Royals, lost a decision against the Cleveland Indians. That began a streak of 18 consecutive starting appearances spanning four years that O'Sullivan didn't notch a single win. And he wasn't particularly hurt by no-decisions: His teams went 2-16 in those games.
But all that changed Sunday, as O'Sullivan threw six shutout frames, striking out four and allowing just five hits while receiving enough run support -- four runs while in the game -- to cruise to his first victory as a Phillie and first in four years by a score of 6-0.
In an era where some say that pitching wins are an overrated, almost useless stat, O'Sullivan still acknowledged that getting his first win since May 12, 2011, still motivated him.
"It's something I wasn't even aware of and then I saw it and was like, 'Man, I need to get a win,'" O'Sullivan said.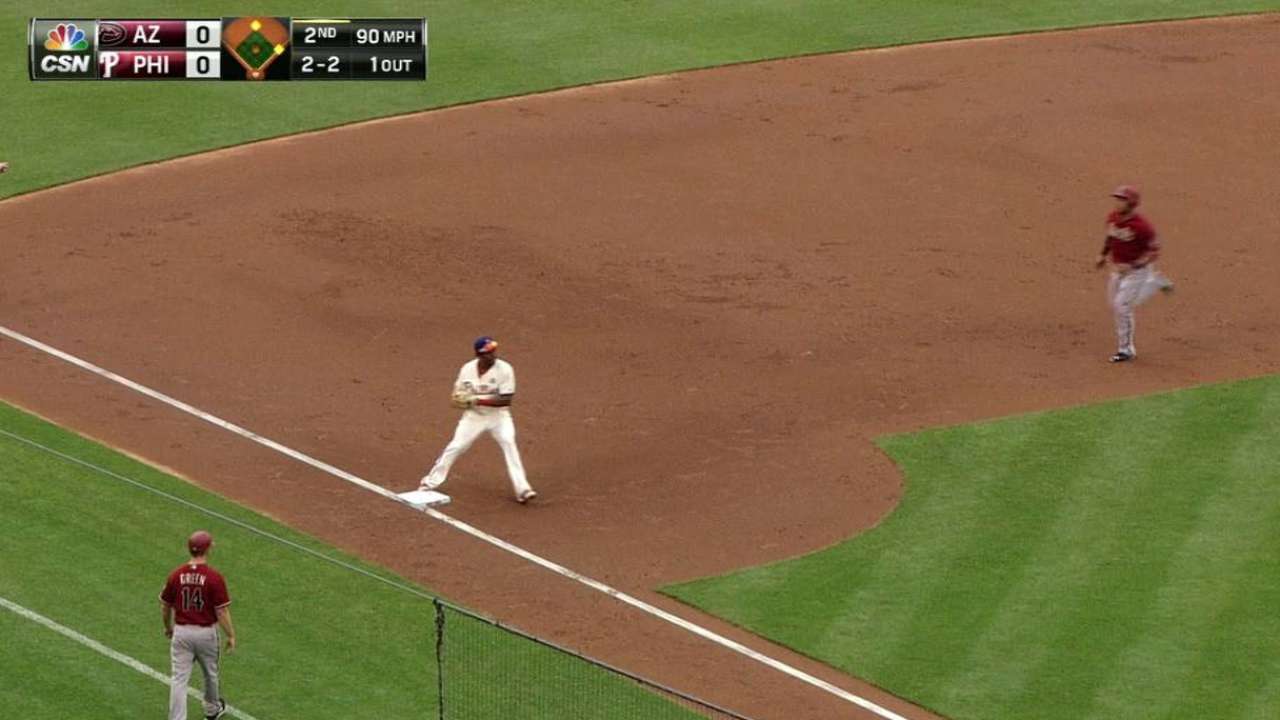 O'Sullivan continued to say that his personal achievement was secondary to the team's success, as his win secured the Phillies their fifth straight victory. However, Phillies manager Ryne Sandberg said that in the larger scheme of O'Sullivan's season, he believes that getting a win is a bigger deal than just one game. In Sandberg's mind, earning a tick mark in the first column of his win-loss record is going to lead to a more confident and positive-thinking O'Sullivan.
"I think getting a win for a pitcher is very important," Sandberg said. "It builds confidence. It's something he can build on. I think there's something to that no question."
The win wasn't without some difficulty for the right-hander. In the top of the sixth inning with runners on first and third base, O'Sullivan worked D-backs second baseman Aaron Hill into a full count.
At that point, first baseman Darin Ruf gestured to attract O'Sullivan's attention. Catcher Cameron Rupp also thought he had O'Sullivan's full attention and returned the ball his direction. By the time Rupp could alert O'Sullivan the ball was coming his way, O'Sullivan turned around to a baseball in between his chin and collarbone.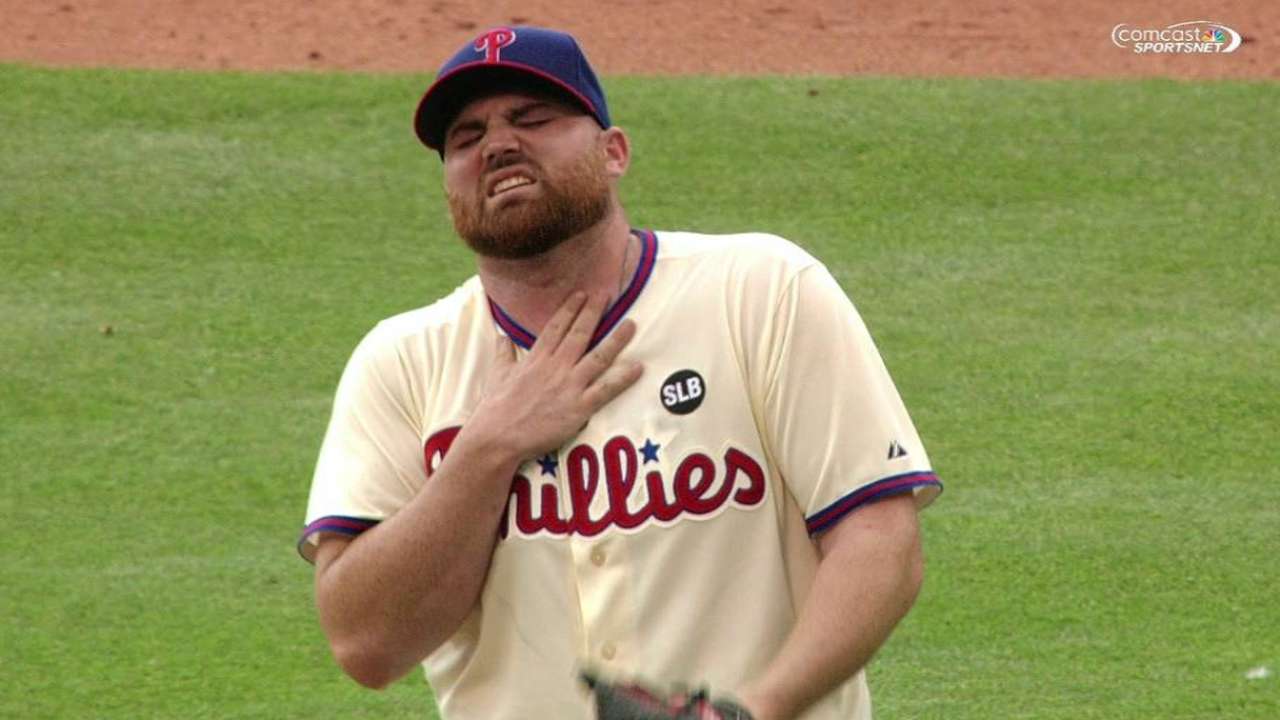 "I didn't see the ball for one second," O'Sullivan said. "It's like I got punched in the throat from around the corner. It was kind of shocking. Then I realized I can't breathe and there are runners on base. So I was like 'I have to go get this ball, and then hopefully someone will call timeout real quick.'"
Sandberg came out of the dugout and convinced O'Sullivan, who admitted after the game it was still somewhat difficult to swallow, to throw a warmup pitch before attempting to finish off Hill. O'Sullivan relented, did so, and then needed just one last pitch to end the inning, forcing Hill to fly out to left field.
Though the event wasn't a laughing matter at the time, Sandberg after the game acknowledged both the levity and the value of the situation.
"It wasn't pretty when it happened, but there was a little bit of humor there afterwards," Sandberg said. "He was able to hang in there and make the one pitch to get out of there so that was good."
Nick Suss is an associate reporter for MLB.com. This story was not subject to the approval of Major League Baseball or its clubs.