D-backs just a few plays from a turnaround
Team optimistic that small adjustments key to winning again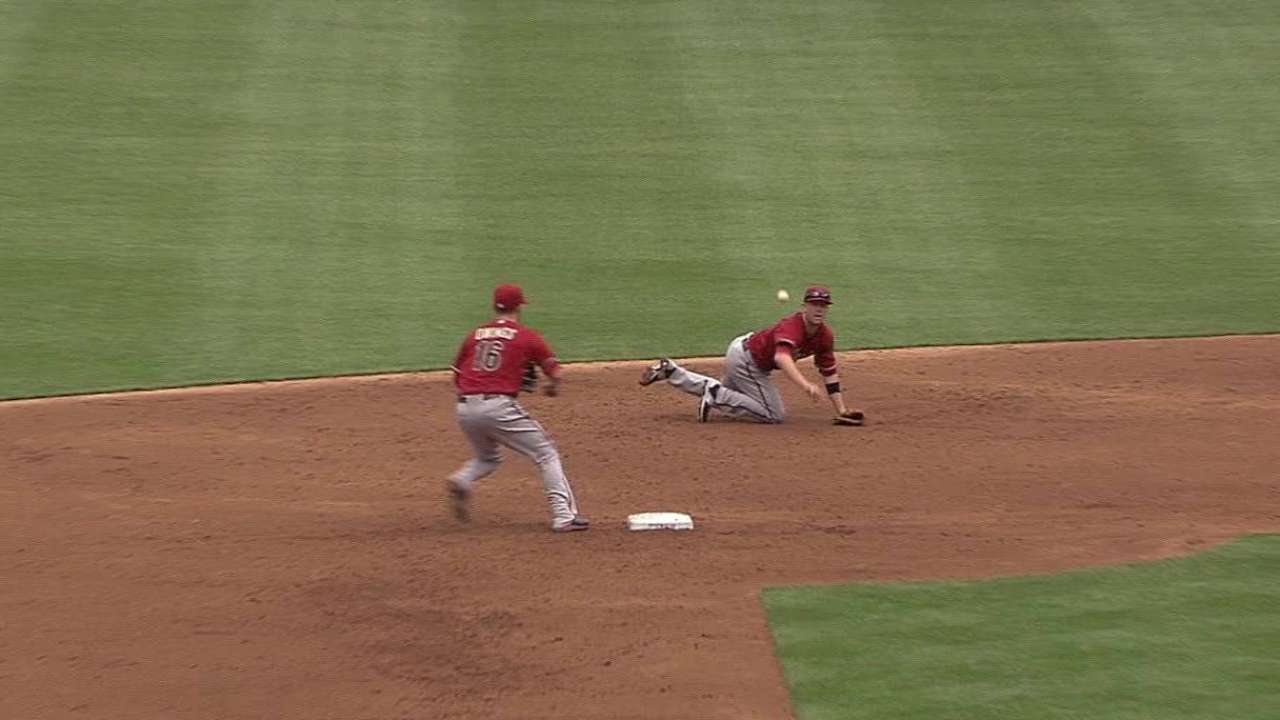 PHILADELPHIA -- The D-backs pitching staff came walking out together from a back room in the visitor's clubhouse Sunday night after what appeared to be a postgame meeting.
"We just had a group hug," right-hander Josh Collmenter said. "Hug it out and move on to Miami."
The D-backs hope to take their talents, but not their recent struggles, with them to South Beach for a four-game series having lost four straight and seven of nine. Their latest setback was a 6-0 whitewashing by the Phillies on Sunday afternoon.
"I'm not going to talk about that," D-backs reliever Brad Ziegler said of the pitchers' postgame gathering. "It's internal."
The meeting might be secret, but the struggles have been out there for everyone to see.
"The last seven to 10 games or whatever have been pretty rough," Ziegler said. "It's the little things here and there. We have to make a better pitch in one situation that can change the whole game at that point and give us confidence going forward. It's not like we're getting blown out on a nightly basis. We're right in every game. It's one pitch here or there that can make a difference."
The struggles, though, are not all about the pitching. The Arizona offense could use a jolt as well.
Sunday marked the 10th time in 36 games that the D-backs have scored one or fewer runs. They had their opportunities against unheralded Phillies starter Sean O'Sullivan, but were 1-for-8 with runners in scoring position and left 10 men on base.
"Sometimes you're not going to do good and sometimes you're going to do great," D-backs outfielder Ender Inciarte said. "So lately we're not executing in the right situations. We're battling, we're working hard, we're just not getting the results we want at the plate. Hopefully we're going to make an adjustment starting tomorrow and get some wins for the team."
The last-place Phillies have won five straight games for the first time since July 7-11 of last season and in the three-game series they outscored the D-backs 17-8.
"They went out and beat us every which way you could -- power, their pitching, and a really good bullpen," D-backs manager Chip Hale said. "They create runs with their running game. We just couldn't match it. We didn't have it today, we didn't have it the whole series, so we're gonna have to find a way to get on this plane, go down to Miami, and figure it out."
Negative momentum, though, can be a tough thing to stop in baseball.
"That's one of the things that makes it tough to play every single day," Ziegler said. "But we've got to be better at putting a stop to it, turning it around and getting the Ws quicker so we get the confidence going and go out there expecting to win at night instead of hoping to win."
Steve Gilbert is a reporter for MLB.com. Read his blog, Inside the D-backs, and follow him on Twitter @SteveGilbertMLB. This story was not subject to the approval of Major League Baseball or its clubs.