Marlins dismiss manager Redmond
Bench coach Leary also relieved of his duties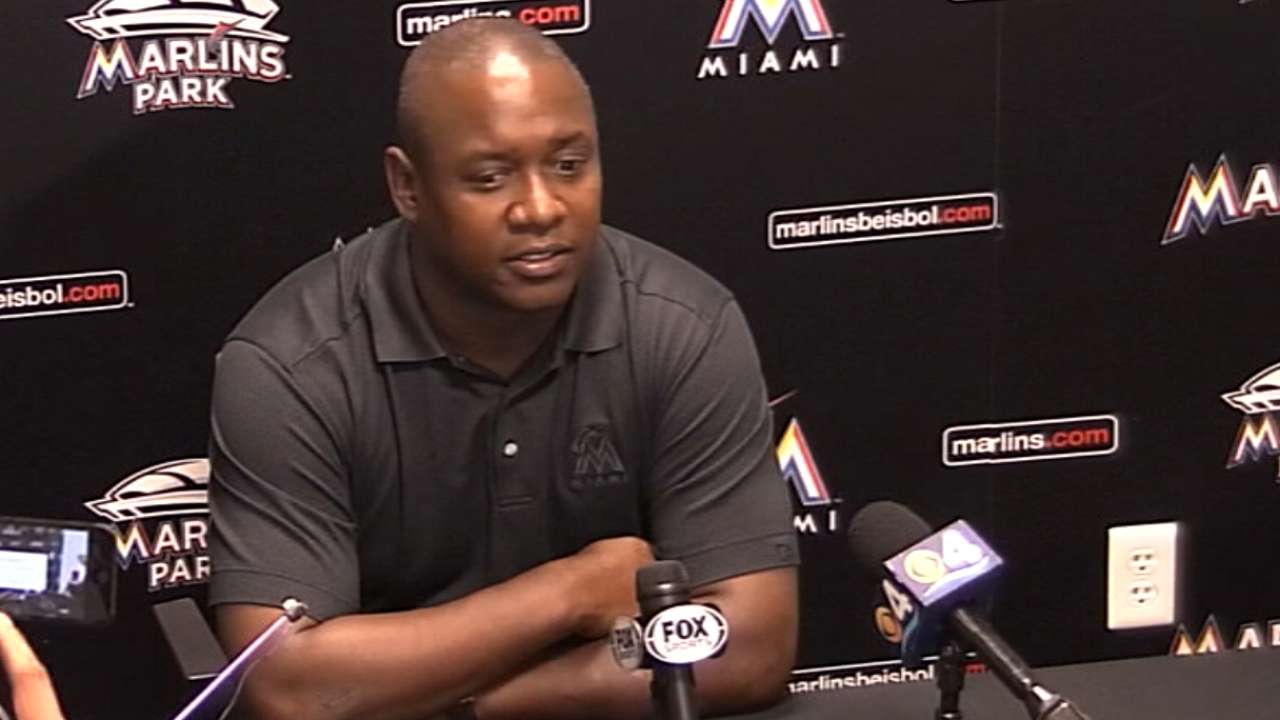 MIAMI -- A disappointing 16-22 start to the 2015 season prompted the Marlins to dismiss manager Mike Redmond and bench coach Rob Leary on Sunday after the team was swept by the Braves.
The decision came shortly after the Marlins were nearly no-hit by Shelby Miller in a 6-0 loss at Marlins Park. The club introduced general manager Dan Jennings as Redmond's replacement on Monday.
"Really, we're just looking for a new voice," president of baseball operations Michael Hill said. "There will be a press conference at 11 a.m., where we'll introduce the new manager and keep moving forward."
Redmond, who replaced Ozzie Guillen after the 2012 season, had his contract extended through 2017 before the final game of 2014. A 13-year big league catcher, the 44-year-old inherited a young team that went 62-100 in his first season.
In 2014, Miami improved by 15 wins and finished 77-85. Redmond's overall record was 155-207.
The Marlins entered the season with high hopes, but they got off to a 3-11 start. There were rumblings after they were swept in a four-game series by the Mets in April that a managerial change could be made.
"There is still supreme belief and confidence in the men in that clubhouse," Hill said. "We haven't played to our capability. And we hope that a new voice will spark and motivate our guys and get them going and performing in a way we think they are capable of performing."
After its slow start, Miami responded and improved to 12-12 on May 2. But since then, the club has staggered, going 4-10 after the latest sweep.
Miller had a no-hitter for 8 2/3 innings on Sunday before Justin Bour singled to center. Dee Gordon added a single, and the Braves right-hander finished with a two-hitter.
The frustration level in the organization led to the managerial change.
"Extremely frustrating," Hill said. "There is supreme confidence to those players in the room, but whenever you make a change in manager, you need to look in the mirror. And everybody needs to look in the mirror -- our players, me, our front office. Because we aren't playing the way we're capable of playing."
Foremost, Hill said, the team is looking for consistency, having had struggles in various phases. Right now, the bullpen has been laboring. Early on, it was the hitting.
"We're swinging the bats well at times, but not when we need to do it," Hill said. "We're pitching well at times, but not when we need to do it. I think the solution is in that clubhouse, and we just need to solve it.
"I think this is something that you look at how we've played. We haven't played consistently. We got out of the box slow. We got hot. We got cold again. I think we're just looking for some consistency."
The Marlins no doubt hope the decision to make a change pays off like it did in 2003, when the club dismissed Jeff Torborg after getting off to an identical 16-22 start, replaced him with Jack McKeon, then bounced back and eventually beat the Yankees in the World Series.
Joe Frisaro is a reporter for MLB.com. He writes a blog, called The Fish Pond. Follow him on Twitter @JoeFrisaro and listen to his podcast. This story was not subject to the approval of Major League Baseball or its clubs.