C. Gomez hit in head, avoids concussion
Brewers center fielder walks off field under his own power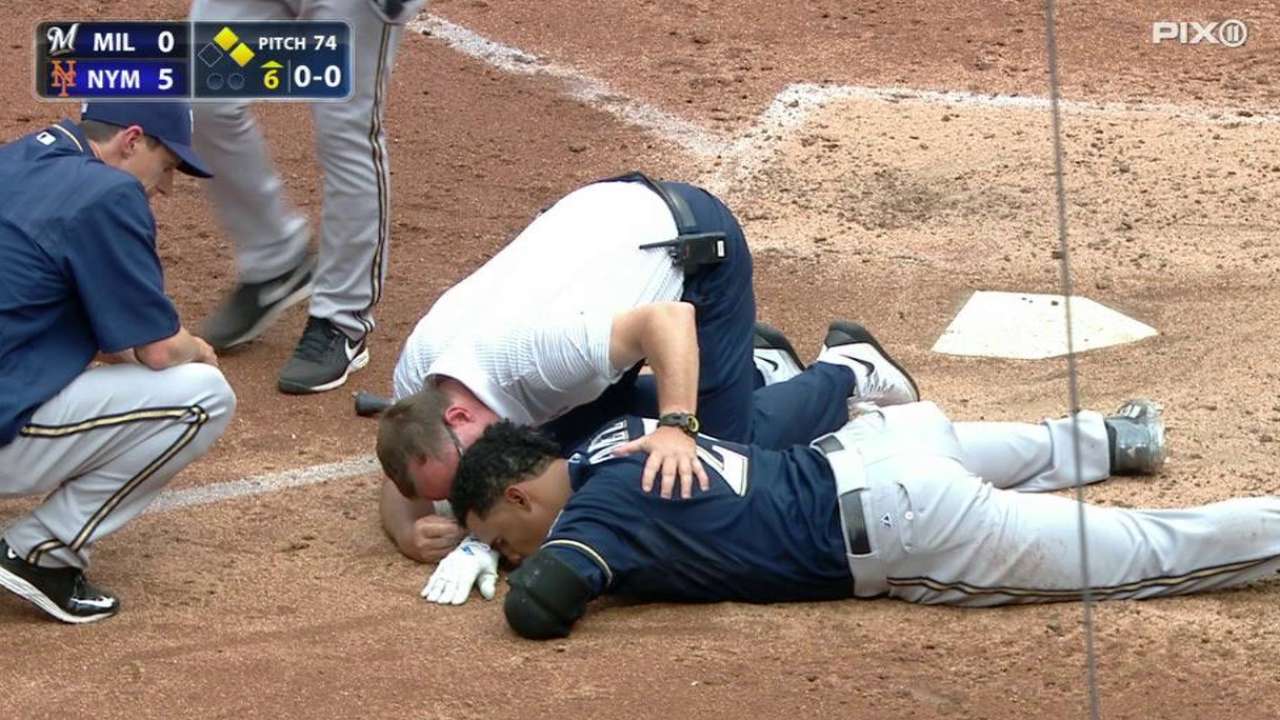 NEW YORK -- The smile on Brewers center fielder Carlos Gomez's face confirmed the good news which had been delivered earlier by the team's medical staff. The All-Star was bruised and sore, but otherwise unharmed after being struck in the head Sunday by a 97-mph fastball from Mets phenom Noah Syndergaard.
In fact, Gomez said he might play Monday night, when the Brewers begin a three-game Interleague series in Detroit.
"I think so, the way I feel," Gomez said in the wake of a 5-1 loss to the Mets at Citi Field. "I think I could have stayed in the game today, but I have a history in the past of a couple concussions, and my manager didn't want to take a risk. I understand that. But everything is fine. I understand what's going on.
"I got lucky."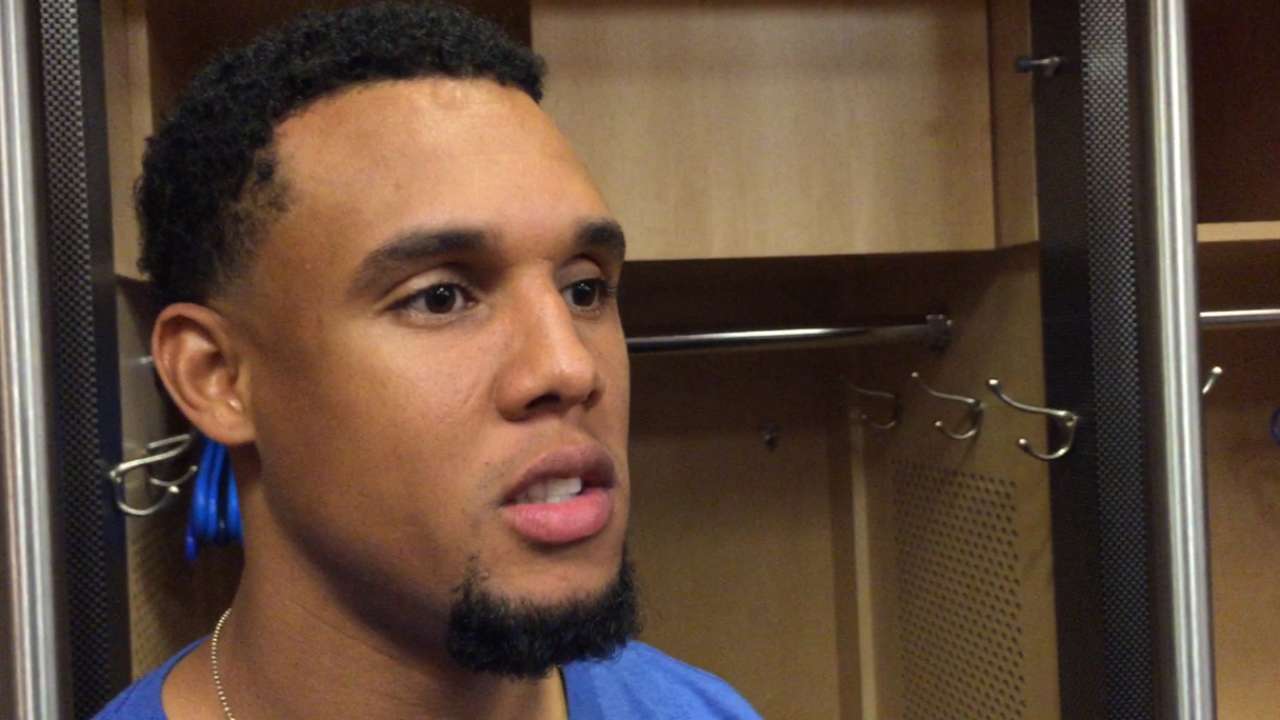 Syndergaard, making his home debut, had just surrendered his second hit of the game when Gomez stepped to the plate with nobody out in the sixth inning and the Brewers trailing, 5-0. He fouled off one 97-mph pitch before Syndergaard came inside with another, striking Gomez on the left side of his helmet.
Gomez suffered facial bruising in the shape of his ear flap that was evident as he spoke to reporters, but passed a concussion test.
Here's the earflap-shaped bruise on Carlos Gomez's face. "I got lucky," he said. pic.twitter.com/lbWCiWKa04

— Adam McCalvy (@AdamMcCalvy) May 17, 2015
"I just want to start by saying I hope Gomez is OK and that I hope he doesn't miss any playing time," Syndergaard said. "I just tried to go in there and lost control of it."
Said Gomez: "Everybody knows it's not on purpose. It's part of the game. You have to move forward, and it's fine. I'm fine. No concussion. The worst thing that happened today is we lost the game. ... I heard from my teammates that, after that, he was really upset. I appreciate that. I think that kid will be good."
Gerardo Parra replaced Gomez on the bases and in center field, and would start Monday if the Brewers hold Gomez out for a day or two.
It was the Brewers' third beaning this season. On two previous occasions, shortstop Jean Segura was struck in the helmet by pitches.
"It feels like it's happening too much, I know that," said Brewers manager Craig Counsell, who rushed immediately to Gomez's side and refused Gomez's request to remain in the game. "We're fortunate that the guys' helmets have protected them."
Gomez had a more serious scare on Aug. 2, 2010, when he was hit in the head by Cubs rookie Brian Schlitter during a game at Wrigley Field. Gomez suffered a concussion and spent about three weeks on the disabled list.
He'd also suffered concussions in the Minor Leagues, Gomez said.
"If you're afraid to get hit, you have to go home," Gomez said. "I'm not afraid to get hit. It's not fun, but it's what the game takes. A different case is when you get hit on purpose. But in this case, it's not on purpose, and you just have to go to first, or if you get hurt, just come inside."
Adam McCalvy is a reporter for MLB.com. Follow him on Twitter @AdamMcCalvy, like him on Facebook and listen to his podcast. This story was not subject to the approval of Major League Baseball or its clubs.