MLB.com Columnist
Tracy Ringolsby
ASG debate: Rox duo making bid for NL OF
Blackmon, Dickerson continue franchise tradition of producing elite outfielders
*** We will be doing daily ASG debates until balloting ends on July 2. We will frequently be pitting one player against another and have a writer make a case for one of them, but that doesn't mean there aren't other great candidates for that position. In fact, your comments could spark a new debate for us to tackle. So let us know what you think! ***
From Dante Bichette to Larry Walker to Matt Holliday to Carlos Gonzalez, the Rockies have always had stellar outfielders. And nothing has changed, even though Bichette and Walker have retired, Holliday is now in St. Louis and Gonzalez got off to a slow start this season.
Corey Dickerson and Charlie Blackmon have stepped up to carry on the tradition of Rockies All-Star outfielders. Colorado's representative at the 2015 Midsummer Classic could well come down to one of these two outfielders, which is no surprise considering the franchise's history.
Think about it. Rockies outfielders have accounted for 17 of the 42 All-Star selections in the franchise's history, and Holliday, Walker, Bichette and Gonzalez combined to make eight of the 16 All-Star starts by a Colorado player. Walker made a franchise-best four starts.
Bichette, in addition to his start in 1996, was a reserve in '94, '95 and '98. Holliday started in 2008 after being a reserve in '06 and '07. Walker was the National League's starting right fielder in 1997 and '99, center fielder in '98, and filled the starting designated-hitter role in 2001. Gonzalez was the DH in '12 and left fielder in '13.
And there were also reserve roles for Ellis Burks 1996, Jeffrey Hammonds in 2000, Preston Wilson in '03, Brad Hawpe in 2009, Michael Cuddyer in 2013 and Blackmon a year ago.
This year? Dickerson and Blackmon, both of whom had amateur ambitions of pitching in the big leagues, are each making a run at an All-Star assignment in 2015.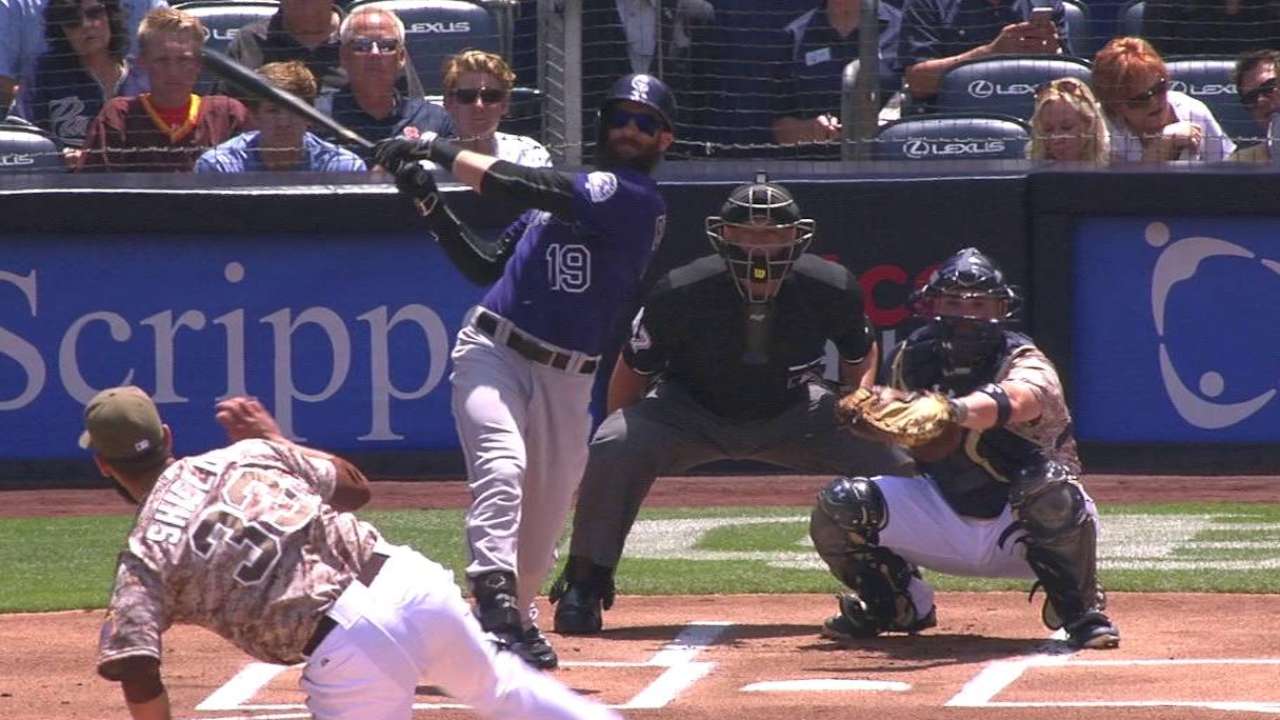 Blackmon showed up to pitch in summer college ball in Arlington with a sore arm and was instead told by his manager, former big league outfielder Rusty Greer, that he was an outfielder. Things went so well that summer that when Blackmon showed up in the fall at Georgia Tech, the position change became permanent.
Blackmon gives the Rockies a catalyst at the top of the lineup, and he's an above-average center fielder -- which is important given the amount of ground he has to cover at Coors Field. Blackmon also has shown plus power for a top-of-the-lineup bat. He went into Sunday hitting .289 with 13 extra-base hits, three behind Wil Myers of the Padres for the NL lead among leadoff hitters. Blackmon had five home runs, six doubles, two triples, 15 runs scored and 14 driven in.
Dickerson was a prime pitching prospect in high school, but he suffered a shoulder injury his junior year, underwent surgery and cut the rehab short because he had to report to camp for his high school football team. The arm never came all the way back, but his bat ended up being his ticket to the big leagues.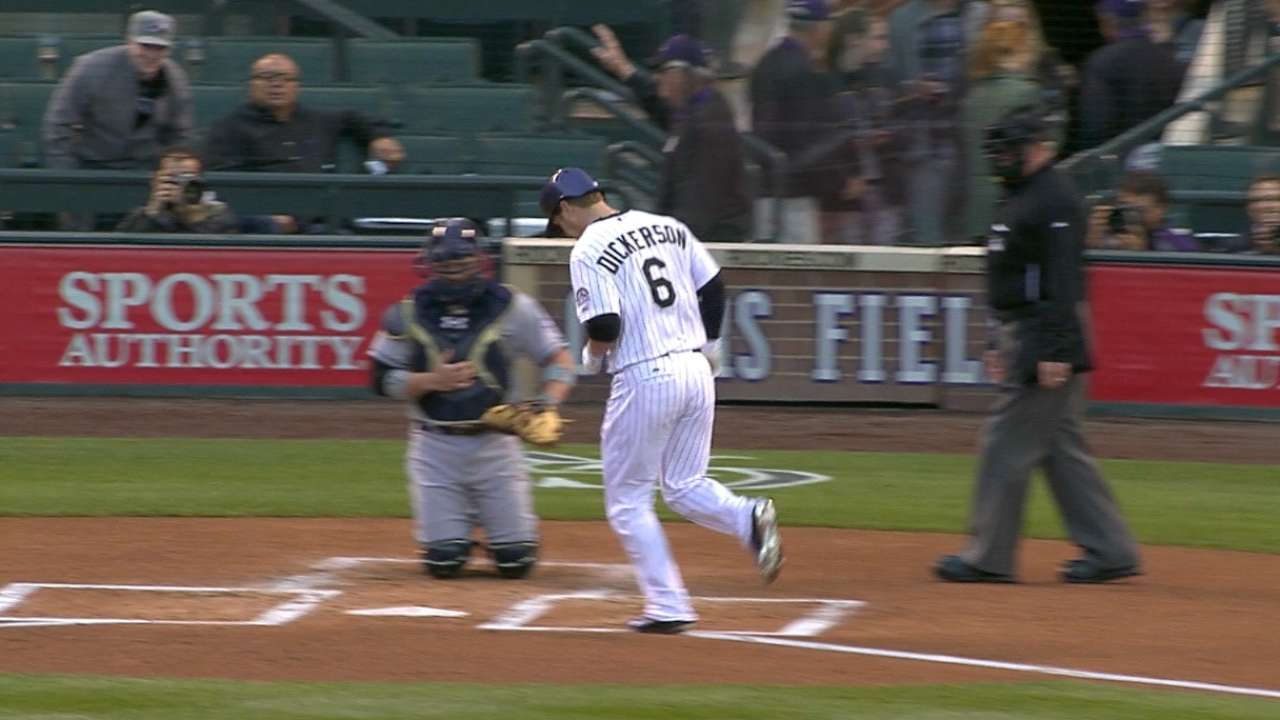 Given the focus on offense in the All-Star Game, Dickerson would seem to have an edge. He went into Sunday hitting .312 with five doubles, two triples, five home runs, 15 runs scored and 16 RBIs, and that's despite a lingering problem with plantar fasciitis.
Those numbers, however, tell only part of the story. The left-handed-hitting Dickerson has hit .298 against right-handers and .360 against left-handers. In his 29 starts, he has found himself slotted into every spot in the starting lineup except fourth, eighth and ninth. He has also hit .480 with runners in scoring position, including .583 with two outs.
Blackmon and Dickerson are both putting together seasons that show they are capable of carrying on Colorado's tradition of All-Star outfielders.
Fans can cast their votes for starters at MLB.com and all 30 club sites -- on their computers, tablets and smartphones -- using the 2015 Esurance MLB All-Star Game Ballot until Thursday, July 2, at 11:59 p.m. ET. For the first time, voting is exclusively online, where fans may submit up to 35 ballots.
Fans may also receive the ballot by texting VOTE to 89269 (USA) or 101010 (Canada). Or text VOTA for a ballot in Spanish. Message and data rates may apply. Up to five messages. No purchase required. Reply STOP to cancel. Reply HELP for info.
Following the announcement of the 2015 All-Stars, be sure to return to MLB.com and cast your 2015 Esurance MLB All-Star Game Final Vote for the final player for each league's All-Star roster. On Tuesday, July 14, watch the 2015 All-Star Game live on FOX, and during the game visit MLB.com to submit your choice for the Ted Williams Most Valuable Player Award presented by Chevrolet via the 2015 MLB All-Star Game MVP Vote.
MLB.com will provide extensive online coverage of All-Star Week festivities.
The 86th All-Star Game will be televised nationally by FOX, in Canada by Rogers Sportsnet and RDS, and worldwide by partners in more than 200 countries via MLB International's independent feed. ESPN Radio and ESPN Radio Deportes will provide national radio coverage of the All-Star Game. MLB Network and SiriusXM will also provide comprehensive All-Star Week coverage. For more information, please visit allstargame.com.
Tracy Ringolsby is a columnist for MLB.com. Read his blog, Write 'em Cowboy. This story was not subject to the approval of Major League Baseball or its clubs.