Drew to take opposite-field approach at plate
Yankees infielder has struggled on offense this season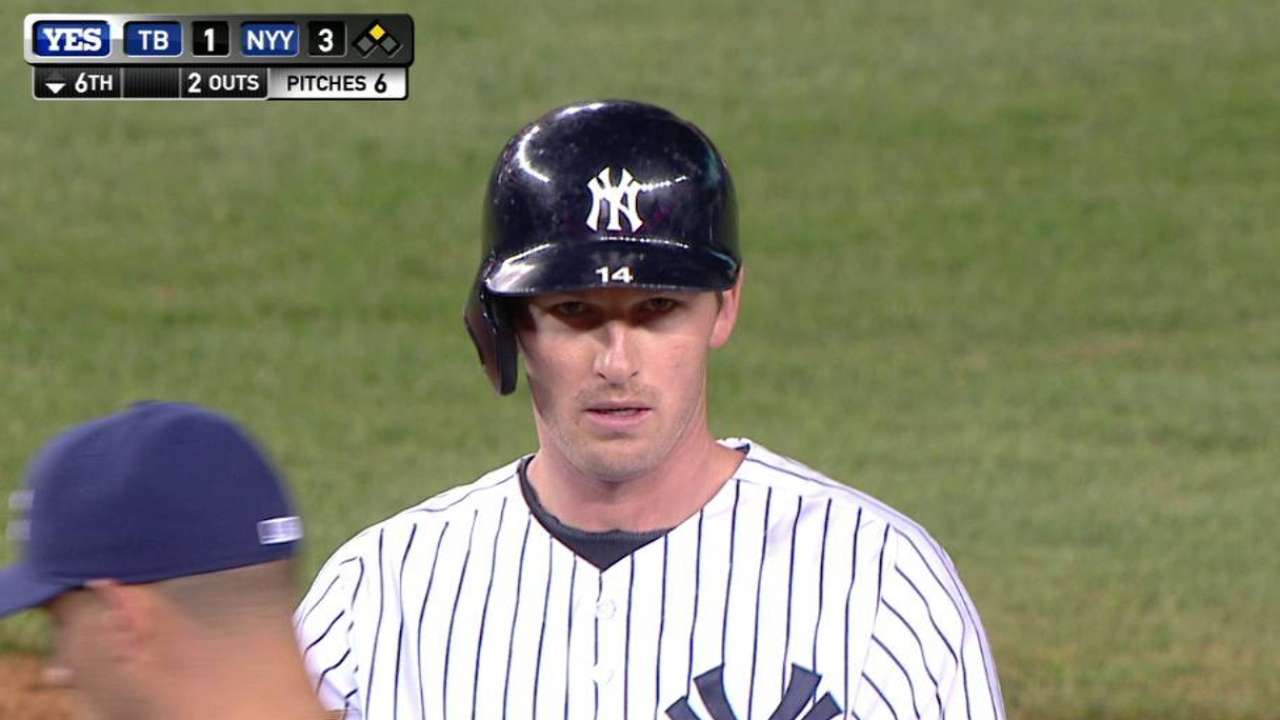 KANSAS CITY -- Stephen Drew has watched the dynamic duo of Jacoby Ellsbury and Brett Gardner spark the Yankees' lineup with regularity, and he is hoping to steal a lesson from their playbook.
Drew notched two hits in Saturday's 5-1 victory over the Royals, serving a soft fourth-inning single over the shift into left field and legging out a more conventional double in the sixth. As Drew tries to pump his batting average above the Mendoza line, he can't be picky.
"I'm going to take what they give me," Drew said. "Looking at Gardy, he does a really good job. Ellsbury with two strikes, they slap the ball the other way. Hopefully I can continue to do that. Even though a pitch might be in, just be able to start getting those kinds of hits."
Despite Drew's .183 batting average entering play on Sunday, Yankees manager Joe Girardi has continued to have confidence in him, saying that his soft offensive numbers remain a head-scratcher.
"I'm going to say it again, and I know it doesn't mean anything until the numbers change, but he has hit the ball harder than his average has indicated," Girardi said. "Obviously you hope it balances out."
Girardi said that Drew has already helped the Yankees win games with his defense up the middle, but Drew said that he can still put together a respectable season at the plate. Saturday's single snapped an 0-for-13 skid.
"I'm just going to try to do my best, like I did in Arizona, just feel my hands and try to start hitting the ball to left more now," Drew said. "With guys back, I'll start doing more bunting and play those odds.
"I'm having good at-bats; [Friday] was good at-bats, just no results. It's been good. A couple of games here and there have been hit and miss, but other than that, I feel like I've had good ABs."
Drew said that Girardi's continued support has helped him to keep a positive attitude.
"He's been around the game, so it's huge," Drew said. "Just every day, come out and play hard. If it's not with the bat, it's going to be defense. However I can help this team win, that's the main goal here."
Bryan Hoch is a reporter for MLB.com. Follow him on Twitter @bryanhoch, on Facebook and read his MLBlog, Bombers Beat. This story was not subject to the approval of Major League Baseball or its clubs.