McCullers arrives ready to make MLB debut
Right-hander, 21, to face A's tonight; posted 0.62 ERA at Double-A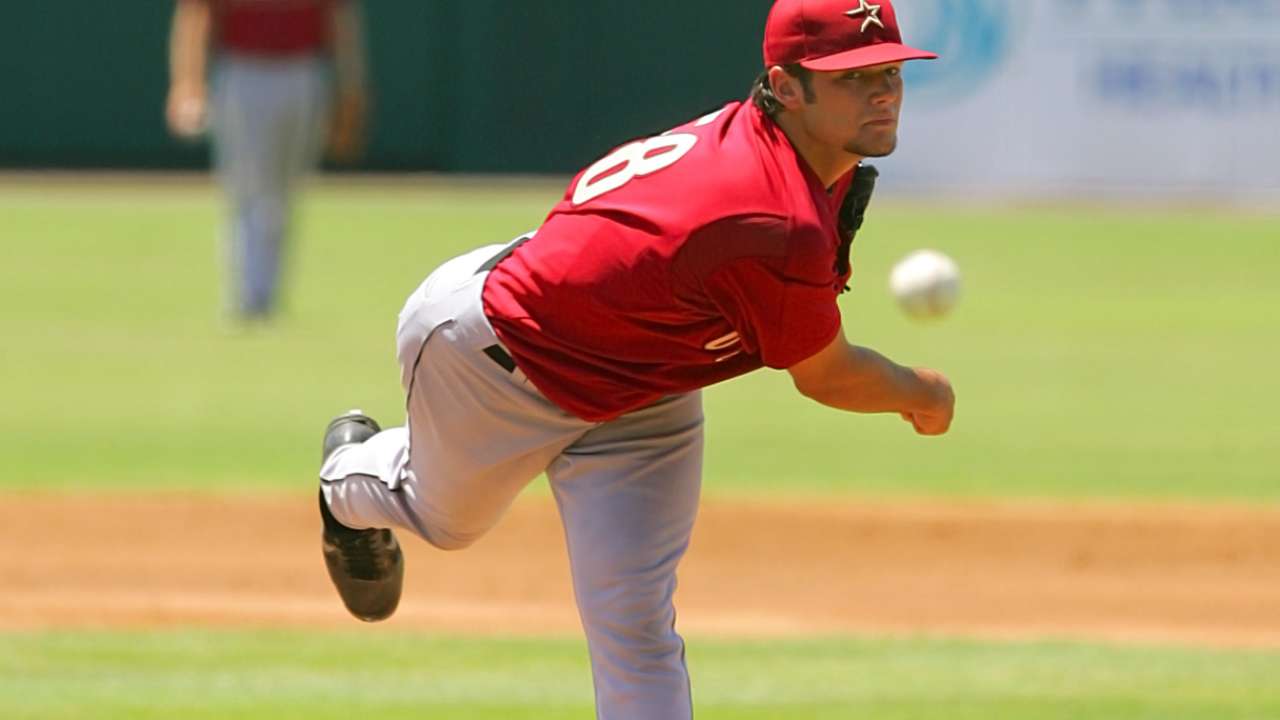 HOUSTON -- Lance McCullers Jr. was in the Astros' clubhouse on Sunday morning, getting a feel for what lies ahead. Tonight, the 21-year-old right-hander will make his Major League debut against the Oakland A's at Minute Maid Park.
And McCullers welcomes the opportunity.
"I'm real blessed to be here, and real appreciative," he said.
It's been a hectic few days for McCullers. Shortly after being promoted from Double-A Corpus Christi to Triple-A Fresno last week, McCullers was told he was headed to Houston.
"I don't think you ever expect your big league callup, especially when you were in Double-A, and then Triple-A for just a couple of days," McCullers said. "That just shows how much confidence that the Astros have in me, and the steps I have made toward being here. I'm just happy I can help this team win."
McCullers -- whose father pitched in 306 Major League games from 1985-92 -- is deserving of the promotion. Especially after what he accomplished at Corpus Christi, going 3-1 with a 0.62 ERA. He allowed two earned runs in 29 innings with 43 strikeouts and 11 walks.
Astros manager A.J. Hinch said McCullers is mature and knows how to handle the situation.
"He knows his strengths," Hinch said. "He has a good demeanor about him. He showed that in camp. I told him to just go out and compete. His best is good enough.
"It's a matter of going out and competing against new guys at the highest level. And trying to channel his energy, his nerves, excitement. I expect him to have good stuff. We've seen it, and he's capable of doing anything. It's going to be an exciting time for him with a new team that's going to embrace him from day one."
McCullers, whose fastball is in the 92-98 mph range, was taken in the supplemental first round of the 2012 Draft with the 41st overall pick. Since being drafted by the Astros, McCullers has worked on his fastball command, development of a third pitch and controlling himself on the mound.
He throws a four-seam fastball, sinker, breaking ball and changeup.
Tonight, McCullers will face an A's lineup likely loaded with left-handed hitters.
"Whenever you're making your big league debut, whoever you're facing is going to be a test," McCullers said. "I'm sure they'll feel me out and I'll feel them out. But I'm just going to go out there and pitch how I've been pitching."
A large contingent of family and friends will be on hand to watch McCullers, who said he expects 10-12 relatives and 10-12 close friends to be in attendance.
Making the game even more enjoyable is that McCullers will be pitching for a first-place team.
"I was thinking in Spring Training, just the couple of games I was up there in big league camp, how well the team jelled and how much talent I saw up there and how I thought they would have a great season, and they're having an outstanding season," McCullers said.
Richard Dean is a contributor to MLB.com. This story was not subject to the approval of Major League Baseball or its clubs.