Rangers make changes to struggling bullpen
Scheppers called up from Triple-A; Fujikawa designated; Detwiler to DL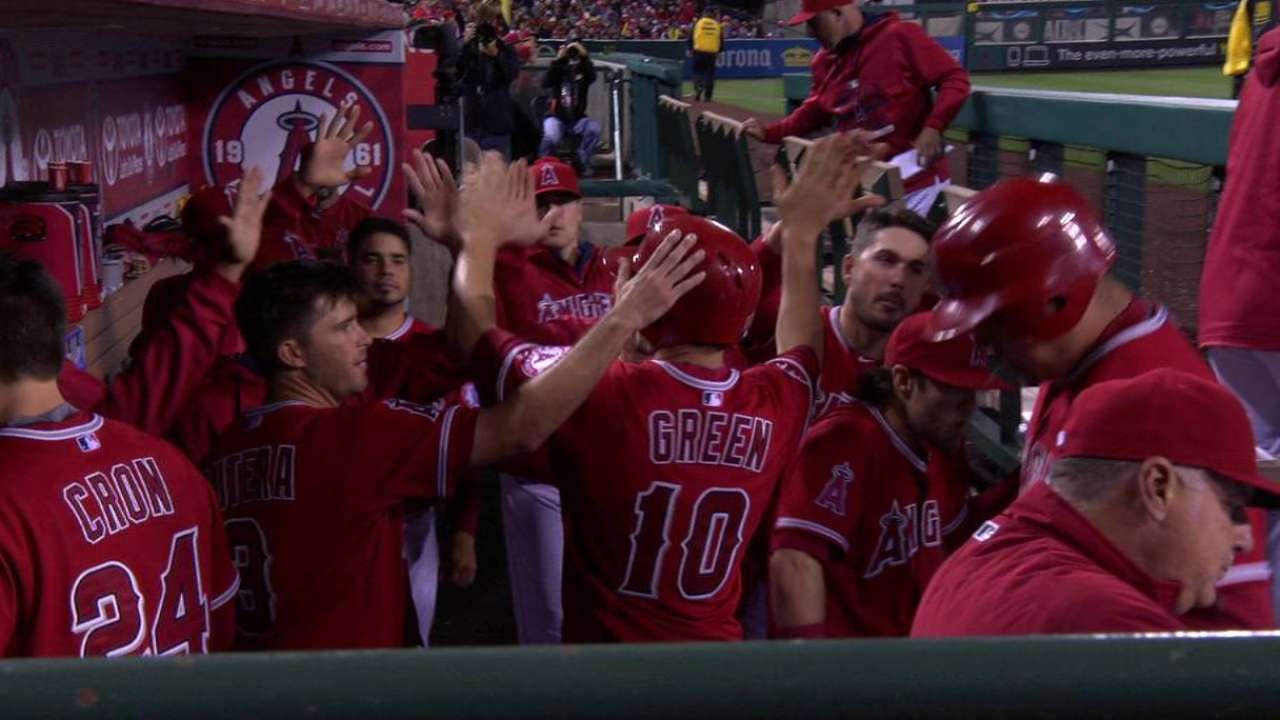 ARLINGTON -- As the Rangers look to fix a bullpen that continues to falter, the hammer finally came down with multiple roster moves Sunday.
Left-handed starter Ross Detwiler was placed on the 15-day disabled list with inflammation in his left shoulder. To replace Detwiler on the roster, the Rangers recalled right-hander reliever Tanner Scheppers from Triple-A Round Rock. The Rangers also designated right-handed reliever Kyuji Fujikawa for assignment and purchased the contract of righty Ross Ohlendorf from Triple-A.
Detwiler began feeling pain Friday after he threw a career-high 108 pitches in five innings Thursday in a loss to the Royals. Detwiler is 0-5 this season with a 6.95 ERA.
Detwiler was scheduled to start Wednesday at Boston, but Rangers officials said the starter for that game is now to be determined. Manager Jeff Banister indicated Anthony Bass is the only bullpen member with considerable length, but the Rangers would like to keep him in the bullpen. Another idea is right-hander Phil Klein, who was scratched from his start in Round Rock on Sunday. Rangers general manager Jon Daniels said Klein is an option to get the start.
Scheppers, a 28-year-old right-hander, was a candidate to be the Rangers' setup man this season, but opened the season on the disabled list with an ankle sprain and was sent down after posting an 11.25 ERA in five appearances in April. Scheppers made seven appearances in Round Rock, where he did not allow a run in 7 2/3 innings.
"The last three outings have been more what you expect out of Tanner," Daniels said. "He's got his confidence back and knows what he needs to do."
Fujikawa was activated from the disabled list Thursday, allowing three runs in 1 2/3 innings since then. Fujikawa was recovering from Tommy John surgery this offseason and had a 0.77 ERA in his Minor League rehab stint.
"We feel we're at a point where we need to go with our best options now," Daniels said. "You always like to be a little more patient and let guys work through things. We're not in that positon right now."
Per Fujikawa's contract, he cannot be optioned to the Minors without consenting. The Rangers have 10 days to trade, release or outright Fujikawa to the Minors. Daniels said the Rangers would extend an opportunity for Fujikawa to stay in the organization assuming he clears waivers.
Ohlendorf comes to the Rangers after going 2-1 with a 4.35 ERA over nine relief appearances in Triple-A. Ohlendorf, 32, has not made a Major League appearance since Sept. 18, 2013 with the Nationals. Ohlendorf missed most of last season with a back injury, but has a career 22-33 record and a 4.88 ERA in the Majors.
The Rangers' bullpen has struggled from top to bottom, with closer Neftali Feliz blowing three saves, including Saturday in a 10-8 loss to the Indians. Daniels said he is still operating under the idea that Feliz is the team's closer.
The bullpen has allowed runs in nine of the past 11 games and has a 6.27 ERA in May, which is second worst in the American League. The bullpen has also allowed 14 home runs this month, and Banister said that is his biggest concern.
Still, Daniels expressed hope that the bullpen can find an answer to its struggles.
"I think certain guys have put themselves in positions where we're better when they're in more high-leverage spots," Daniels said. "With other guys, it's still up in the air. I think [Banister is] going to utilize them as needed based on who's throwing well and the matchup and who's coming up. With Ross and Tanner coming in now, hopefully they can contribute to settling things down a little bit."
Cody Stavenhagen is an associate reporter for MLB.com. This story was not subject to the approval of Major League Baseball or its clubs.