Bochy has outfield logjam, but players 'unselfish'
Manager has five viable options in Pence, Pagan, Blanco, Aoki, Maxwell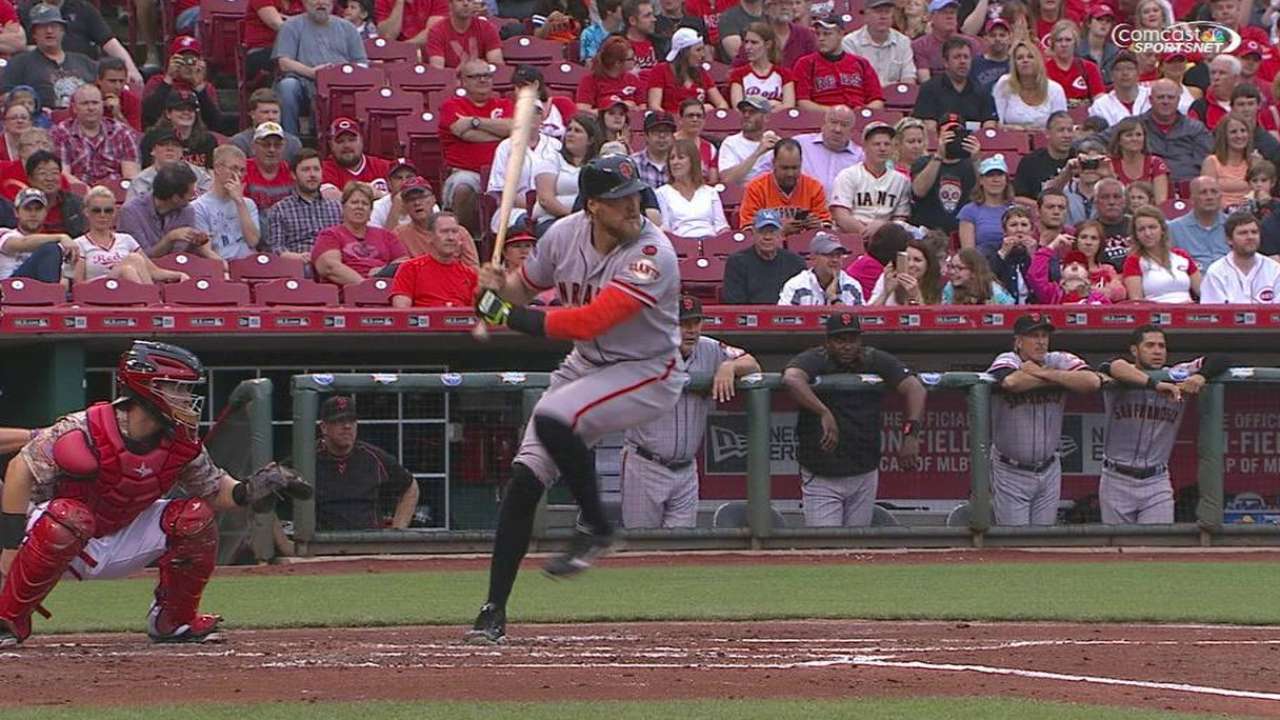 CINCINNATI -- It would not be entirely accurate to say Giants manager Bruce Bochy is dealing with a "problem." Maybe a "challenge," if having too many good players can be considered a challenge.
Bochy said Sunday that he has already considered ways to keep his outfielders happy, healthy and sharp. San Francisco added a fifth outfielder to its roster Saturday when Hunter Pence was activated from the 15-day disabled list.
"We have such talented outfielders, and they all want to be out there," Bochy said. "They are a very unselfish group. It makes my job a lot easier."
Center fielder Angel Pagan was not in Sunday's starting lineup against Cincinnati. Back spasms had forced Pagan out of Saturday's 11-2 win over the Reds. Bochy said Pagan was feeling better Sunday. But with the Giants idle Monday, two days off could be of considerable help to Pagan, who was hitting .324 through Saturday. Gregor Blanco started in center.
Nori Aoki started in left field 31 times during San Francisco's first 34 games, but he did not start any of the Giants' first three games in Cincinnati. Bochy decided to ride the hot hand of Blanco, who had nine hits in his last 18 at-bats entering play Sunday.
"Nori is going to be out there, for the most part," Bochy said. "As for Blanco, I can't compliment him enough. Here is a guy who started every postseason game for us, and he hasn't been playing much. He stayed ready, got some playing time, and now it's hard to keep him out of the lineup."
Pence suffered a broken left forearm when he was hit by a pitch during the first week of Spring Training, and he was on the disabled list until Saturday. Justin Maxwell stepped into right field and drove in 16 runs, third on the team behind Brandon Crawford (24) and Buster Posey (18) through Saturday.
"[Maxwell] did a nice job of filling in for Hunter," Bochy said. "He played great defense and supplied offense. He picked us up when we needed it."
Still, a healthy Pence rarely takes a day off. That's why Pence was "shocked," in Bochy's words, to be removed from Saturday's rout, his first game back.
"Even Hunter will admit he's a better player with an occasional day off," Bochy said.
Winning makes for a happy clubhouse, even when occupied by some players who see action on an irregular basis. If the Giants continue to climb out of the early hole they dug in April and set their sights on another postseason appearance, the San Francisco clubhouse is likely to stay happy.
"I was a role player," Bochy said. "You do think of those guys. For them to help you, you have to get them out there and keep them sharp. It's a workable situation."
Andy Call is a contributor to MLB.com. This story was not subject to the approval of Major League Baseball or its clubs.