Braves set to give Perez look in rotation
Right-hander assuming spot of Stults, who will work out of bullpen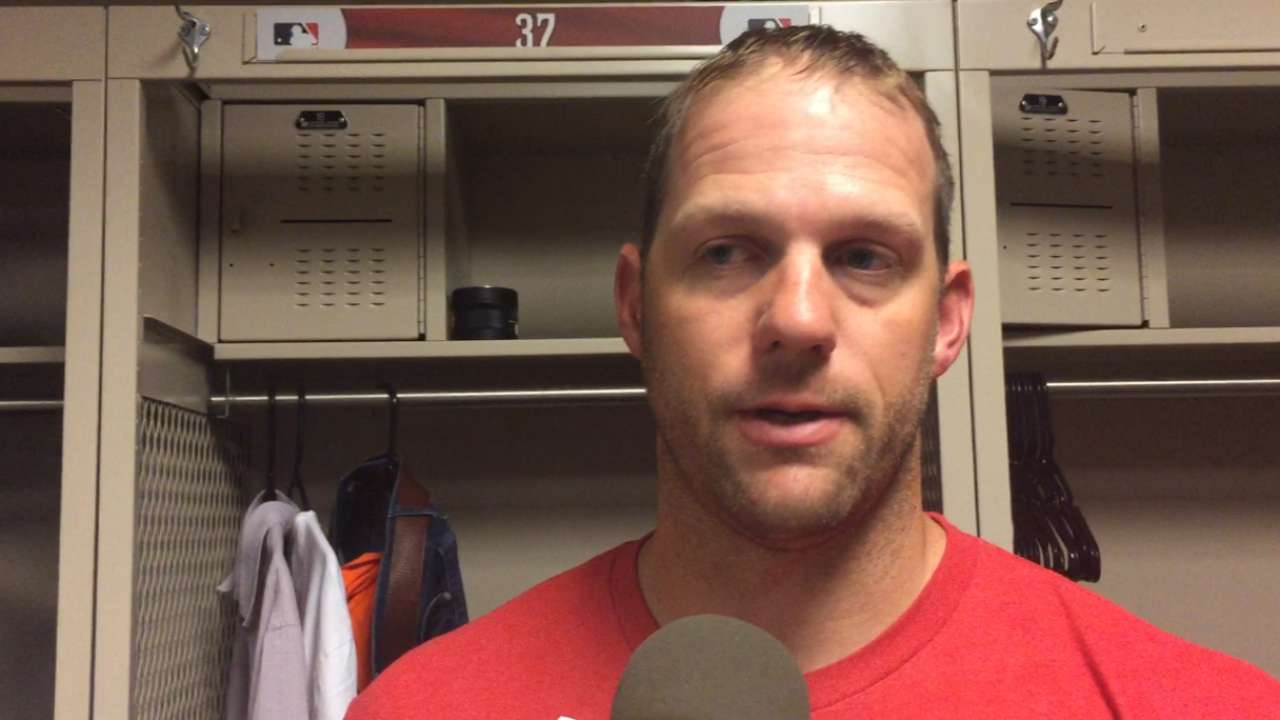 MIAMI -- As anticipated, the Braves have opted to remove Eric Stults from their starting rotation. But instead of replacing him with one of their highly regarded prospects, they decided to give Williams Perez a few starts.
Perez will take Stults' turn in the rotation when the Braves host the Rays on Wednesday night. This will be the first career start for the 23-year-old right-hander, who has been in Atlanta's bullpen since gaining his first promotion to the Major League level on May 5.
"[Perez] is a guy who throws strikes and he has a good mixture of pitches," Braves manager Fredi Gonzalez said. "He's a young guy that could help us in the rotation in the future. So we'll give him an opportunity to start."
Perez enhanced his stock as he posted a 2.91 ERA in 26 appearances (25 starts) for Double-A Mississippi last year. He then produced a 1.33 ERA in the five starts he made for Triple-A Gwinnett in 2015 before being promoted to the Majors.
But over the past week, the Venezuelan has yet to show why some members of the Braves' front office believe he has a bright future. He has retired just six of the 14 batters he has faced in the two relief appearances he has made for Atlanta.
While Matt Wisler and Manny Banuelos seemingly stand as better options than Perez, the Braves are not ready to promote either of these highly regarded pitching prospects.
Wisler, who is ranked by MLB.com as Atlanta's top pitching prospect, has posted a 1.42 ERA and limited opponents to a .260 on-base percentage over his past three starts for Gwinnett. But because the right-hander produced a 6.75 ERA through this season's first four starts, the Braves believe it would be wise to give him a little more time to develop before starting his service clock.
Banuelos has posted a 1.06 ERA over his past three starts for Gwinnett. But given that he totaled just 76 1/3 innings while returning from Tommy John surgery last year, the Braves are planning to limit him to approximately 120 innings in 2015. Since the former Yankees farmhand has already totaled 37 1/3 innings, he might not get a call to the Majors until later this summer.
Stults gained a spot in Atlanta's rotation out of Spring Training because he was viewed as a more durable option than the oft-injured Wandy Rodriguez, who has proven effective in three of the five starts he has made for the Rangers this year.
Since allowing three runs or fewer in three of his four April starts, Stults has surrendered two home runs in each of the three starts he has made this month. He will have an opportunity to provide some depth to Atlanta's bullpen.
Mark Bowman is a reporter for MLB.com. This story was not subject to the approval of Major League Baseball or its clubs.