MLB.com Columnist
Phil Rogers
ASG debate: Frazier or Carpenter at hot corner?
Stats suggest Reds third baseman is worthy of Midsummer Classic start at home park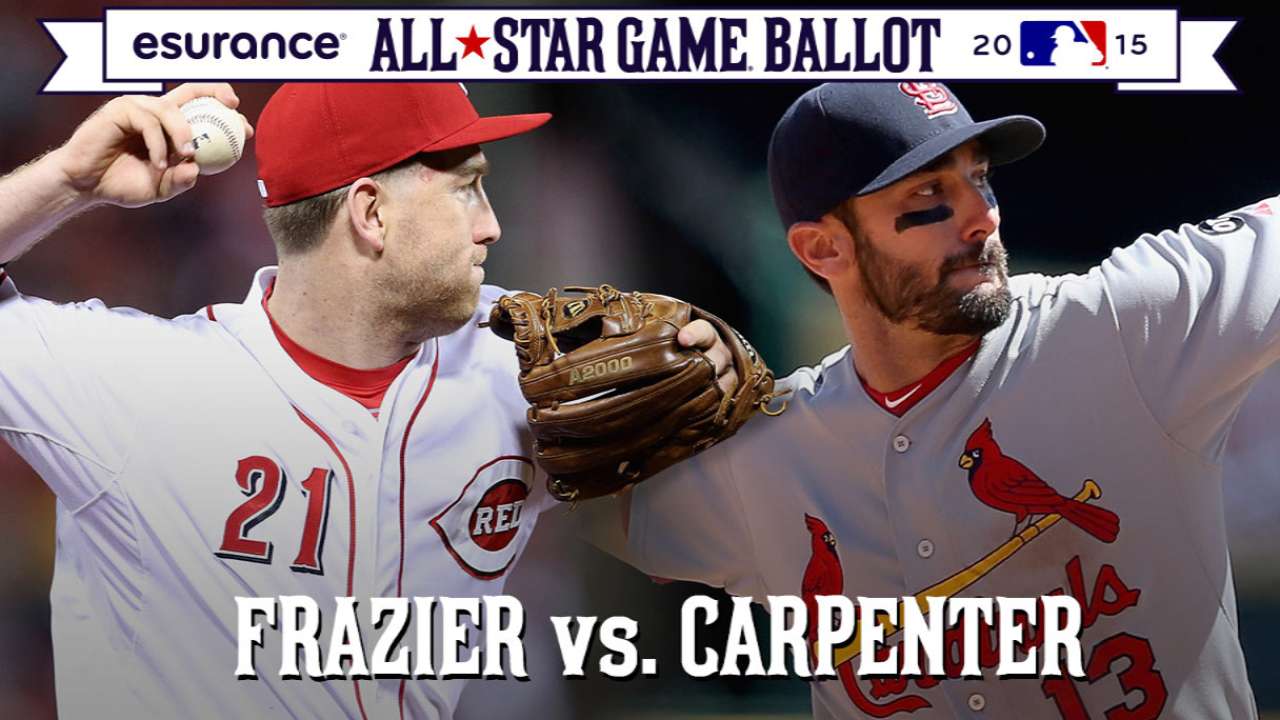 *** We will be doing daily ASG debates until balloting ends on July 2. We will frequently be pitting one player against another and have a writer make a case for one of them, but that doesn't mean there aren't other great candidates for that position. In fact, your comments could spark a new debate for us to tackle. So let us know what you think. ***
Few players provide a more conspicuous presence on a day-in, day-out basis than Matt Carpenter.
The bearded third baseman for the Cardinals is in the middle of everything, it seems, on the best team in the National League. He'd be an easy choice to be a starting third baseman in the All-Star Game, even on a team that includes the best young hitter in the game, the Cubs' Kris Bryant. But that doesn't mean that Carpenter would be the right choice.
The Reds' Todd Frazier is one of those ultra-reliable players who is easy to overlook, for one reason or another. But when you stack up NL third basemen, you come down to a difficult decision -- who deserves to be in Bruce Bochy's lineup more: the Cardinals' catalyst, Carpenter, or the Reds' run producer, Frazier?
You can argue it either way and not be wrong.
After all, Carpenter plays the game so hard that Mike Matheny had to send him home for a weekend earlier this month to keep him from burning himself out, and he's putting up an elite OPS of 1.010. That sounds like a guy who should get the call. But when you factor in everything, including defensive contributions, you give the nod to the Little League World Series hero, Frazier, by the slightest of margins.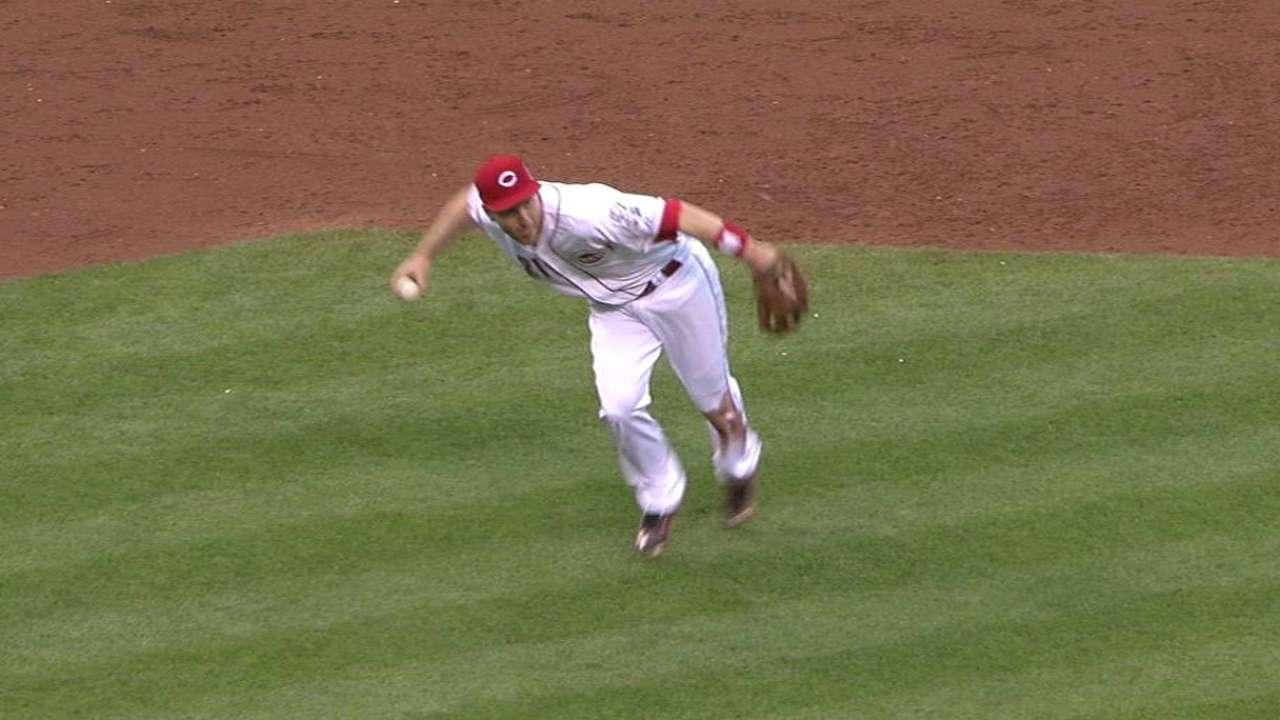 Frazier's championship game performance in 1998 in Williamsport, Pa. -- winning pitcher with a 4-for-4 day at the plate, include a leadoff home run -- is the stuff of baseball legend. But when you watch the Reds, it's easy to get caught up talking about other guys -- Billy Hamilton, Joey Votto, Johnny Cueto and Aroldis Chapman, specifically. But Frazier is the guy that Bryan Price builds his lineup around on a daily basis.
Frazier has hit 12 home runs, which leads NL third basemen by a wide margin. But he could be having a better season at the plate, with a .250 batting average contributing to his OPS being "only'' .910 through his first 135 at-bats. Because Frazier has gone 5-for-31 with runners in scoring position, he's actually scored more runs (26) than he's driven in (23) -- a surprising split for a guy who has hit third and fourth, with Hamilton in front of him.
But look at fWAR. Carpenter is at 2.0 and Frazier at 1.9 already, putting them ahead of Bryant (1.2), who spent the first 12 days of the season terrorizing Triple-A pitchers, and the Rockies' Nolan Arenado (1.0).
Frazier's value to Cueto and the Reds' other pitchers is reflected in his WAR. Because of his versatility, he's never had the luxury of playing third base exclusively in the Big Leagues. Frazier has been there as a constant this season, and while he might not make enough spectacular plays to take the Gold Glove away from Arenado, he's been a very valuable fielder.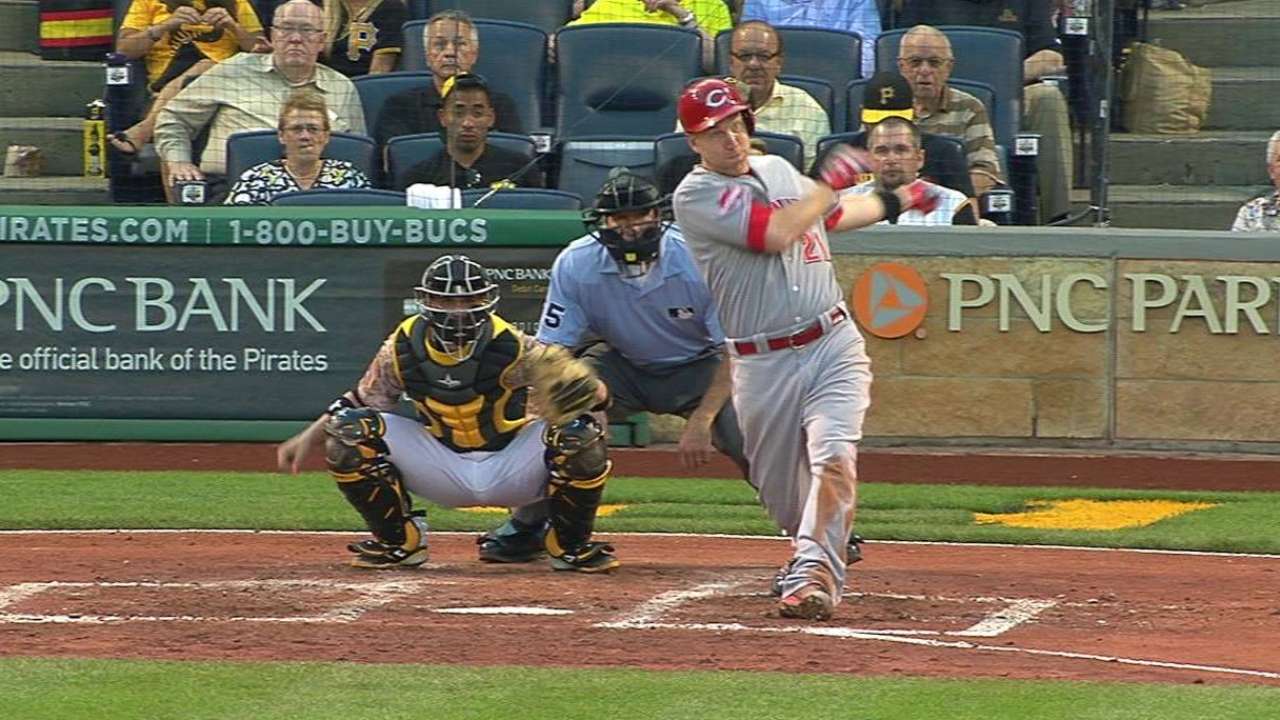 Metrics show Frazier has been way better than Carpenter in the field. While Frazier had 3.0 defensive runs saved and a 3.5 UZR, Carpenter is at minus-2 DRS and minus-0.2 UZR. So if the NL's starting pitcher (say Zack Greinke, as we speak) needs a play made behind him to get out of a jam, you'd probably want the ball hit to Frazier, not Carpenter.
You know both Frazier and Carpenter would go all out to get to the ball, because that's what they do. You can't go wrong with Carpenter or Frazier. But you have to pick one, and as it stands, it's the Reds' third baseman who has been the better all-around player. Once Frazier's RISP issues turn around -- and the small sample size suggests they surely will -- it might be an easier choice in a month than it is now.
Fans can cast their votes for starters at MLB.com and all 30 club sites -- on their computers, tablets and smartphones -- using the 2015 Esurance MLB All-Star Game Ballot until Thursday, July 2, at 11:59 p.m. ET. For the first time, voting is exclusively online, where fans may submit up to 35 ballots.
Fans may also receive the ballot by texting VOTE to 89269 (USA) or 101010 (Canada). Or text VOTA for a ballot in Spanish. Message and data rates may apply. Up to five messages. No purchase required. Reply STOP to cancel. Reply HELP for info.
Following the announcement of the 2015 All-Stars, be sure to return to MLB.com and cast your 2015 Esurance MLB All-Star Game Final Vote for the final player for each league's All-Star roster. On Tuesday, July 14, watch the 2015 All-Star Game live on FOX, and during the game visit MLB.com to submit your choice for the Ted Williams Most Valuable Player Award presented by Chevrolet via the 2015 MLB All-Star Game MVP Vote.
MLB.com will provide extensive online coverage of All-Star Week festivities.
The 86th All-Star Game will be televised nationally by FOX, in Canada by Rogers Sportsnet and RDS, and worldwide by partners in more than 200 countries via MLB International's independent feed. ESPN Radio and ESPN Radio Deportes will provide national radio coverage of the All-Star Game. MLB Network and SiriusXM will also provide comprehensive All-Star Week coverage. For more information, please visit allstargame.com.
Phil Rogers is a columnist for MLB.com. This story was not subject to the approval of Major League Baseball or its clubs.