Chirinos finds swing with clutch homer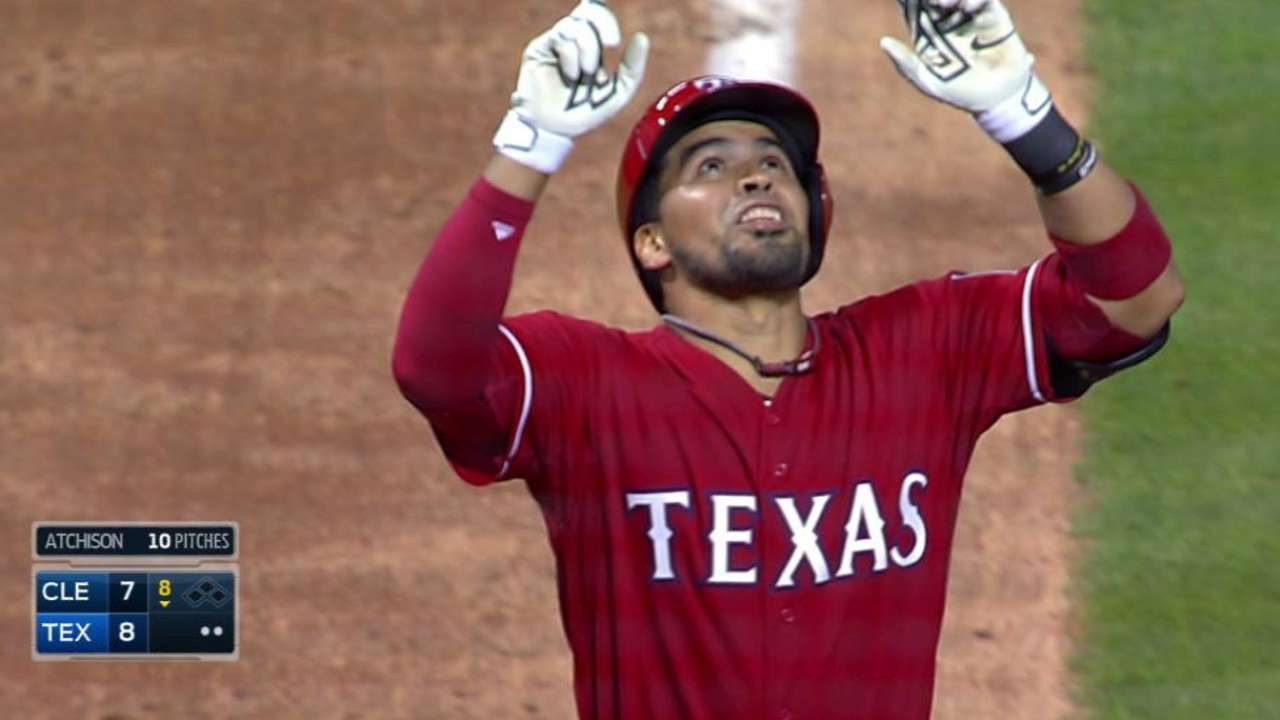 ARLINGTON -- A struggling Robinson Chirinos faced a 3-2 count in the eighth inning of a tie game when he remembered a prudent piece of advice from Rangers hitting coach Dave Magadan -- swing at a cutter or hard slider like you would a fastball.
Chirinos had been late and missed on two previous sliders from Indians reliever Scott Atchison. He got the bat ahead on the next pitch early, and he sent it into the left-field bleachers for a go-ahead home run.
The Rangers ended up losing, 10-8, as bullpen woes again cost them, but Chirinos -- who was hitless in his past nine at-bats entering Saturday -- went 3-for-4 with the homer and a double.
"First two I swung at, it was cutting at the last moment," Chirinos said. "I was trying to let it get deep and hit it. … Three-two [Magadan's advice] came back to my mind, and I swung it like a fastball, and thank God I hit it good."
Chirinos' home run was his third of the season, and he raised his average from .159 to .192 with Saturday's performance. His three hits tied a career-high, and he said it also served as a needed boost to his confidence.
"Thank God for the game I had at the plate," Chirinos said. "It was something I've been working so hard to be consistent and try to repeat my swing. Tonight was one of these nights where hopefully I can do that consistently from now on and try to get that ball on the barrel."
Chirinos also got some words of wisdom from Rangers legend Ivan Rodriguez before one of his earlier at-bats. Again, Chirinos decided he needed to get ready early and attack the ball. He had been behind, and that was a big reason for his struggles in the past week.
"He said to me to get ready, that when I get in trouble and when I miss my pitch it's because I'm not getting ready on time," Chirinos said. "That's something I'm trying to do."
Chirinos fixed his timing -- fitting because it resulted in timely hits when he needed them most.
"It meant a lot," he said. "It felt like all the hard work I put in the cages paid off in the game."
Cody Stavenhagen is an associate reporter for MLB.com. This story was not subject to the approval of Major League Baseball or its clubs.