Kipnis' game-winning HR latest May moment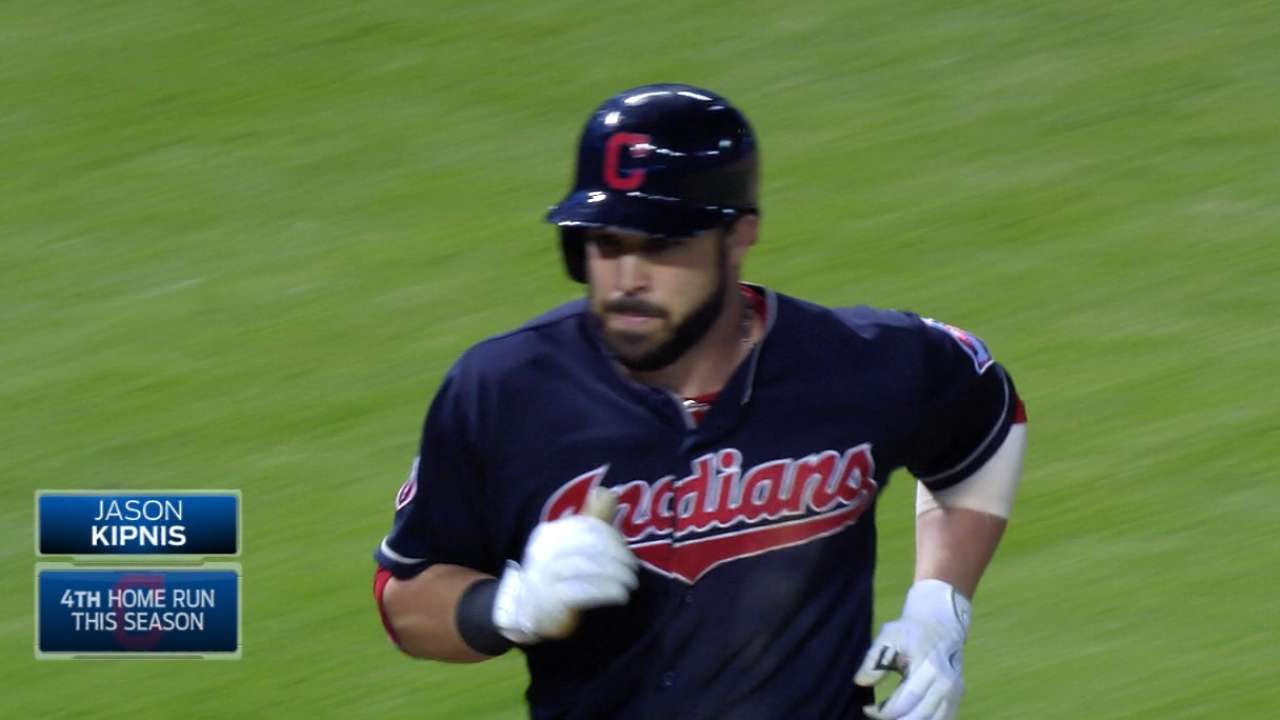 ARLINGTON -- Jason Kipnis thought the second pitch he saw from Rangers closer Neftali Feliz was the one good pitch he'd get in the at-bat. He was wrong.
It was an 88 mph changeup over the heart of the plate that Kipnis watched. But he jumped on Feliz's next offering - a 95 mph fastball low and in - and sent it 408 feet into the upper deck in right field. The home run, Kipnis' third hit of the game, was a game-winning two-run blast that gave the Indians a 10-8 win over the Rangers on Saturday at Globe Life Park.
"I thought maybe I was only going to get one good pitch the whole at-bat," Kipnis said. "I thought I missed my chance on [the second pitch] because he threw it 88 right over [the plate] ... I wasn't actually trying to pull [the next pitch]. It was low and in and I just dropped my hands on it."
The 3-for-6 performance was the latest in a long line of impressive games for Kipnis over the past three weeks. He is hitting .425 in 19 games since replacing Michael Bourn in the leadoff spot, and is batting .517 with 10 extra-base hits and 17 runs in 14 May contests.
"We've seen him get hot like this before. He could've been hitting third or fourth," Indians manager Terry Francona said. "He's seeing a lot of pitches and getting on base. When he's involved in the game, as the game goes, he just gets more dangerous."
Kipnis led off the game with an infield single up the middle and scored the first run on a sacrifice fly by David Murphy, marking the fourth straight game he started the game by reaching base. Kipnis didn't reach base in any of his next three at-bats, although he did move Jose Ramirez over from second to third with groundouts in the second and fourth.
Kipnis struck out in the sixth but came through in the late innings. He delivered a one-out double to right in the eighth and was on third base with two out when Murphy singled to load the bases. But Brandon Moss lined out softly to shortstop to end the threat.
With the Indians trailing by one following Robinson Chirinos' go-ahead homer in the eighth, Lonnie Chisenhall began the ninth-inning rally with a double to right.
Chisenhall moved to third when Feliz walked Brett Hayes on a wild pitch and scored when the Rangers couldn't turn a double play on Ramirez's grounder to shortstop. Second baseman Thomas Field threw wide of first base, committing his second error of the game, and Chisenhall trotted home to tie the game at 8.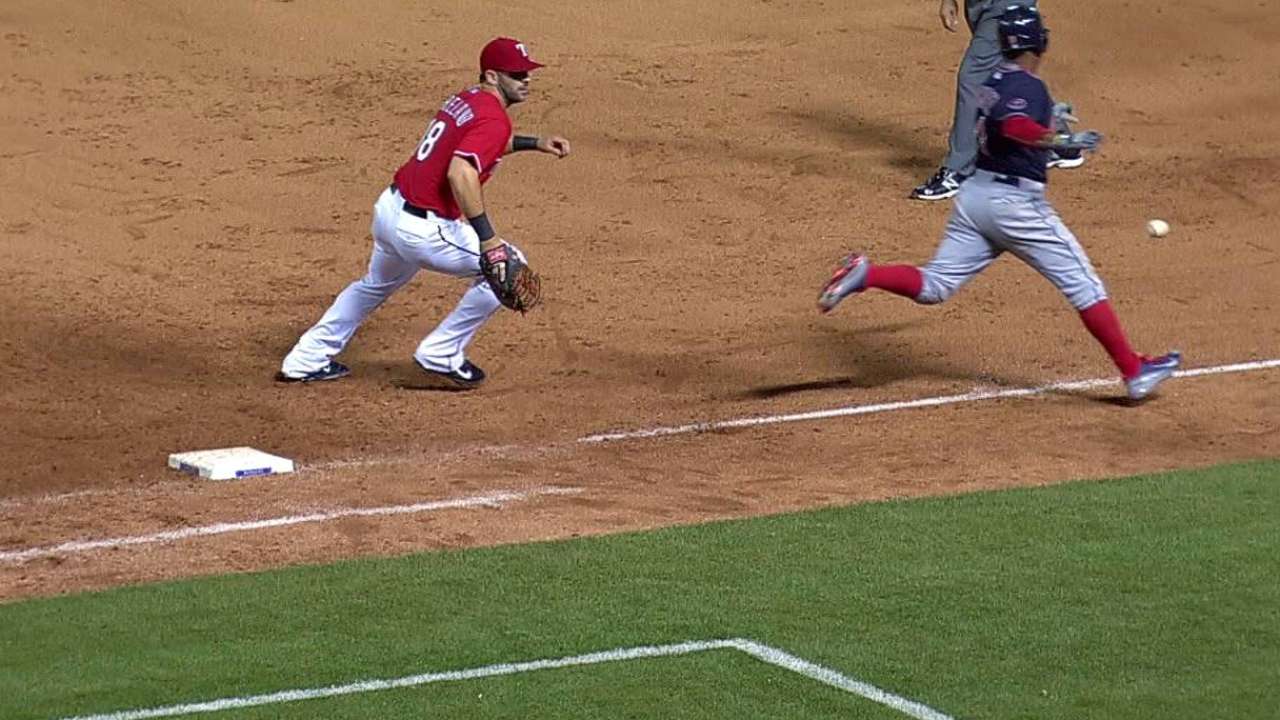 "He hasn't been swinging the bat for a high average," Francona said of Ramirez, who is hitting .175 this season. "But it's so hard to double him up because of the way he hustles. He's fast. His speed allows Kipnis to come to the plate."
Kipnis was indeed the next batter and put the Indians on top for good by homering on a 1-1 pitch from Feliz, giving them their first series win since the first one of the season.
"There were a number of ways we could've lost that game and we didn't," Francona said. "Kip has just been phenomenal in that situation. A great swing off a really good pitcher."
It was his fourth career go-ahead home run in the ninth inning or later and first in exactly two years. Kipnis, who is currently on an eight-game hit streak, has had multiple hits 10 times in his last 14 games and has tallied at least three hits in five of his last seven.
"Things are going [well] for me," Kipnis said. "I know it's not going to last. I know I'm not going to be able to keep this up the rest of the year. I've got my approach where I want it. I'm staying balanced. I'm seeing the ball well. I'm trying to ride it out for as long as I can."
Christian Corona is a contributor to MLB.com. This story was not subject to the approval of Major League Baseball or its clubs.