De La Rosa exits early, downplays groin injury
Rockies starter allowed just two hits in 7 1/3 innings vs. Dodgers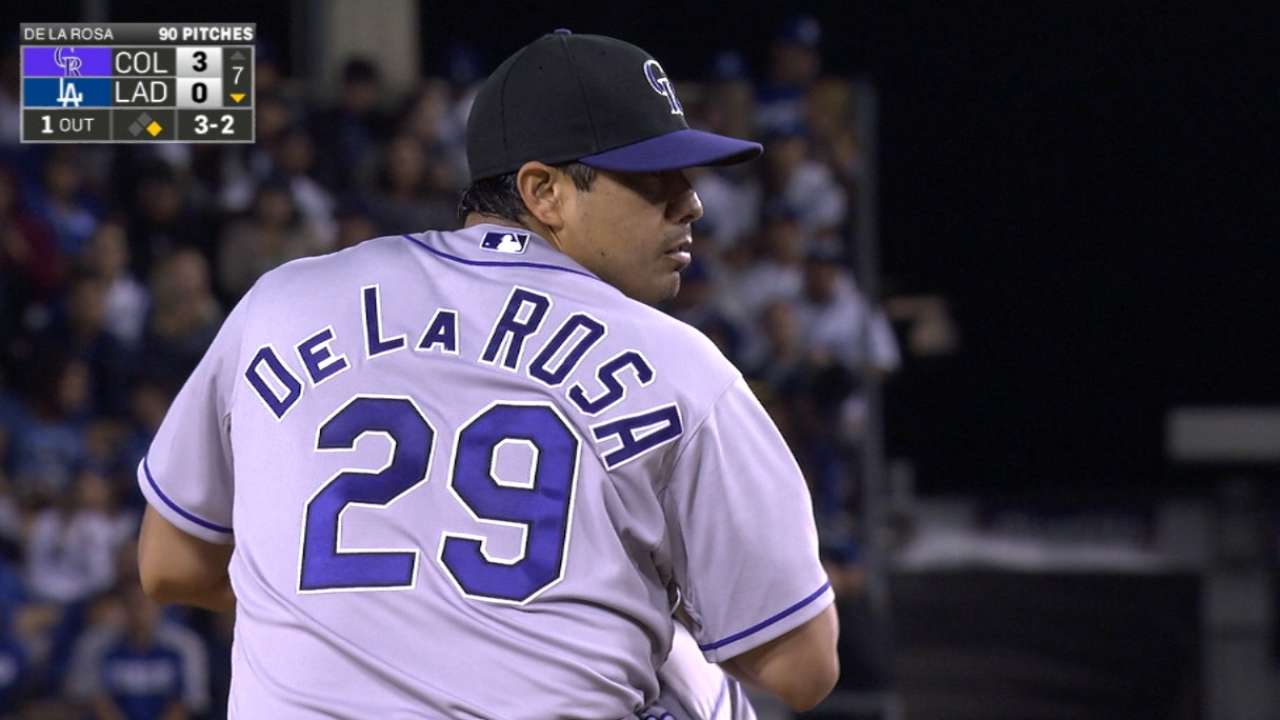 LOS ANGELES -- Rockies left-hander Jorge De La Rosa's 7 1/3 scoreless, two-hit innings in a 7-1 victory over the Dodgers served as a sign that their rotation leader had finally arrived.
Then came a potentially ominous omen. In the eighth, De La Rosa caught the spikes of his left shoe in the grass while making a fielding play on Scott Van Slyke's grounder and left with pain in his left groin. He started the season two weeks late because of a left-groin strain he suffered during Spring Training. In a season that has had plenty of dark side for the Rockies, an injury to their best pitcher is the last thing they need.
Or is it?
Remember last season? With his arm and body finally strong after undergoing Tommy John surgery in 2012 and being limited to three starts in 2013, De La Rosa went 1-3 with a 7.58 ERA in his first four starts. But in short order he dealt with a left thumb bruise that never healed and a back strain that curtailed his between-starts activity.
And in 28 starts from April 21 to season's end, De La Rosa went 14-8, 3.70. Should the Rockies be holding their collective breath?
"When I hurt something, I feel I don't try to do too much," De La Rosa said. "I'll just fix this thing and get ready for my next start."
Rockies manager Walt Weiss said, "It's a little concerning he had to come out there in the eighth, but we're hopeful he can make his next start."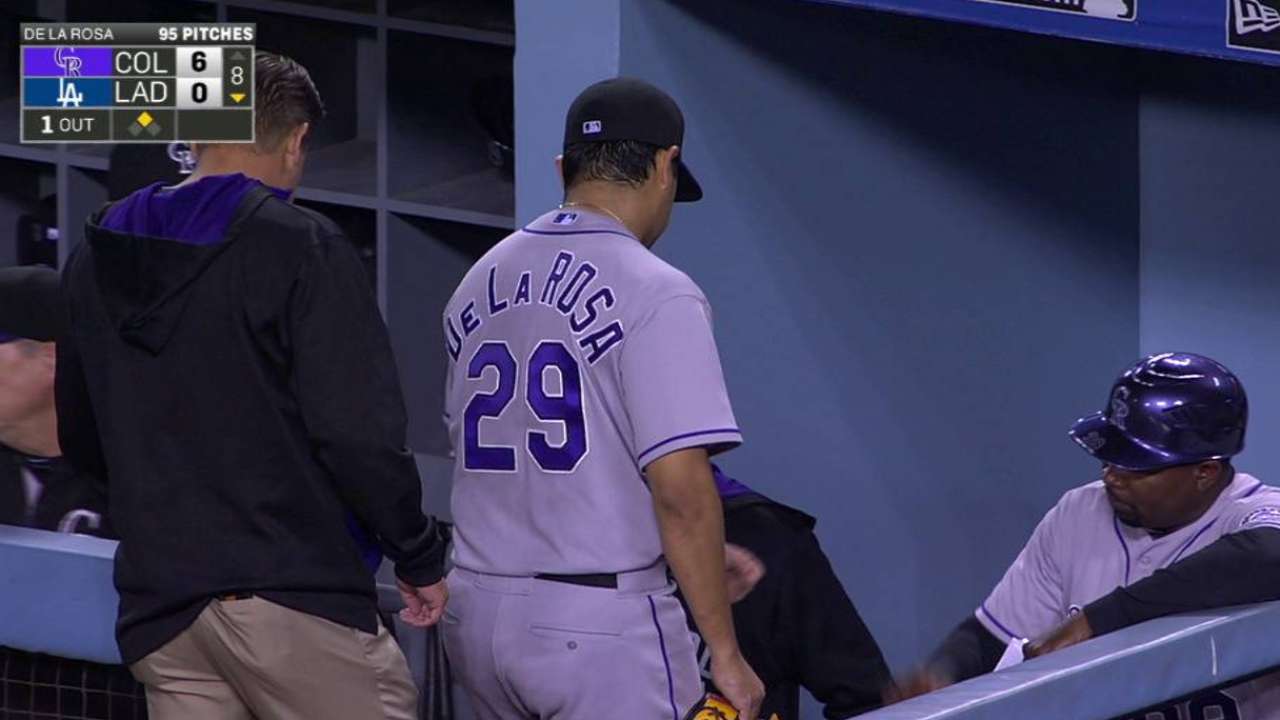 De La Rosa has been part of the rotation's early-season struggles. He had a 9.56 ERA in his first four starts. And he had gone 1-5 with a 4.97 ERA in eight previous games, seven starts, at Dodger Stadium. But De La Rosa struck out three and didn't walk any in a performance that would have played anywhere, against any team.
"I've been pitching in this game for a long time," De La Rosa said. "I know what I need to have success. I know I wasn't pitching good. I know a lot of people were worried about it. But I don't worry about it, at all. I know I'm a better pitcher than I was, and I proved that tonight."
Kiké Hernandez's first-inning leadoff double was the only Dodgers hit until Howie Kendrick's infield single in the seventh.
"De La, we talked before the game and he felt he was going to have a brilliant night," said outfielder Carlos Gonzalez, who homered in the first inning.
Third baseman Nolan Arenado called De La Rosa's injury "worrisome," but added that the pitcher "seemed pretty positive."
If history is a barometer, De La Rosa's pain could be the positive the Rockies' rotation needs.
Thomas Harding is a reporter for MLB.com. Follow him on Twitter @harding_at_mlb, and like his Facebook page. This story was not subject to the approval of Major League Baseball or its clubs.