Danks dominates A's after early dinger
White Sox lefty allows 3 hits in 7-inning outing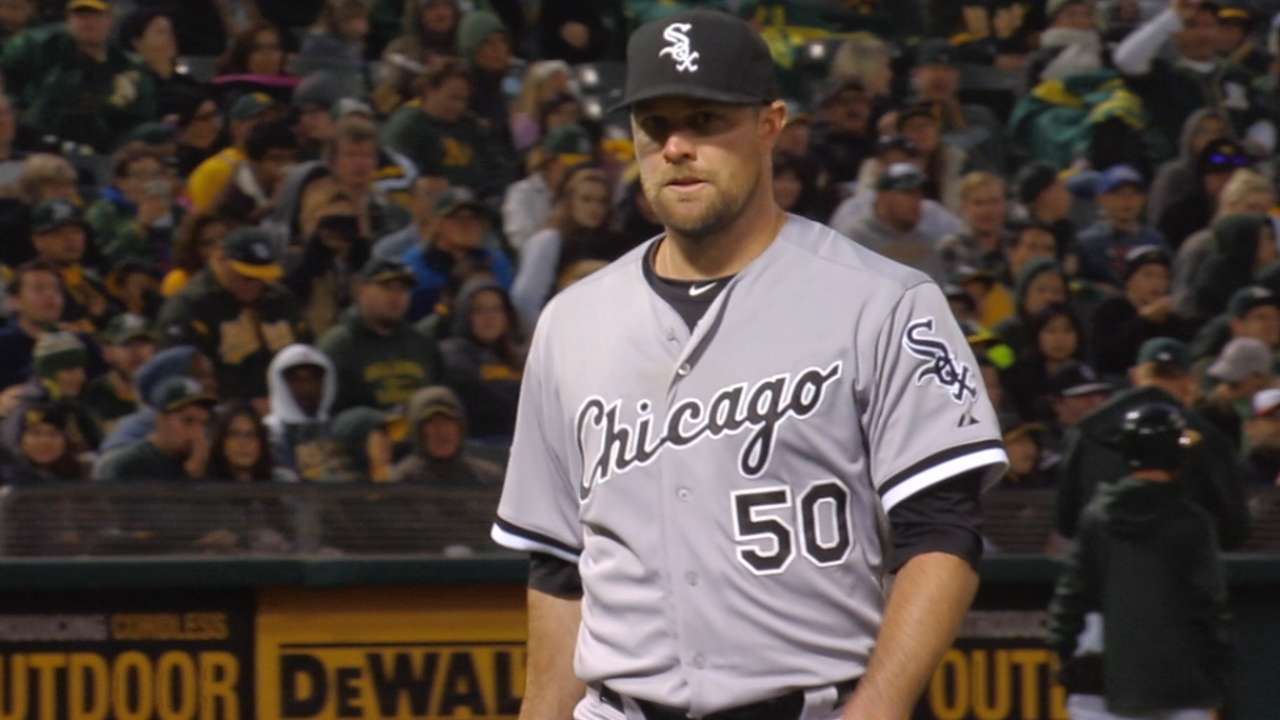 OAKLAND --- John Danks wasn't exactly the superhero of Saturday night's 4-3 comeback win against the A's despite the postgame superhero-themed fireworks night at the Coliseum.
Danks still needed a 13-hit effort and seventh-inning rally from the offense to save the day --- but he was no ordinary pitcher, either.
Four batters into the game, he surrendered a two-run homer by Billy Butler. After that, only one batter got a hit. In fact, after giving up a double and one-out walk in the second, Danks retired 17 of the next 19 over his seven innings.
The A's mustered only three hits, two runs and three walks against Danks. He has two consecutive seven-inning outings, his longest starts this season.
Danks was asked if there was any question whether he would return for the seventh.
"Not in my mind," he said. "Shoot, I wanted to go back out in the eighth. I'm ready until they take the ball away from me."
Before and after the game, manager Robin Ventura credited Danks for making subtle changes in his delivery. In his last start, he only allowed one run. On Saturday night, he was spot-on after a leadoff double in the second.
Danks "was fantastic," Ventura said. "Even when we got in trouble in the [second] and [Brett] Lawrie led off with a double, he kept him from scoring. It's a good sign for him. The adjustments he's made and the different delivery somewhat, he feels confident with that. Anytime a guy can do that, it creates a little more deception. It's good to see."
Added Danks: "I'm just trying to get more consistent within my delivery. When I get in trouble, I start falling off, getting out of whack, speed up a little bit. I'm just trying to stay under control and be more consistent with it."
The month of May has boosted Danks' confidence as well.
"It's baseball," he said. "I've been hit around before. I've had some tough starts. To get the last one and follow up with this one, it's good. Hopefully it becomes a nice extended streak and helps us win some ballgames."
Willie Bans is a contributor to MLB.com. This story was not subject to the approval of Major League Baseball or its clubs.