MLB.com Columnist
Tracy Ringolsby
Ortiz enjoys challenge of facing King Felix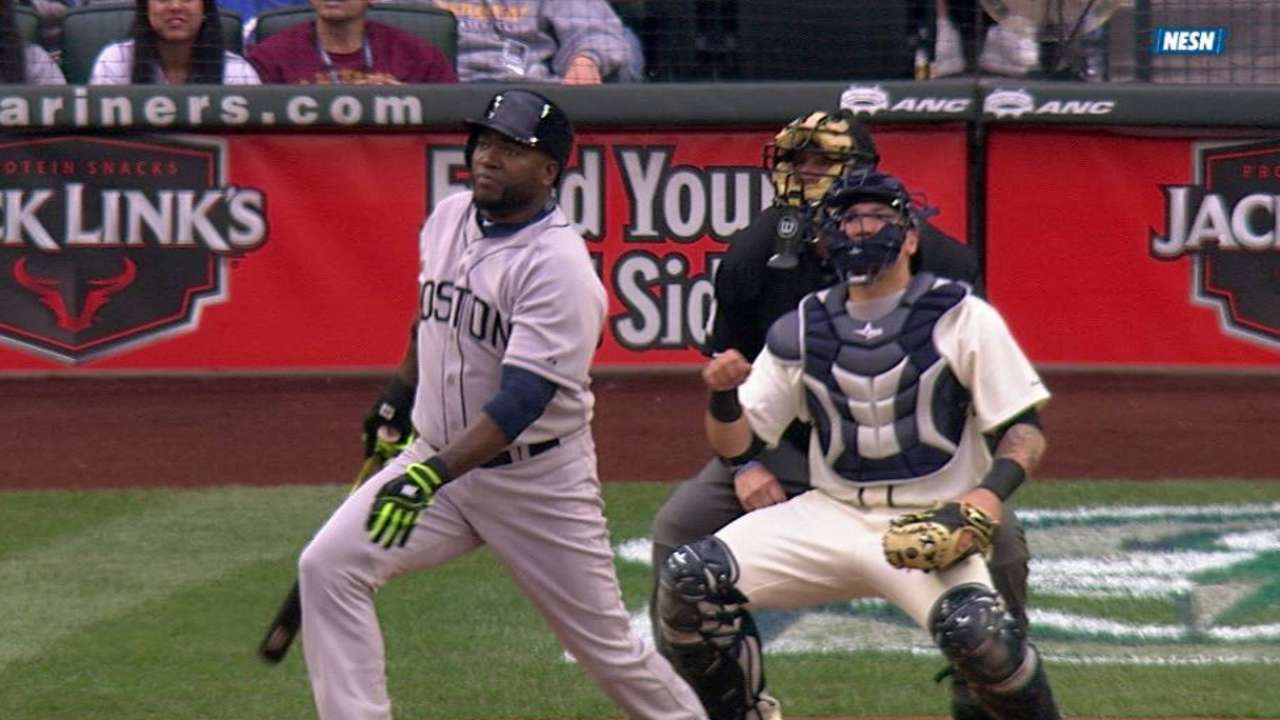 SEATTLE -- Red Sox designated hitter David Ortiz isn't bragging. He is, however, smiling.
As one of the game's premier hitters, Ortiz enjoys the challenge of facing the better pitchers. Few are as good, much less better, than Mariners right-hander Felix Hernandez.
"He's one guy I would like having pitch for my team," said Ortiz.
That's right, kill Hernandez with kindness. Don't say anything to get his attention. Ortiz has made enough of an impact in his career against Hernandez by simply swinging the bat.
Good as Hernandez had been this season -- he went into Saturday night's start against Boston with a 6-0 record -- Ortiz and the Red Sox in general were better on Saturday night.
With Ortiz and Pablo Sandoval both hitting solo home runs, and then Felix equaling a career worst by walking three batters in what became a two-run sixth, the Red Sox pulled out a 4-2 victory against the Mariners at Safeco Field.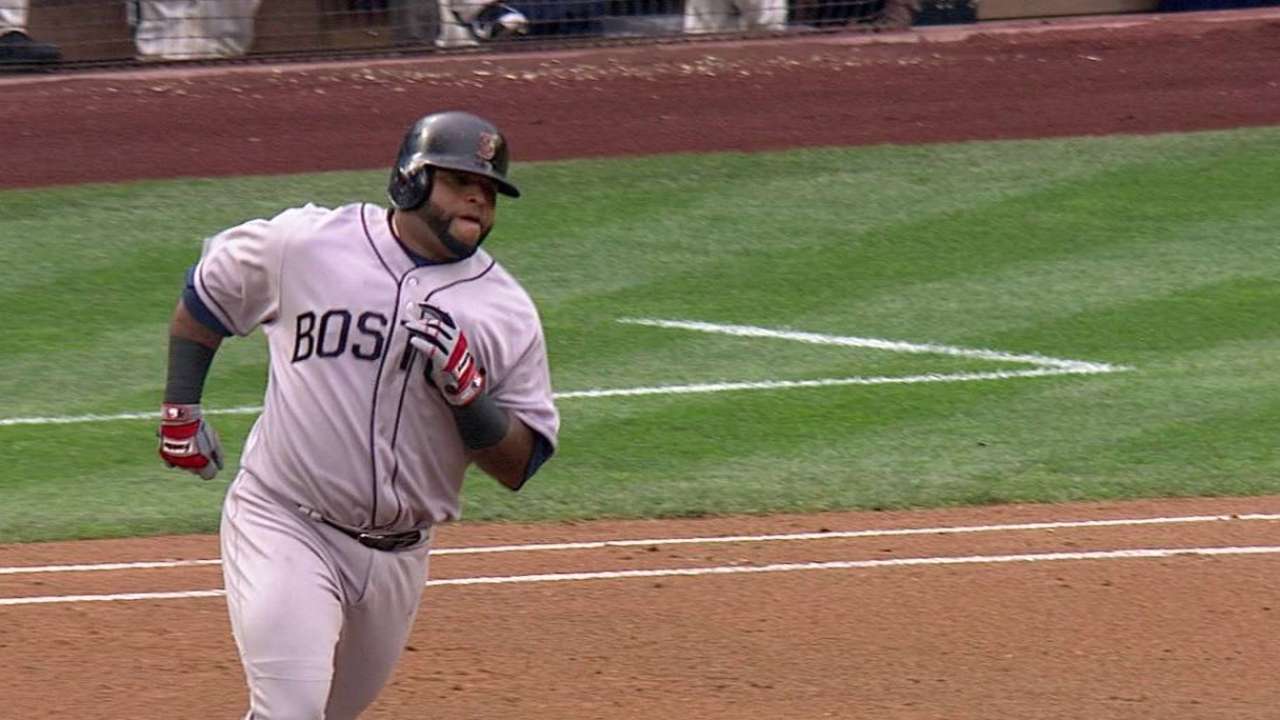 It's not like Ortiz is riding some kind of a hot streak. He had only five hits in his first 28 at-bats of Boston's current road trip, and showed up on Saturday afternoon with a season average of .228. The Red Sox, themselves, had won only four of the nine games before Saturday.
They were, however, ready to face Hernandez, who had only one loss in his six previous career decisions against the Red Sox at Safeco Field, and had won his last four.
First, there was Sandoval swinging at the first pitch Hernandez threw in the second inning and delivering a home run for a 1-0 lead. Then there was Oritz, with the scored tied at 1 and two out in the third, unloading his first home in 22 days, just his fifth of the season.
"My [stuff] is like grapes," Ortiz said of home runs. "They come in bunches."
And then there was that two-run puzzle in the sixth when, with one out, the bottom part of the Red Sox's order put Boston on top with a two-run rally built around walks by Xander Bogaerts and Daniel Nava, a Blake Swihart double, and a walk of Jackie Bradley Jr. ahead of a run-scoring Brock Holt ground ball.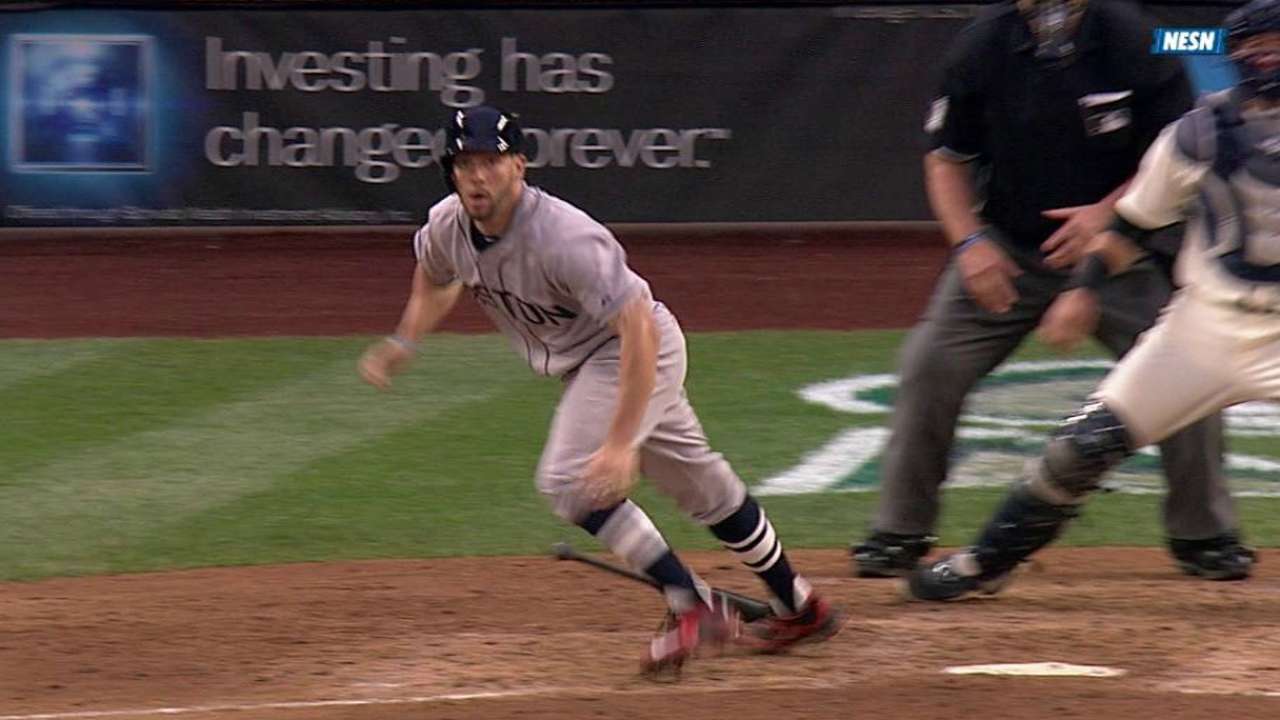 Yes, Hernandez did take an awkward step into the hole on the top of the mound early in that inning and aggravate a left ankle problem that surfaced earlier in the season, and while the Red Sox felt that might have played a part in Hernandez's abnormal control issues, Hernandez said he felt fine.
Hernandez wasn't looking for excuses.
Besides, that had nothing to do with his ongoing challenge to retire Ortiz, who in addition to the third-inning home run on Saturday, worked Hernandez for a first-inning walk and singled against him in the fifth.
"I don't really pay attention to what I've done [against a pitcher], but I would guess my numbers against aces are better than [other pitchers]," said Ortiz. "They want to show why they are so good and challenge you more than regular pitchers. And they are human."
Against Ortiz, King Felix is very human. Among the 78 hitters with 25 or more career at-bats against Felix, only Nick Markakis (.452), Orlando Cabrera (.444) and Miguel Cabrera (.423) have had more success against Hernandez than Ortiz (.395).
And Ortiz has eight hits in the 11 at-bats he has had against Hernandez since the start of the 2013 season. He has struck out once, and he also has drawn three walks.
"With a pitcher like Felix, he attacks the zone, and I am looking to swing at strikes," said Ortiz. "He throws strikes, but they are not the strikes you want. He's not a guy I would say I have a good chance against. He's a pro at keeping guys off balance."
The numbers, however, say different.
"This game goes back and forth," said Ortiz. "Some guys you get, and some guys get you."
And it doesn't always make sense. Ortiz gets guys like Hernandez and Justin Verlander (.345) and Mariano Rivera (.342), but then he is hitless in 16 career at-bats against Kyle Farnsworth, is 1-for-21 against Phil Coke and 3-for-26 against Brian Matusz.
"I've been a little lucky," said Ortiz. "He is not a guy whose name you put on there of looking forward to facing."
Hernandez has to be thinking the same thing about Oritz. He has good reason to feel that way about the Boston slugger.
Tracy Ringolsby is a columnist for MLB.com. This story was not subject to the approval of Major League Baseball or its clubs.