Batter up: deGrom does it all on 3-for-3 night
Right-hander tosses 6 sharp innings to help Mets end 5-game slide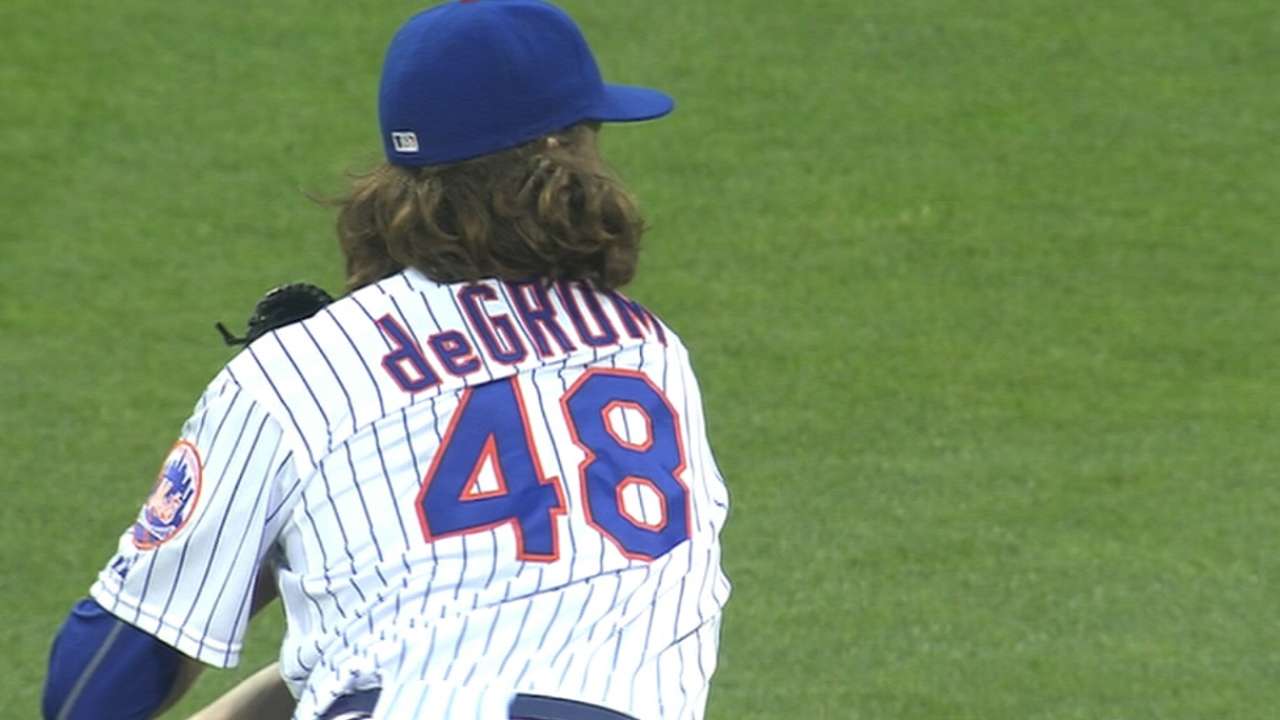 NEW YORK -- Back when he played shortstop for Stetson University, Jacob deGrom hit a home run he now humbly describes as lucky, against an unorthodox and excruciatingly tough lefty named Chris Sale.
"The ball just hit my bat," deGrom said.
Matt Garza, Saturday night's starter for the Milwaukee Brewers, doesn't elicit the same type of Major League nightmares Sale does now as the ace of the White Sox. But nobody is calling deGrom lucky for collecting three hits -- two off Garza -- during New York's 14-1 rampage, which deGrom spearheaded at the plate and on the mound.
"That was fun," said deGrom, who became the first Mets pitcher to put up a three-hit night since Chris Young in 2011 and the first pitcher overall to get two in one inning since Adam Wainwright in 2013. "I was just trying to get up there and hit the ball hard. They found holes."
The first of deGrom's three singles -- in three at-bats -- was the only one that found a hole, as it trickled slowly through the middle of the diamond for a seeing-eye RBI hit in the second. The other two were liners driven over the shortstop's head during New York's 10-run fourth inning -- its first such frame since July 2006.
With the effort, deGrom raised batting average to .294 in 17 at-bats -- a tiny sample size but still tops among Major League pitchers.
"I was just trying to hit the ball to the middle of the field," he said, sounding more like a hitter than a pitcher.
With three hits, deGrom almost collected more than he allowed over six innings of one-run baseball. deGrom held the Brewers to five hits, striking out six and walking one to lift his record to 4-4.
The complete performance wasn't exactly what Mets manager Terry Collins was looking for as he continued to experiment with deGrom in the No.8 spot in the lineup. It was more than he expected.
"We talk about it every spring," Collins said. "We talk to the pitchers about doing the little things like handling the bat. I'm not saying get a lot of hits but put the ball in play, move runners along. Be able to bunt.
"Those things help you win games."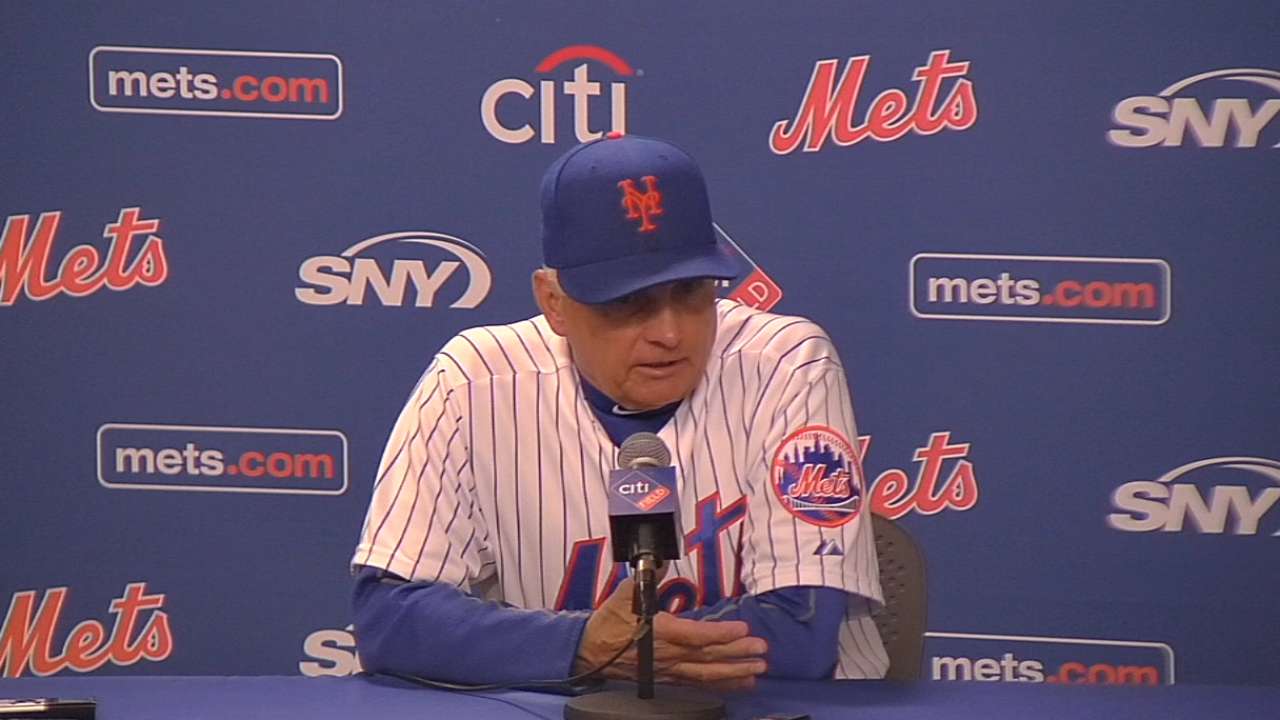 deGrom's Little League-like night couldn't have come at a much better time for the Mets, who continue to battle with a depleted roster and moribund offensive efforts. The Mets had scored just 10 runs total over their previous five-game losing streak, and were coming off a game in which they were shut out for eight innings by Kyle Lohse, who owned one of the highest ERAs in the Majors entering the contest.
deGrom also halted a stretch of two consecutive clunkers thrown by Mets starters, making slight adjustments to his delivery and arm slot.
"To come back tonight and put up those runs after last night, it was a big deal for us," he said. "Everything went well tonight."
Joe Trezza is an associate reporter for MLB.com. This story was not subject to the approval of Major League Baseball or its clubs.