No relief in sight for Blue Jays in Houston
Bullpen squanders another lead vs. Astros as Toronto drops fourth straight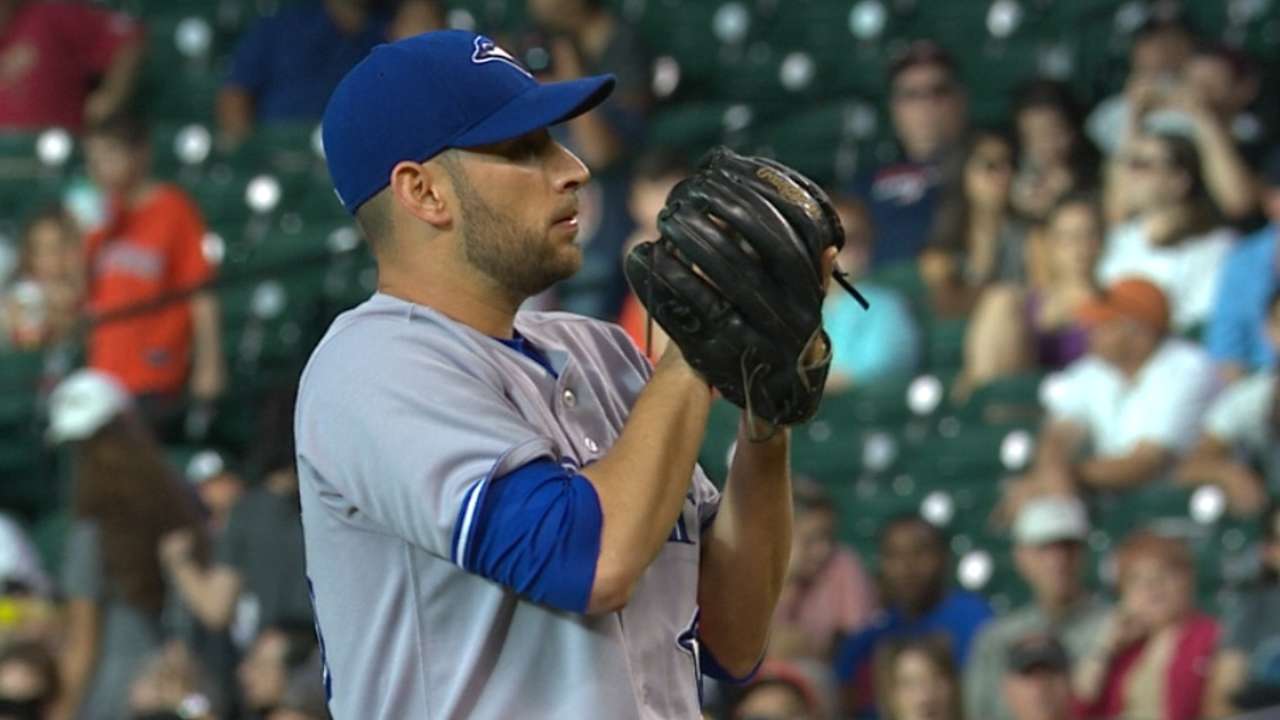 HOUSTON -- The bullpen has become the bane of the Blue Jays.
For the second time in this series against the Astros, a Toronto starter left a lead that a reliever immediately gave up. This time it was lefty Jeff Francis, after facing only two batters in the sixth, taking the loss in Saturday's 6-5 defeat.
With a 3-2 lead and starter Marco Estrada done, the Blue Jays brought Francis in the game specifically to get some impending left-handed batters out. But Preston Tucker beat a shift with a sharp single before Colby Rasmus cranked a gapper that, somewhat fortuitously for Toronto, bounded into the bullpen for a ground-rule double.
"We could usually easily get one of those lefties out," said manager John Gibbons. "That was pretty disappointing."
Francis' night was done, but Liam Hendriks' 1-2 offering to a struggling Chris Carter was sliced over the wall in right-center to give Houston a 5-3 lead. It was just Carter's second extra-base hit of the week and his only hit on a night when he otherwise struck out three times.
It was another blow against a staff that has been a sore spot during the Blue Jays' current four-game skid.
On Saturday night, it was five hits in three innings of work. On Friday night, it was a late solo home run. On Thursday, it was Aaron Loup picking up the loss while allowing three hits in a row and turning a two-run lead into a two-run deficit.
Toronto's bullpen ERA has rapidly risen, something the Blue Jays can't afford with a rotation that is still grasping for consistency.
Estrada, however, is getting there, and he gave the bullpen an advantageous situation with five innings of two-run ball. He was ushered out of the game early due to a high pitch count with four walks, and the thought is that he still needs more building up since he just joined the rotation two weeks ago.
"I asked to go back out, but I didn't realize that my pitch count was close to 100," Estrada said. "The good thing is I felt good stamina-wise, like I could have gone another inning. … Bottom line is I need to go longer, six-plus innings for us."
Things don't appear to be getting any easier, either. Loup wasn't available Saturday with newfound back tightness, and the suddenly-scorching Angels await for a four-game set back home after this series in Houston wraps up Sunday.
"It's a tough racket, this game. … It's not a job for the weak of mind," Gibbons said.
He was talking about being around baseball in general, but after more questions raised than answers provided from his relievers, those words remain plenty applicable to Toronto's bullpen.
Chris Abshire is a contributor to MLB.com. This story was not subject to the approval of Major League Baseball or its clubs.