Leake pays for mistakes in loss to Giants
Reds starter allows three HRs, including slam, while giving up nine runs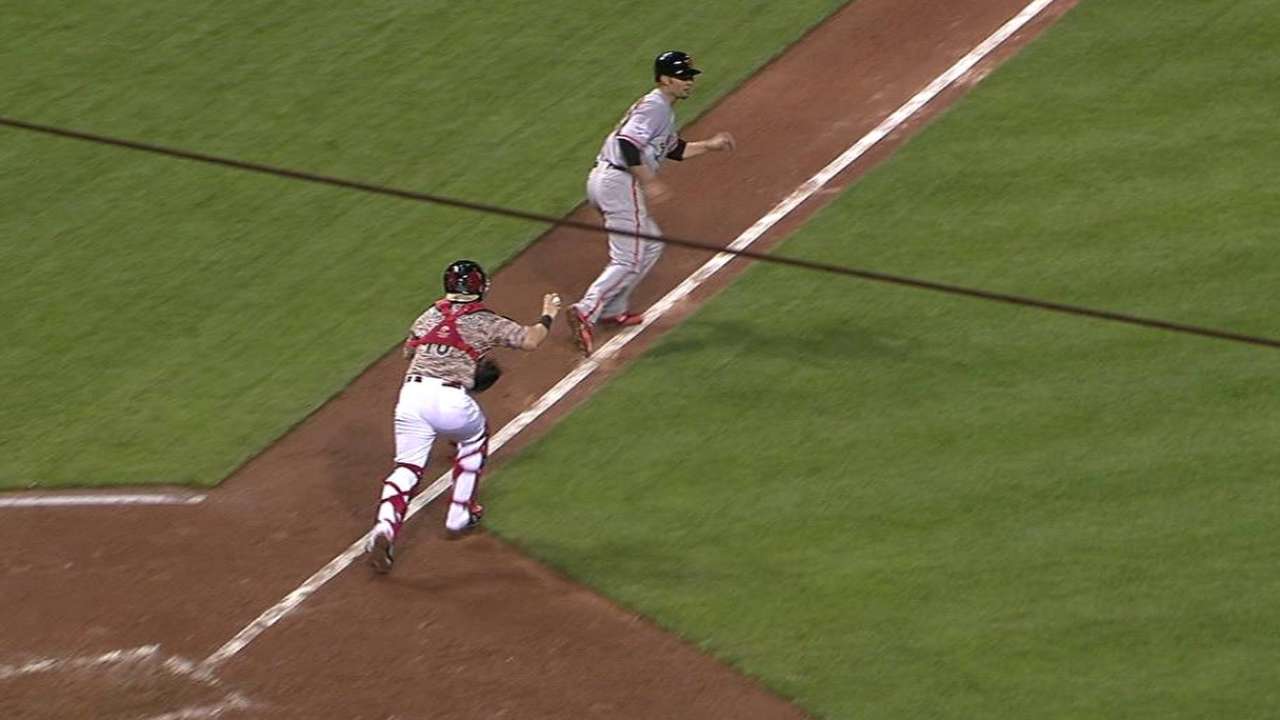 CINCINNATI -- Like the rest of the Reds for Military Appreciation Night at Great American Ball Park, starting pitcher Mike Leake wore a camouflage uniform top Saturday night. But there was no way to conceal such an ugly line on Leake's ledger following an 11-2 Reds loss to the Giants.
Leake's nice streak of strong starts for Cincinnati, and a clip of strong numbers vs. San Francisco, entering the night all came to a crashing halt.
"They put some good swings on some balls, hit some good pitches," Reds catcher Tucker Barnhart said. "In like every game, we made a couple of mistakes. Sometimes they capitalize on them like they did tonight, and sometimes they don't."
In five innings and 75 pitches, a lot of damage was done as Leake gave up a career-high nine runs, including three home runs. He also allowed 11 hits and one walk with two strikeouts upon leaving with Cincinnati trailing by a 9-0 score.
The performance saw Leake's ERA soar over a run from 2.36 to 3.62, to go with his 2-2 record in eight starts. He had given up one earned run over 22 innings in his last three starts, including back-to-back efforts of eight scoreless innings.
Leake had been 5-1 with a 1.91 ERA over his previous six starts against the Giants.
"We had the same game plan that we had going in. We went out there and did it," said Barnhart, who has caught most of Leake's starts since his callup. "They got the barrel to the ball sometimes and hit some good pitches."
The best part of Leake's night was the seven-pitch, 1-2-3 top of the first inning. It started getting away in the second. Brandon Belt's one-out solo homer was the first of three straight hard hits in a two-run inning before Leake was saved by getting Casey McGehee to ground into an inning-ending double play.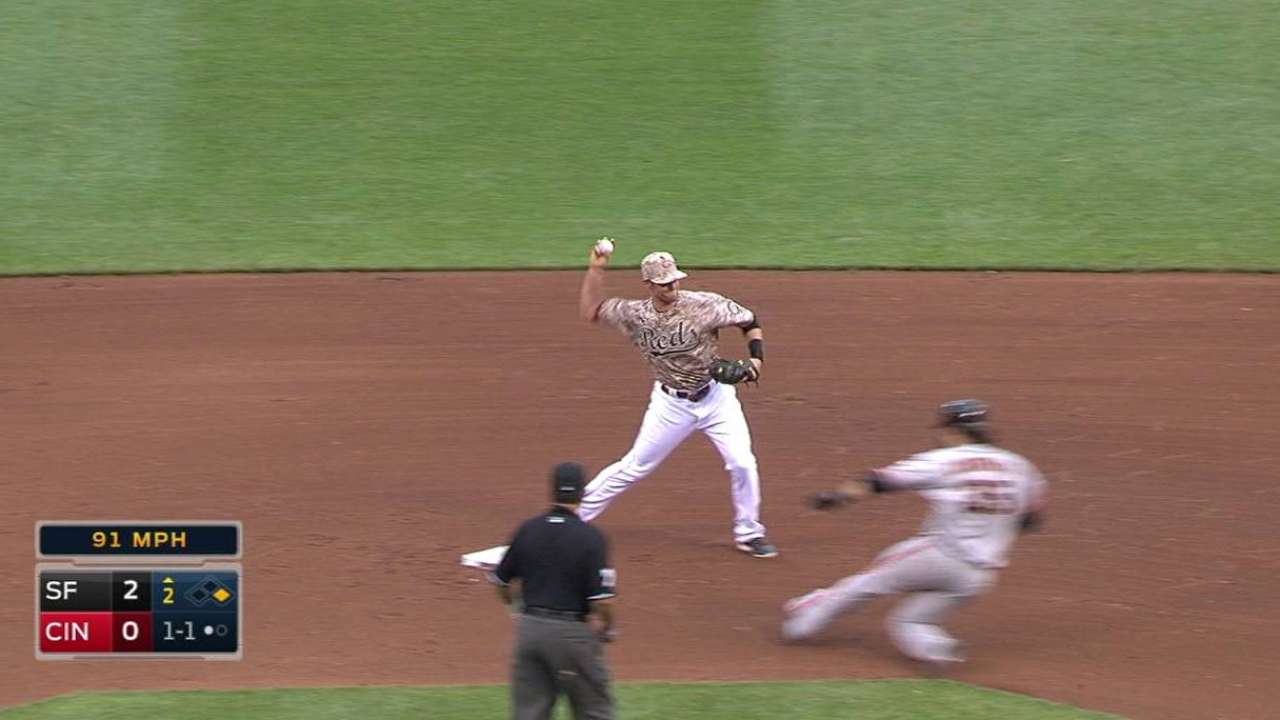 Gregor Blanco's one-out solo homer to right-center field came in the third inning. Three straight one-out hits in the fourth led to two more runs. After retiring the first two batters in the fifth, the game got out of hand on Leake. Following back-to-back singles by Buster Posey and Belt, Hunter Pence walked.
That set up Brandon Crawford to slug a first pitch into the right-field seats for a grand slam, a 9-0 game and a six-RBI night. The last Reds starter to allow nine runs was Homer Bailey vs. the Mets on July 28, 2011.
Coming in, Leake had stranded 88.4 percent of the runners who reached base against him this season, the second-best rate among qualified starters behind only Mariners ace Felix Hernandez (88.5 percent). It was one more trend that didn't hold Saturday.
"They were feeling it tonight," Reds manager Bryan Price said of the Giants. "It's really easy to say the pitcher didn't have his stuff and they took advantage of it. It wasn't as if he was sitting at the belt all game out over the plate. He made some mistakes, the obvious one there with Crawford. It was a situation he never should have been in. We were somewhat depleted in the bullpen so I needed to try and grind him through that fifth inning. It didn't work out."
Mark Sheldon is a reporter for MLB.com. Read his blog, Mark My Word, follow him on Twitter @m_sheldon and Facebook and listen to his podcast. This story was not subject to the approval of Major League Baseball or its clubs.