Duffy feels ready to turn corner despite loss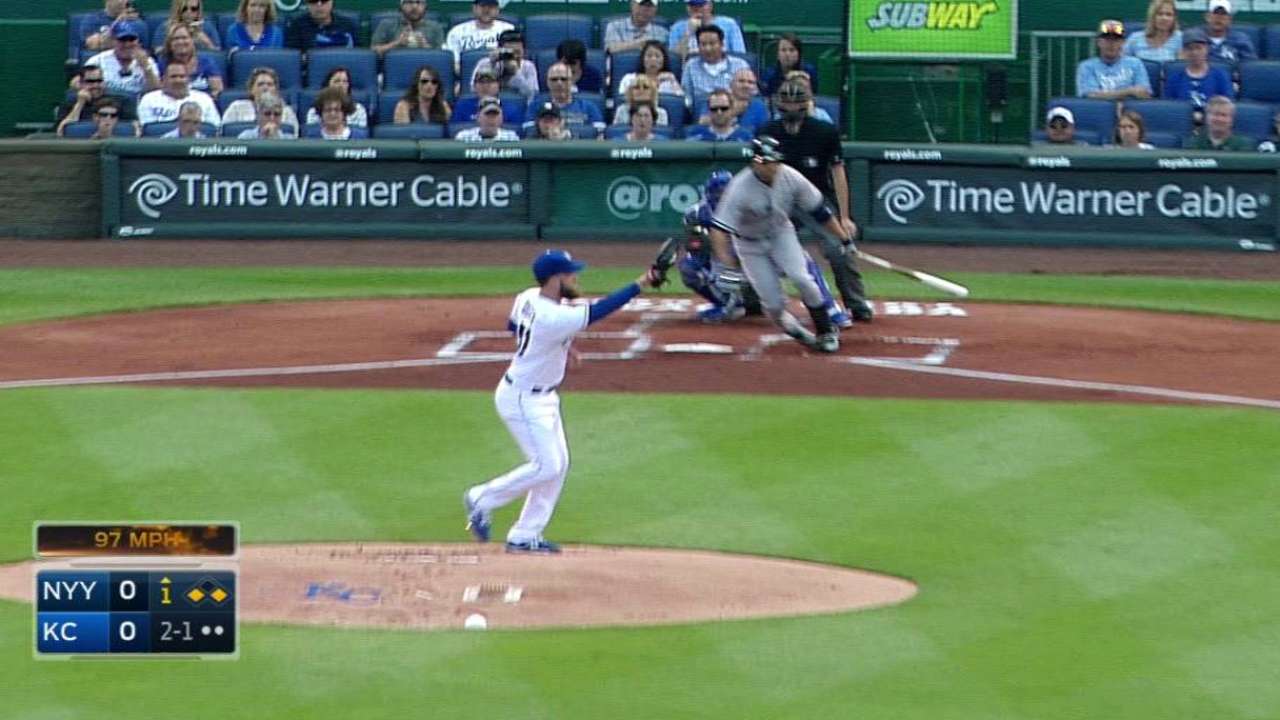 KANSAS CITY -- While Royals left-hander Danny Duffy was better than his two previous starts, the results were only marginally encouraging after the Royals' 5-1 loss to the Yankees on Saturday night.
Duffy, who lasted just a combined 4 2/3 innings in his previous two starts, logged only five innings this time, but he walked four hitters and gave up four runs.
The question of whether Duffy (2-3) would remain in the rotation from here on was raised to manager Ned Yost in the postgame session.
"We just got through with the ballgame," Yost said. "Any decision we're going to make about anything ain't going to be made tonight."
Regardless, Duffy's spot could become tenuous with another shaky outing. Chris Young has been terrific in three emergency starts, and Jason Vargas could come off the disabled list in perhaps 7-10 days.
Duffy is trying to focus on the present.
"I know my teammates believe in me," Duffy said. "I believe in me. The coaching staff believes in me. I know I'm better than these results."
Duffy actually was close to escaping a messy night by allowing only one run through five innings. But he hung a 3-2 changeup to Chase Headley, who hammered a three-run homer to break the game open with two out in the fifth.
"One bad inning and one bad pitch," Duffy said. "But what is done is done. I feel like I'm ready to turn the corner."
Duffy also walked the bases loaded in the third, but he escaped with giving up just one run.
"You have to take positives with everything," Duffy said. "I had one bad inning. After that we kind of locked it in. I had a battle with Headley. Count's even, count's full, I'm thinking maybe he thinks fastball is coming. If I execute that pitch, maybe he rolls it over."
Asked where he stood mentally after his third straight rough outing, Duffy said, "Just going to keep pitching. Keep doing what I'm doing. Work, work, work."
Jeffrey Flanagan is a reporter for MLB.com. Follow him on Twitter at @FlannyMLB. This story was not subject to the approval of Major League Baseball or its clubs.