Lester battles the heat to cool down Bucs
Lefty overcomes leg cramps to garner victory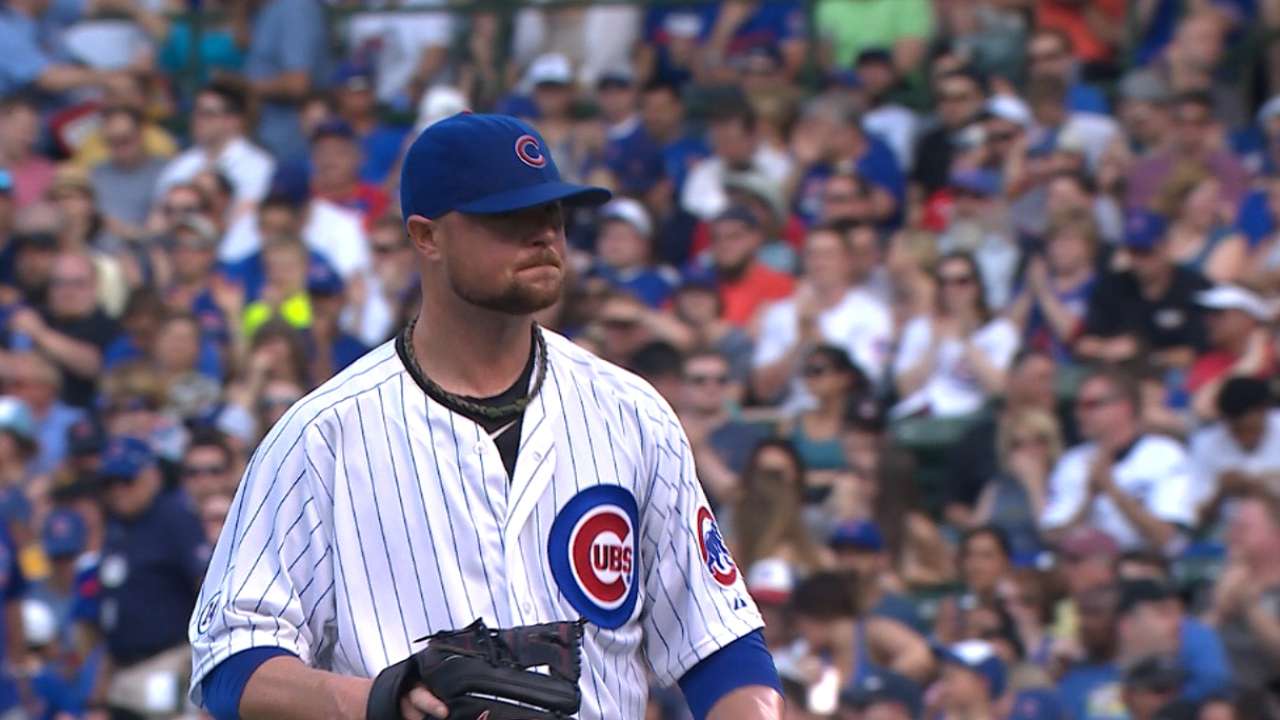 CHICAGO -- Sweat dripped from Jon Lester's baseball cap as he pitched on a muggy Saturday afternoon at Wrigley Field.
Along with the heat, the Cubs' ace had to deal with cramping, mainly in his right leg.
Cubs manager Joe Maddon and the trainer checked on Lester after he threw his 108th pitch and had an 0-2 count on the Pirates' Andrew McCutchen in the seventh inning. Lester stayed in the game and threw a wild pitch that advanced the lead runner to third. On his 110th pitch, Lester struck out McCutchen looking to end the inning with runners at the corners.
Lester (4-2) allowed one run and nine hits, struck out seven and walked one in seven innings for his fifth consecutive quality start as the Cubs beat the Pirates 4-1. The Cubs have won six straight for the first time since July 31-Aug. 6, 2011.
Maddon encountered an assertive Lester when he visited him on the mound in the seventh.
"He calmly looked at me and said he was fine," Maddon said. "There was no 'Maybe. I don't know if I'm going to be OK. I'm fine.' Just like that."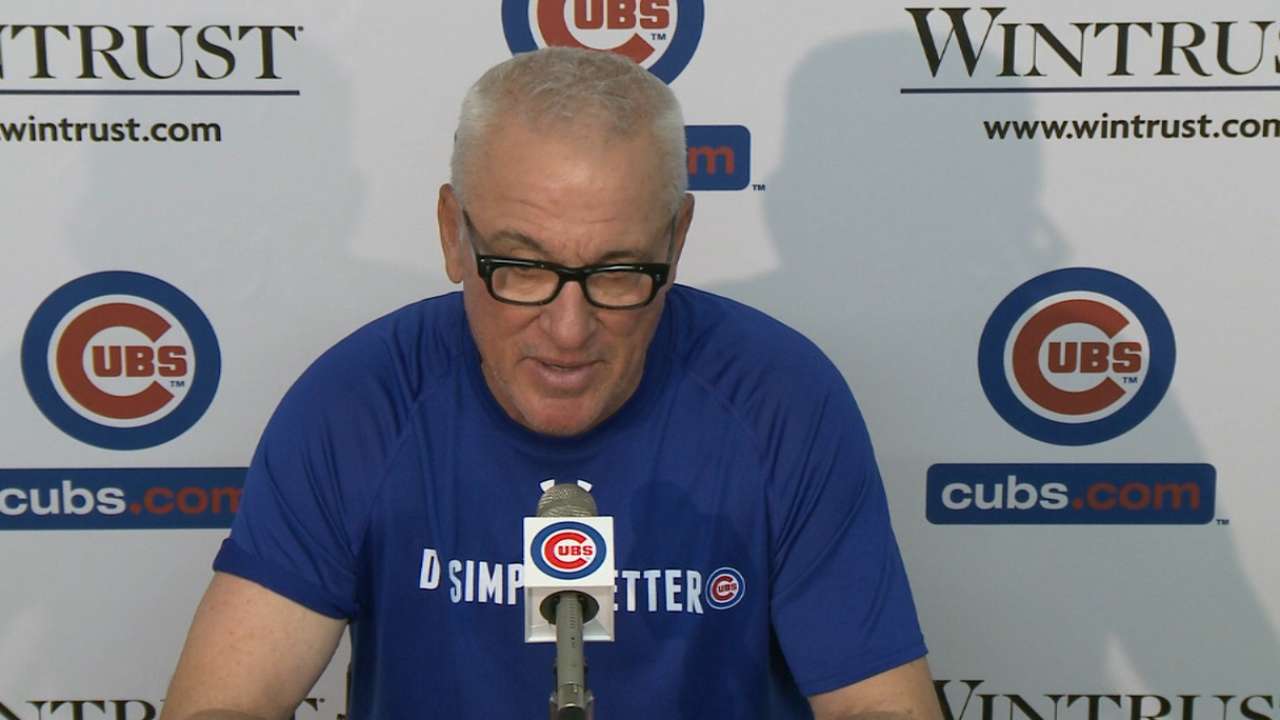 Lester confirmed he was doing well after the game.
"Nothing a couple bottles of water and Gatorade can't fix," he said.
Lester said he had been battling the cramping for at least an inning. He used the visit from his manager as a chance to regroup.
"I knew with how good of a hitter McCutchen is and how much damage he can do, the first two pitches I made to him I got away with," Lester said. "We knew we had to bear down and make good pitches and threw the curveball a little short, was able to spot the heater. I knew that was probably my last batter, just try to air it out and make the pitches the best I can."
Lester has picked up a victory in four consecutive starts for the first time since 2011. He earned his 1,500th career strikeout when he got Sean Rodriguez looking to end the fourth with runners at second and third. Lester is the sixth active lefty and 22nd active pitcher to reach the milestone.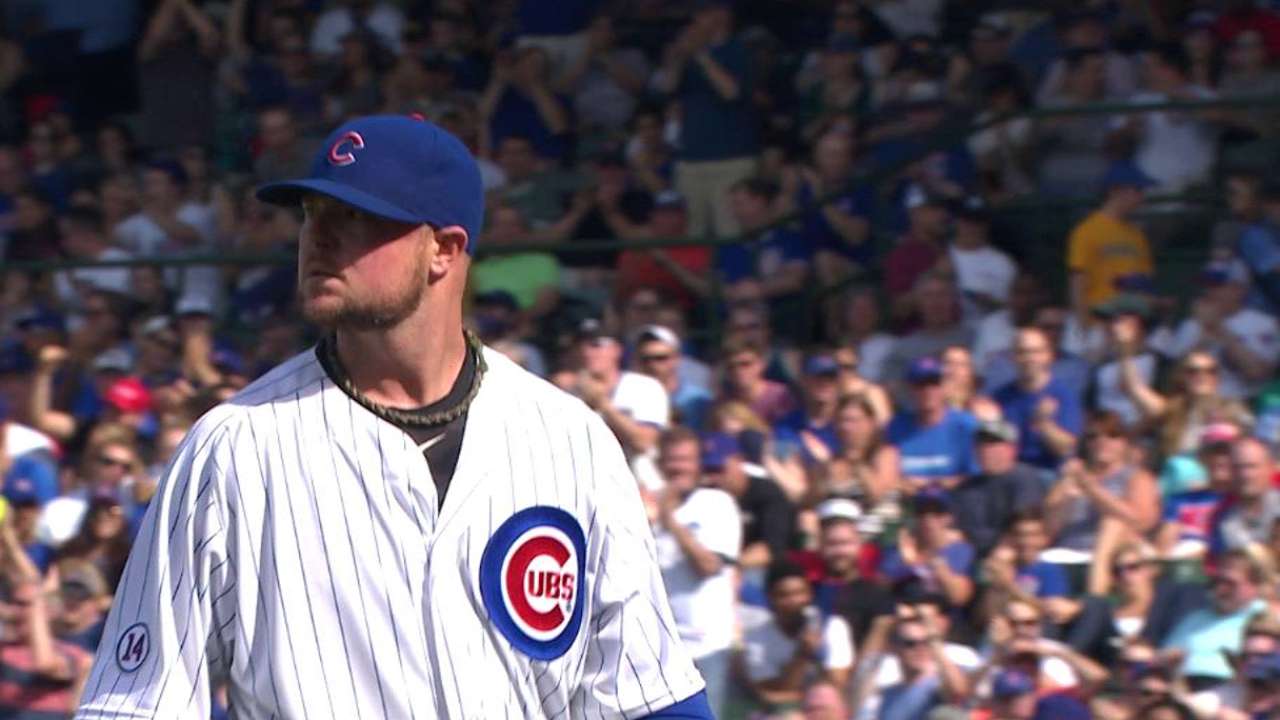 "He kept 92-93 [mph] the whole game, he kept the cutter the whole game, he kept the curveball the whole game, kept his command," Maddon said. "Everything was there at the very end. He was exhausted. He's a sweater, man. He was sweating pretty good. He held it up."
Extra Bases
• The Cubs are six games above .500 for the first time since Oct. 3, 2009.
• Hector Rondon warmed up in the bullpen but didn't enter the game. Travis Wood instead pitched the ninth and got his first career save. Rondon had pitched in three consecutive games.
• Anthony Rizzo is one game short of his career-best 10-game hitting streak.
• Kris Bryant extended his career-best hitting streak to six games.
Sarah Trotto is a contributor to MLB.com. This story was not subject to the approval of Major League Baseball or its clubs.