Venture fourth: Mets erupt with 10-run frame
Cuddyer, deGrom collect 2 hits in 4th inning, Flores launches grand slam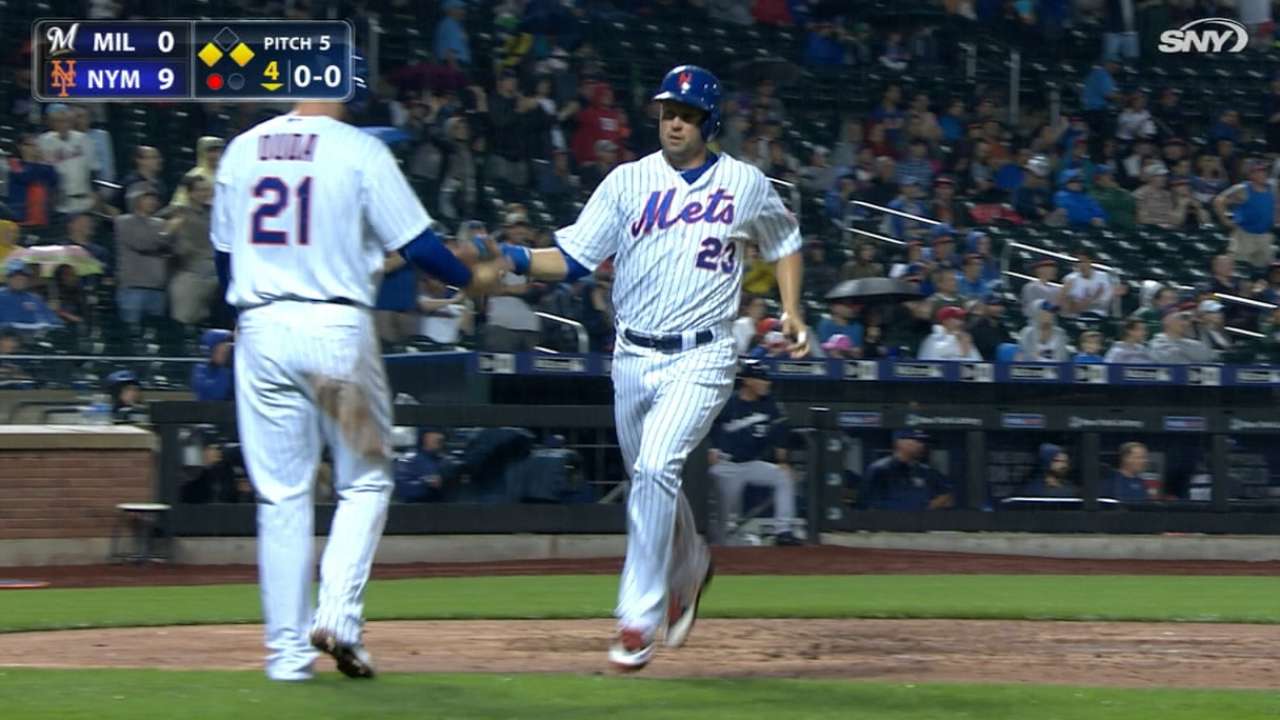 NEW YORK -- As rain began to fall at Citi Field on Saturday night, the Mets viciously broke out of a three-week offensive drought and scored 10 runs in the fourth inning on their way to a much-needed romp, a 14-1 win over the Brewers.
"We finally woke up," said Wilmer Flores, who walloped a grand slam in the fourth inning of his two-hit night. "We finally put some runs on the board."
New York had scored just 10 runs combined during its recent five-game losing streak -- and fewer than three runs in 13 of its previous 17 games. Then the Mets sent 15 batters to the plate and collected nine hits in a 32-minute frame. Flores' slam provided a signature moment, but every Met contributed to the historic inning, the first of its kind since 2006.
"Where's this been?" was the reaction from the bench, according to Mets manager Terry Collins.
Eric Campbell, the most recent (re)arrival from Las Vegas to a roster slammed by injuries, was the only Met not to cross the plate. But he still contributed with an RBI single and a productive out. Also playing supporting roles in the huge inning: Michael Cuddyer and Daniel Murphy (two runs, two RBIs each), Jacob deGrom (two of his career-high three hits) and Kevin Plawecki (RBI fielder's choice before a solo home run in the seventh).
"Even the balls we didn't hit well were still falling in, which is nice to see," Cuddyer said. "For five games you don't score any and then you score them all in one inning, that's the nature of this game. That's why you keep chugging along."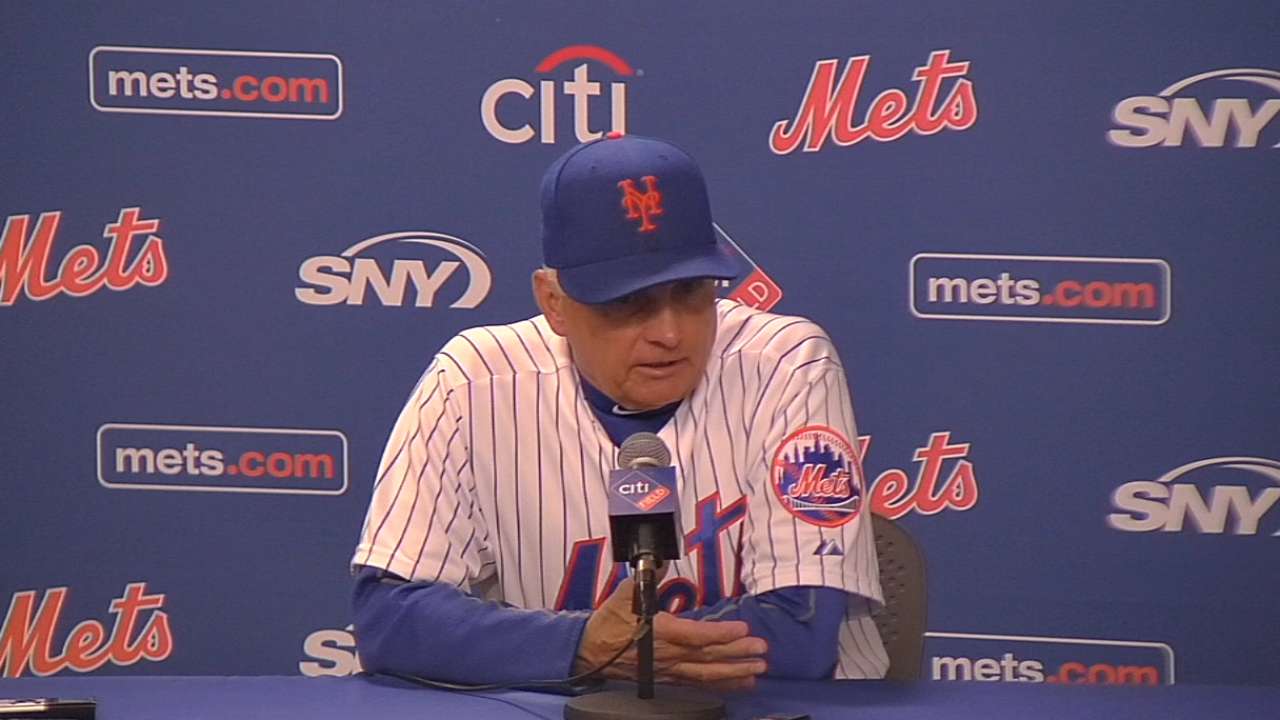 To put this particular barrage into some historical context: It marked the fourth time in Mets history the club scored at least 10 runs in an inning and the first since July 16, 2006, when New York scored 11 in the sixth inning against the Cubs at Wrigley Field. The last time the Mets scored exactly 10 runs in an inning was June 30, 2000, at Shea Stadium against Atlanta in a game that's remembered for the largest comeback in Mets history.
The 14 total runs tied a Mets record at Citi Field. New York's 16 hits were its most in a game during this pitching-dominated season, which continues with recently promoted Noah Syndergaard's home debut Sunday. Until that 1:10 p.m. start, the Mets will soak Saturday's success in. And breathe a sigh of relief.
"We needed it in a lot of ways," Collins said. "Tonight was a good night for us to get our spirits back, that's for sure."
Joe Trezza is an associate reporter for MLB.com. This story was not subject to the approval of Major League Baseball or its clubs.