Villanueva steps up as 'pen keeps game tight
Cards relievers allow one run over 6 1/3 innings; long man lowers ERA to 0.50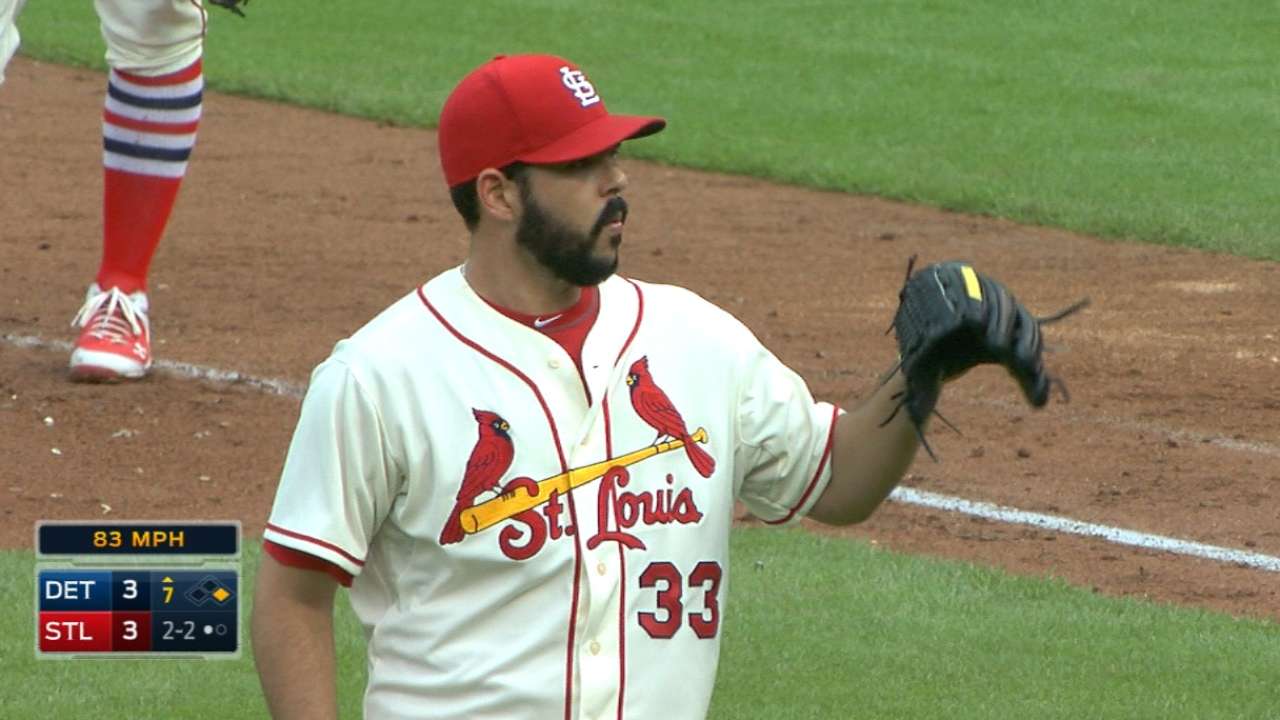 ST. LOUIS -- Relief pitcher Matt Belisle took the loss for the Cardinals in Detroit's 4-3 win in 10 innings at Busch Stadium on Saturday, but a strong effort from a St. Louis bullpen that has been busy lately kept the game close against a Tigers lineup that came out hot against starter Tyler Lyons.
Carlos Villanueva entered for Lyons with two outs in the fourth and threw 3 1/3 scoreless frames to solidify his role as a reliable long reliever for a team that is looking for more deep outings from its starters.
"Somebody is going to have to pay, and it's the rest of our bullpen that is paying when we can't get our starters very deep in the game," Cardinals manager Mike Matheny said. "It's got to change. We have to figure out how to get it done."
The Cardinals haven't had a starting pitcher go more than six innings since John Lackey lasted into the eighth on May 7. The St. Louis bullpen, tied with the Dodgers for the lowest ERA in the National League, has been operating with eight members and has thrown 28 2/3 innings since then.
"I think it's a testament to the guys that there's really no ego and everybody is really just looking forward to strong starts, and if not, we're ready to rock," Belisle said.
With the Cardinals still looking for a steady replacement for Adam Wainwright, Villanueva has now been called on to relieve short-winded starters three times in 16 days.
Villanueva is second among National League relievers (minimum 10 innings) with an ERA of 0.50. Matheny, entertaining a question about possibly using Villanueva as a starter, said it would be hard to take him out of his current role.
"If we don't have Villanueva do the job that he did today, we would have really beaten some guys up," Matheny said. "But he was, once again, very, very good for us."
Villanueva started a streak of 5 2/3 scoreless innings for the bullpen that ended when Detroit scored the go-ahead run on Belisle (1-1) in the 10th.
David Cobb is an associate reporter for MLB.com. This story was not subject to the approval of Major League Baseball or its clubs.