Hamilton goes for 4-for-5 for Double-A Frisco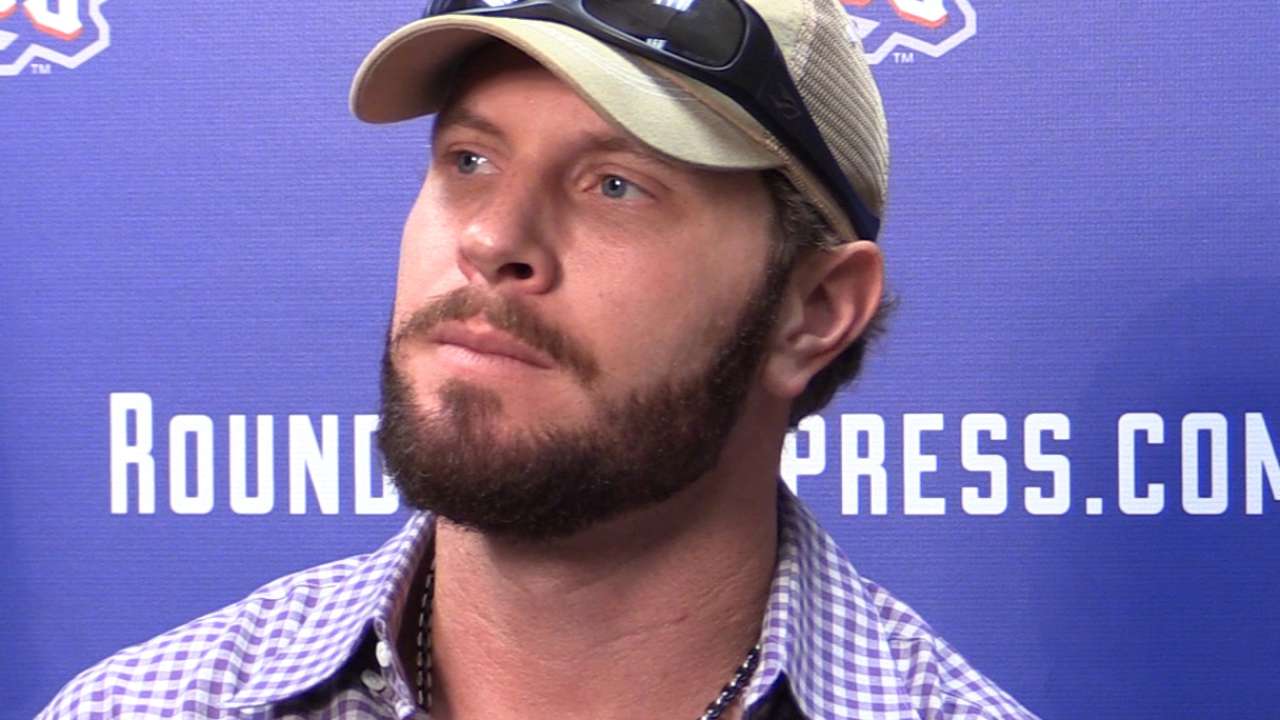 Josh Hamilton's road back to Arlington reached another checkpoint Saturday when he suited up for the Frisco RoughRiders, the Rangers' Double-A affiliate.
Hamilton talked pregame about the excitement of being back in baseball, and he added to that with a 4-for-5 performance against the Corpus Christi Hooks. Hamilton had four singles and added one RBI and four runs before leaving the game after his fifth at-bat.
Hamilton is scheduled to play for Frisco on Sunday, and after an off-day Monday, he will play Tuesday and Wednesday before being re-evaluated.
Hamilton said he's focused on making sure he is the same hitter against left-handers and right-handers. He said he's currently being more aggressive against righties, and he also wants to start getting back into a groove where he's doing less thinking at the plate.
"Don't go up there trying to feel for it and thinking about timing or thinking about mechanics or anything like that," Hamilton told reporters in Frisco. "Just go play. I did that and I felt like myself last night. Hopefully I can do that again.
"It's crazy to put a number on at-bats. It really is. It's all a feel thing, but if I have three or four games like I did last night, I could really be ready."
Hamilton said he feels good physically, and the excitement of getting back to baseball hasn't gone away since the Rangers acquired him from the Angels on April 27. Hamilton, who is recovering from February shoulder surgery, went to extended spring training in Arizona before beginning his Minor League rehab stint.
"That excitement has been there since I showed up at extended spring training," Hamilton said. "Just being back out here and being around the guys again, and now getting to a point where you're around fans. The excitement's there and the excitement's never going away."
Hamilton's return to the Dallas area also comes with some intrigue. Many Rangers fans seemed to turn against Hamilton after he left the Rangers and said Arlington is, "not a true baseball town" -- a comment for which he has since apologized. Frisco played a video celebrating Hamilton's Rangers highlights before the game and he was met with cheers from a sellout crowd.
"Hopefully [the reception will be] like I got in Round Rock," Hamilton said. "It was pretty awesome and just a good feeling, a homey feeling, running out of the clubhouse and fans cheering, getting on deck and just being out there.
"And I've always loved spending time with fans. I enjoy that just as much as I do playing. Like I said before, it's not all about playing baseball. It's about impacting people's lives and letting them understand that you're a real person, too. They just pay to come watch you play the game for a little bit. Hopefully [the reception is] a good one. If not, it'll just toughen me up a little bit."
Even as much of the Major League world focuses on Hamilton, he said he's not fully thinking about when he will return to the Majors. But when he does, the excitement will be there on all ends.
"I haven't even thought about the Arlington thing yet," he said. "I'm so focused on what I need to do right now, wherever I'm at, to get ready and get back to that point. But that excitement, I'm sure as I feel better and better out here, will build."
Cody Stavenhagen is an associate reporter for MLB.com. This story was not subject to the approval of Major League Baseball or its clubs.