De La Rosa's gem halts Greinke's streak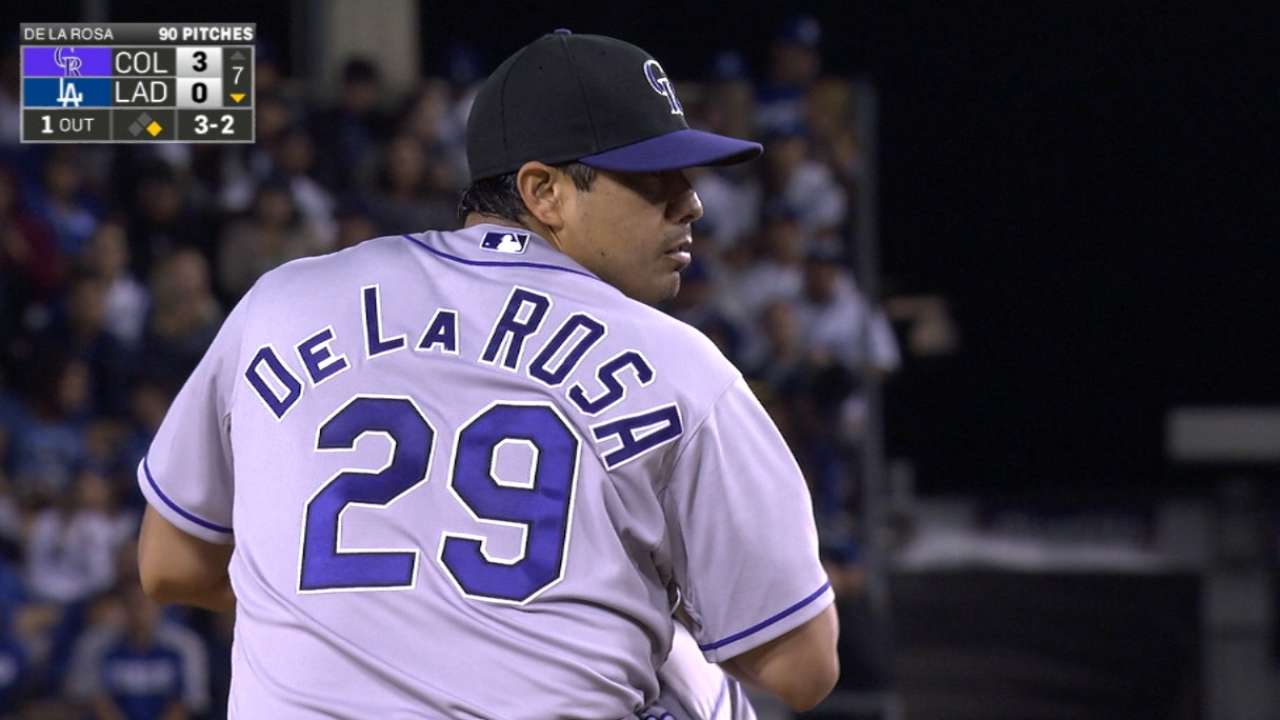 LOS ANGELES -- Jorge De La Rosa held the Dodgers scoreless on two hits in 7 1/3 innings before leaving with an apparent left groin injury, and Carlos Gonzalez, Daniel Descalso and Nolan Arenado homered as the Rockies ended Zack Greinke's career-best win streak at 10 games and beat the Dodgers, 7-1, at Dodger Stadium on Saturday night.
De La Rosa (1-2), who hadn't gone more than five innings in a start this year, struck out three with no walks but left after fielding Scott Van Slyke's grounder for the first out of the eighth. He missed much of Spring Training and the season's first two weeks with a left groin issue, and entered Saturday with a 9.56 ERA.
"I didn't have Spring Training, so every time I pitch I feel my rhythm, and today it felt really good," said De La Rosa, who said he left so he would not worsen the groin, and believes he should be fine for his next start.
Gonzalez knocked his fourth homer of the season and second in three games, a solo shot off Greinke with two out in the first. Descalso went deep with one out in the seventh against reliever Sergio Santos, who had walked Michael McKenry for his first homer since last Aug. 2, when he had two for the Cardinals against the Reds. Arenado's seventh homer of the season was a two-run shot off Santos in the eighth.
"At key times, we had better at-bats and some timely hits," said Rockies manager Walt Weiss, who returned after missing the last three games while recovering from an appendectomy.
Greinke, who gave up four hits but needed 100 pitches to clear six innings, last lost Aug. 9 at Milwaukee, 4-1. Greinke was also aiming to be the first Dodgers pitcher to start a season 6-0 since Kaz Ishii in 2002.
By taking two of the first three in a four-game set, the Rockies avoided losing a series for the first time since splitting two games in a rain-shortened set with the Giants April 24 and 25. Colorado has won two of the last 14 and six of its last 24.
MOMENTS THAT MATTERED
Return of CarGo: Gonzalez homered to win Thursday's game and had quality at-bats in his last two games. As a further sign that he's heating up, he drove Greinke's low fastball into the bleachers in right-center for a 1-0 first-inning lead. The homer and a single pulled his batting average to .204.
"I've seen myself before hit .200 and when the season ends I'm hitting over .300," Gonzalez said. "I'm not saying I'm going to hit .300 but that's my goal."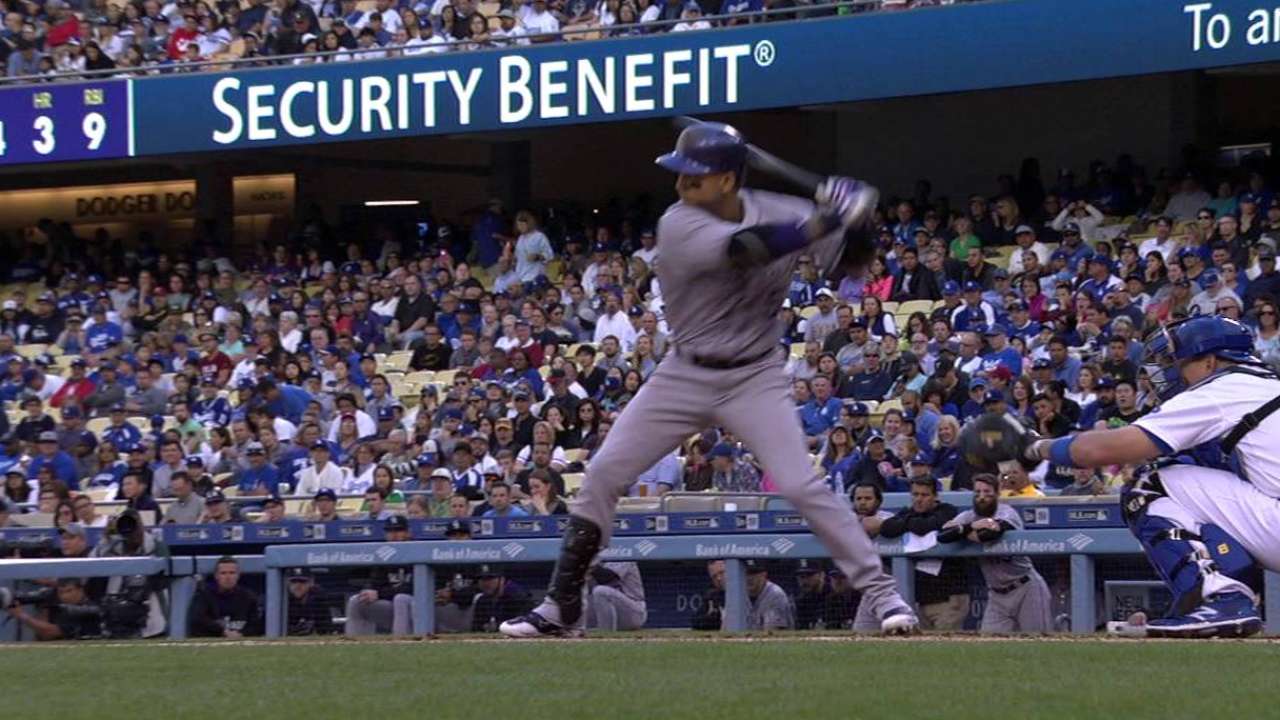 Early escape: Before cruising, De La Rosa had to escape trouble in the first. Leadoff man Kiké Hernandez doubled to open the first and Descalso's error put Jimmy Rollins at first. But De La Rosa forced Howie Kendrick into a double-play grounder and ended the threat by extracting a Justin Turner grounder. From there, De La Rosa was perfect until Kendrick's infield single on a smash that Descalso couldn't corral in the seventh. More >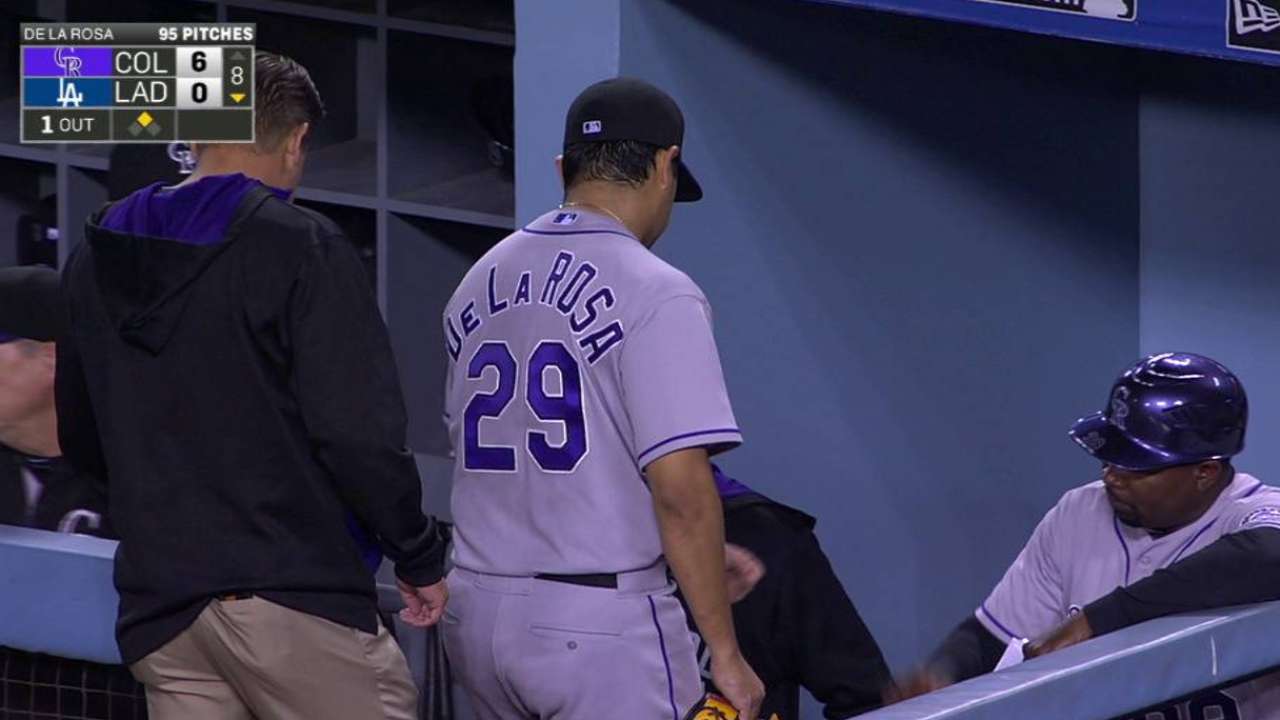 Another 4-K inning: For the second time in two nights, a Dodgers reliever struck out four batters in the eighth. This time, it was Santos, but he also allowed three runs in the inning for a 6-0 deficit. On Friday, Kenley Jansen struck out four in a scoreless eighth. Four strikeouts by a pitcher in an inning has only happened six times in Dodgers history. More >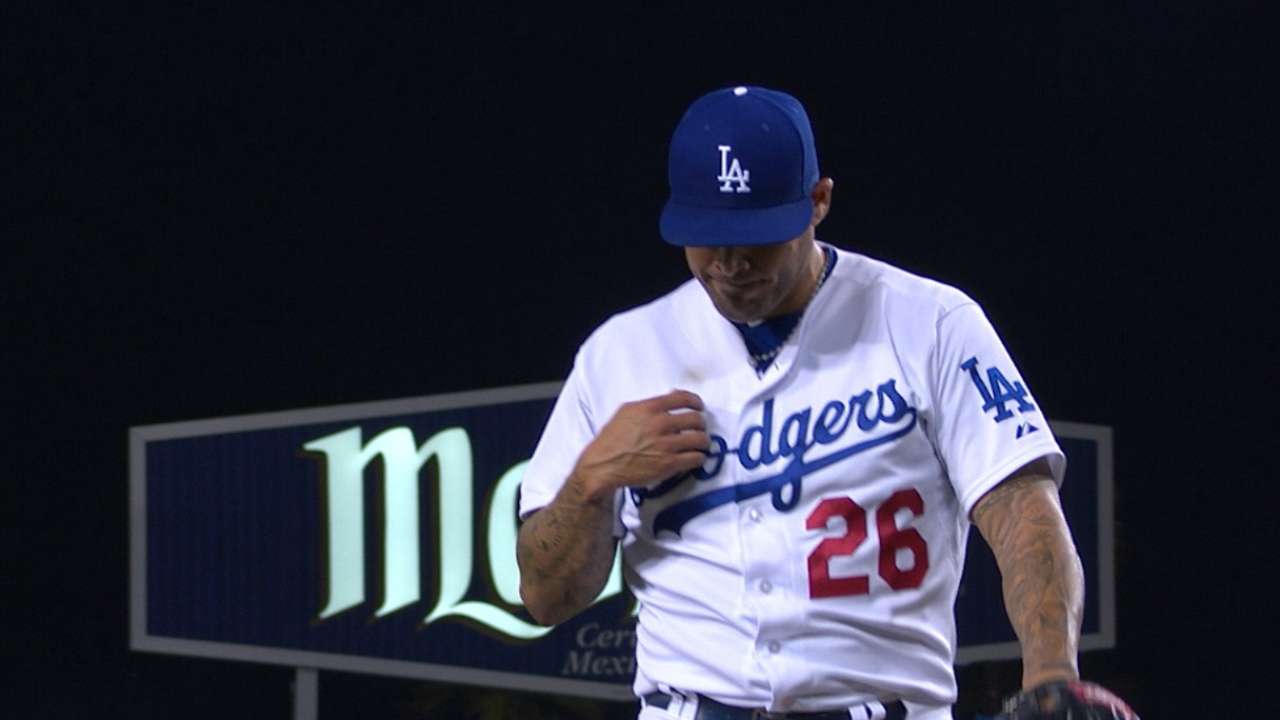 "His [Jansen's] was better, because it happened without any runs coming across," Santos said. "It's the second time for me this year -- I had four strikeouts in Spring Training in an inning against the Cubs."
The rundown: Dodgers center fielder Hernandez, with his back to the plate, made a splendid running, fence-scraping catch in center field to haul in McKenry's bid for extra bases with two outs and a runner on in the fourth inning.
"My face feels fine," said Hernandez, who also said his knee hit the wall. "We're waiting for the results of the MRI they're running on the wall. Hopefully, the wall's OK."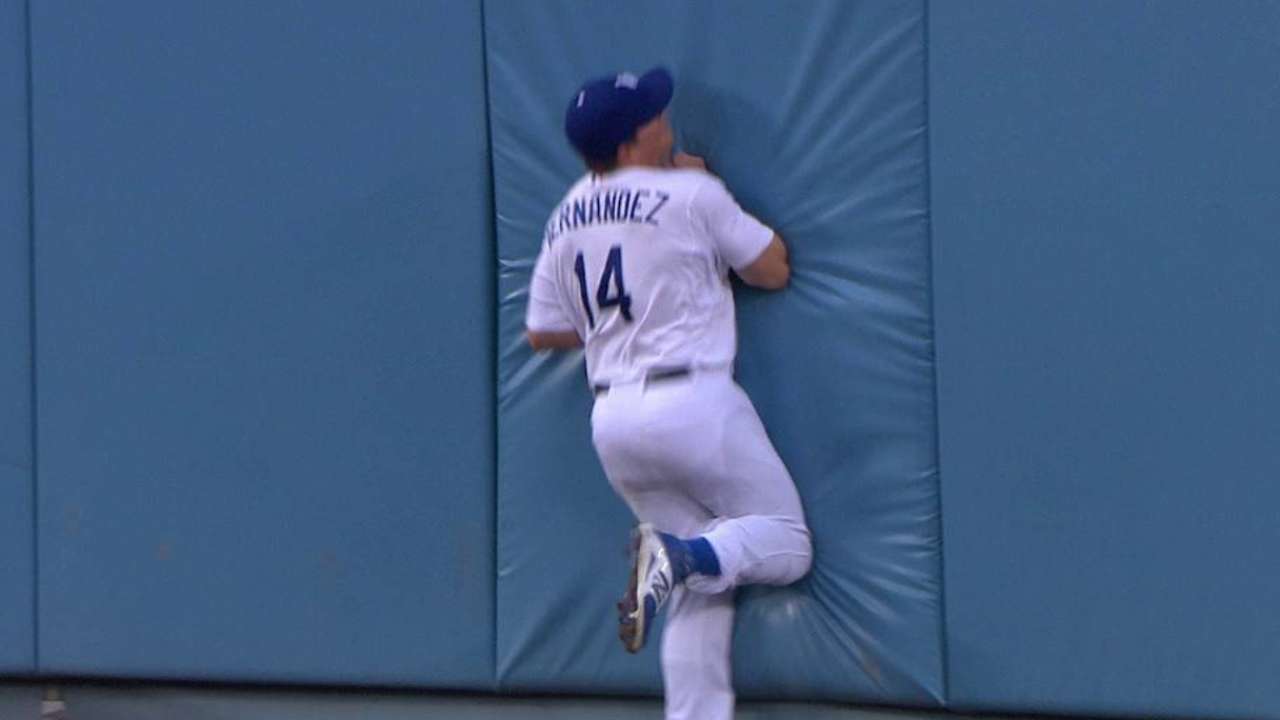 QUOTABLE
"You play defense behind that, you're always on your feet, you don't get flat-footed. That was awesome." -- Arenado on De La Rosa
SOUND SMART WITH YOUR FRIENDS
According to the Elias Sports Bureau, Descalso entered Saturday having gone homerless in 332 at-bats -- the sixth-longest such streak of any non-pitcher.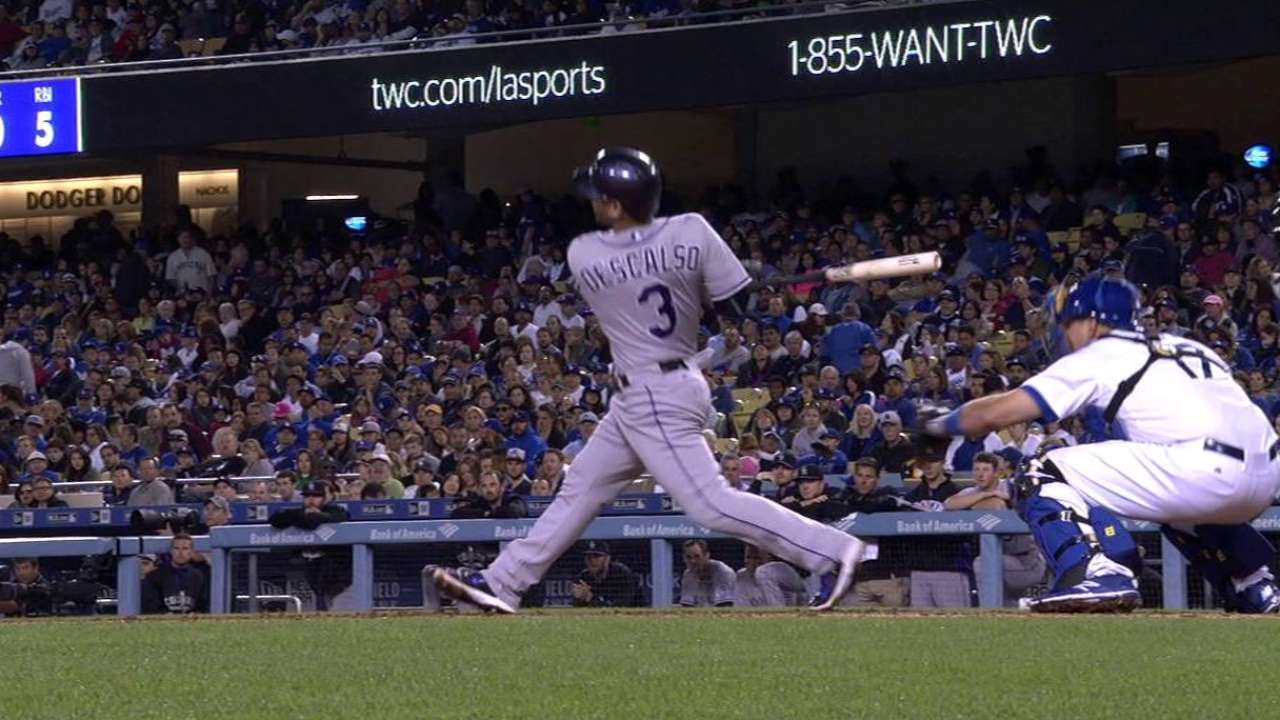 "Over the last week or so I've felt better in the box, and I'm trying to have good at-bats and not trying to do it all with one swing," said Descalso, who doubled in three runs Friday night and is standing in for shortstop Troy Tulowitzki (left quadriceps tightness).
"I'M NOLAN ARENADO, AND I APPROVED THIS MESSAGE"
Rollins nearly beat out an infield single to spark the Dodgers leading off the seventh. But he had the misfortune of rolling the grounder to Arenado, the Rockies' two-time Rawlings Gold Glove third baseman. Arenado added a campaign spot to his bid for a third award by making a running barehanded pickup and throw: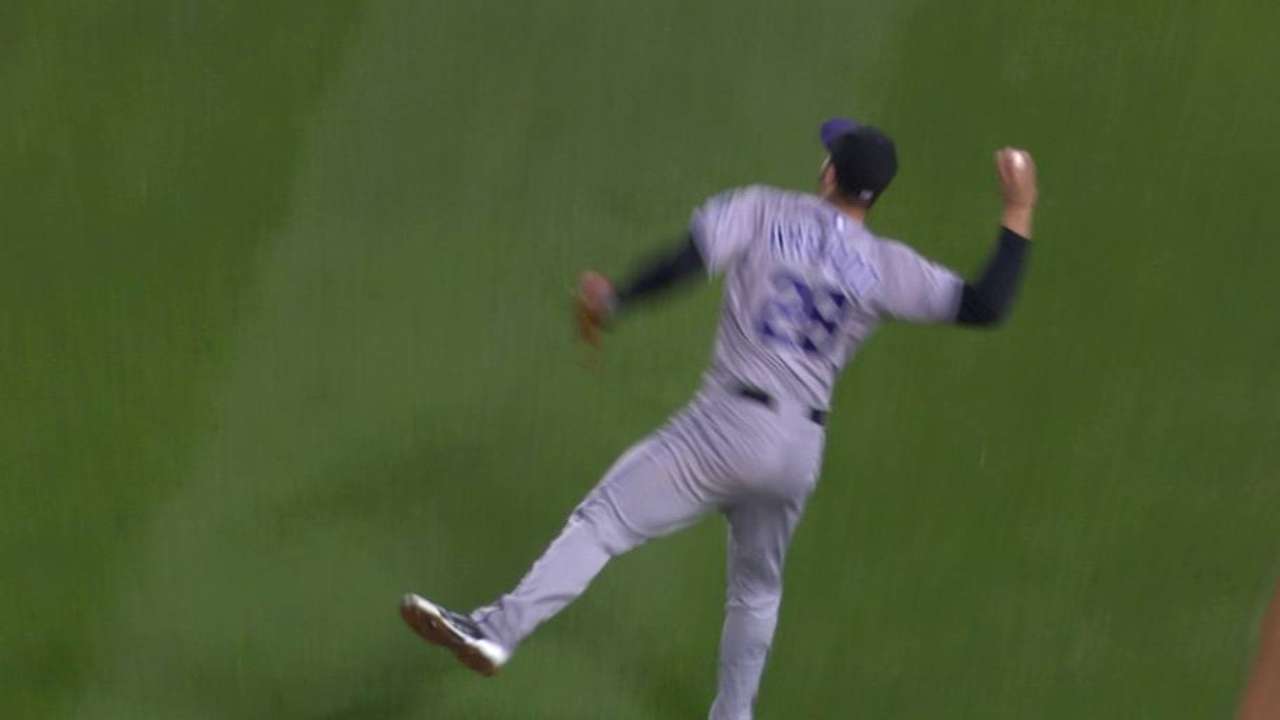 WHAT'S NEXT
Rockies: Righty Kyle Kendrick (1-4, 7.65 ERA) threw seven one-run innings against the Angels in his last start. On Sunday, he faces the Dodgers at 2:10 p.m. MT at Dodger Stadium.
Dodgers: Right-hander Mike Bolsinger (1-0, 1.59 ERA) makes his third start for the Dodgers in the final game of a four-game series. He faced the Rockies once last season for the D-backs, and took a five-inning no-decision, allowing four runs on nine hits.
Watch every out-of-market regular season game live on MLB.TV.
Earl Bloom is a contributor to MLB.com. Thomas Harding is a reporter for MLB.com. LIke his Facebook page. This story was not subject to the approval of Major League Baseball or its clubs.