Porcello giving Red Sox ace-like outings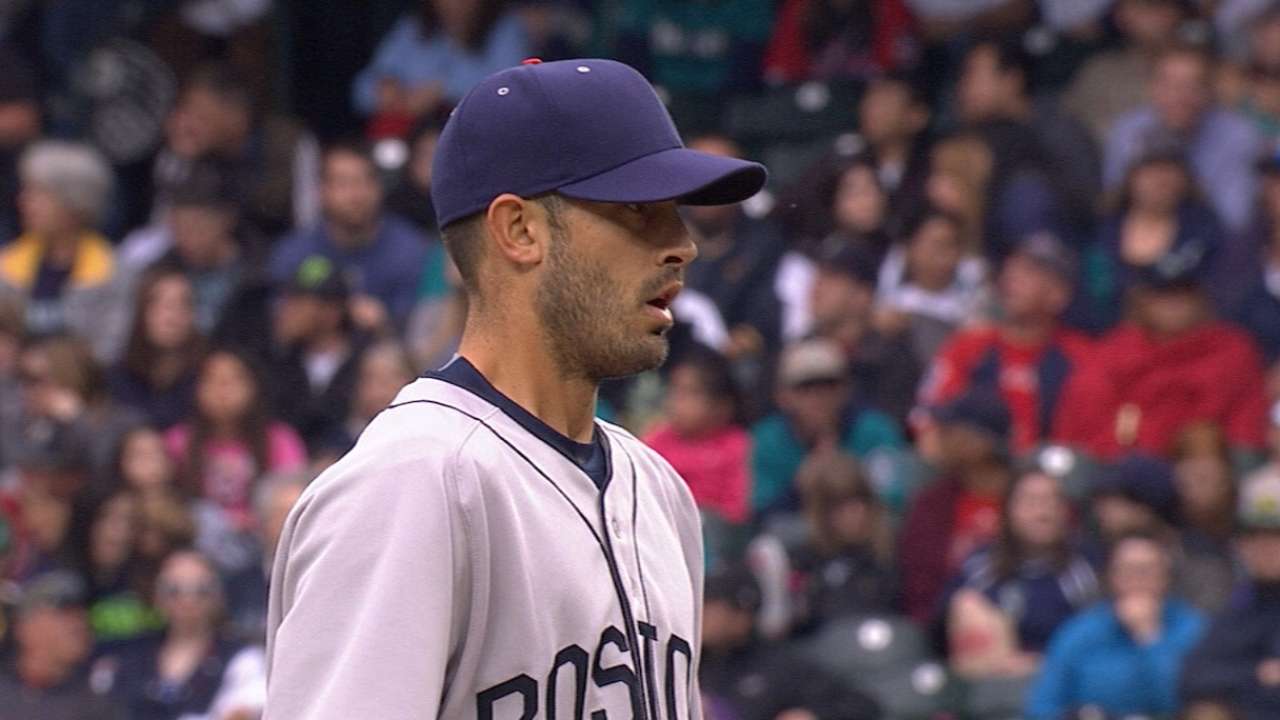 SEATTLE -- The Red Sox might not have an ace, in name, yet. But sometimes pitchers push their performance to that level over time. Rick Porcello might be the Boston pitcher most capable of doing just that.
The righty was terrific on Saturday night at Safeco Field, outdueling one of the best pitchers in baseball in Felix Hernandez in a 4-2 Red Sox win.
"You know who's pitching on the other side, but at the end of the day, you have your game plan going into the game, and your assignment is to get their hitters out, not pitch against the other pitcher," said Porcello. "Our offense did a great job putting up runs on him and getting him into trouble and getting those two more after I gave up the second home run. They did a heck of a job against them. The bullpen did the rest."
But Porcello certainly did his part. And not just in this game, but over the last few times he's taken the ball.
In his last four starts, Porcello is 3-0 with a 2.10 ERA.
"Outstanding," said Red Sox designated hitter David Ortiz. "Rick did a hell of a job tonight. He's been pitching well. He's going out there with his good command, good idea of things he's going to do. That's all you need."
Porcello gave the Red Sox 6 2/3 strong innings, allowing five hits and two runs. He walked two and struck out six and generally looked in charge of the proceedings.
"I feel good," Porcello said. "I feel like I have a good fastball. It changes throughout the course of the season, from year to year. Some years you've got more behind it, and this year I feel that way, so we're using the fastball more."
At 26, Porcello is just entering his prime years.
"There's more of a four-pitch mix now than maybe there was a couple of years ago, when he used his curveball a little bit more," said Red Sox manager John Farrell. "We're seeing a little more power, more velocity, than maybe we anticipated. And who knows, maybe he's just physically maturing as he's getting into his mid-20s here."
After a tough 2-1 loss on Friday in which Farrell blamed himself for pitching to Nelson Cruz with the game on the line, Porcello played the role of stopper Saturday.
"It's nice to come back and get a win, especially after last night. That game hurt a little bit," Porcello said. "We've got a chance to win the series tomorrow, so it was a good win today."
Ian Browne is a reporter for MLB.com. Read his blog, Brownie Points, and follow him on Twitter @IanMBrowne. This story was not subject to the approval of Major League Baseball or its clubs.