May's strong outing sets stage for late-inning win
Right-hander allows three runs over career-high 6 2/3 innings vs. Rays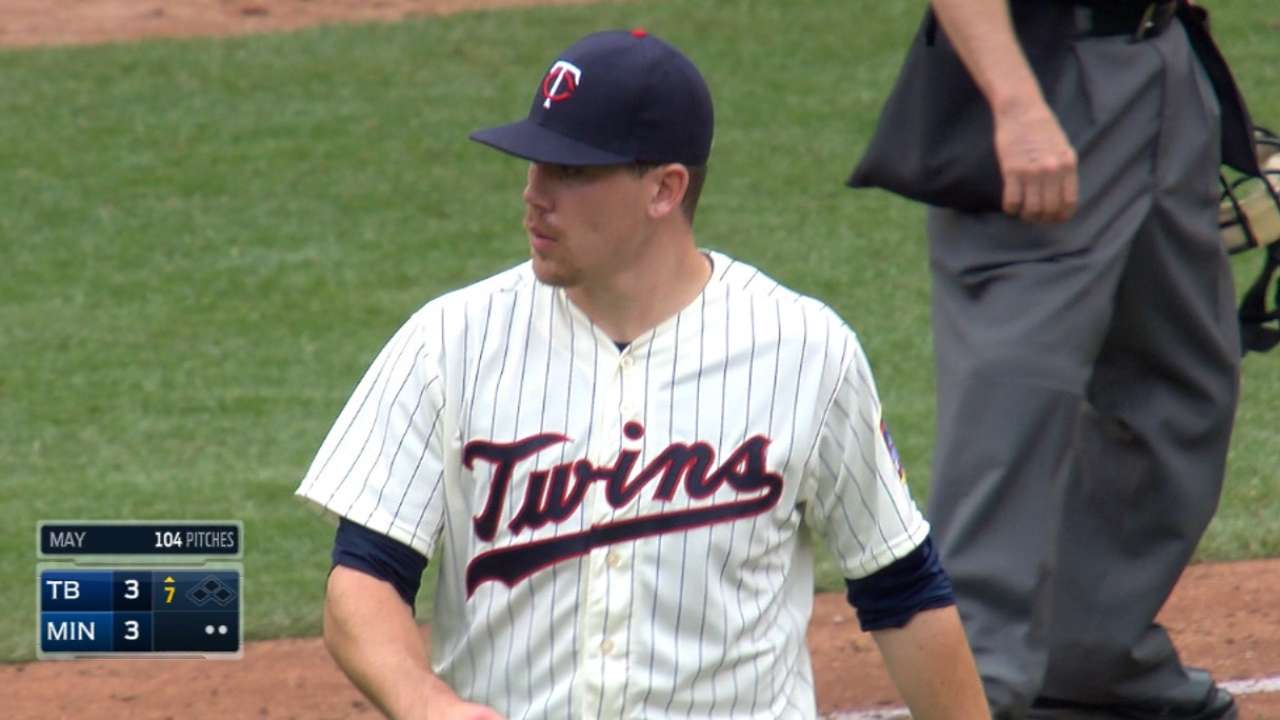 MINNEAPOLIS -- After seeing how much the starting rotation struggled for the Twins over the last four years, one of the things manager Paul Molitor has tried to instill in his starting pitchers is the mentality to pitch deeper into games.
It was evident against the Rays on Saturday, as he stuck with rookie right-hander Trevor May for the seventh inning with the Twins up 3-1 and May at 89 pitches. The move didn't end up working out, as May served up a game-tying two-run homer to Tim Beckham, but for Molitor, it was more about the process than the result.
May was happy Molitor stuck with him, and the Twins were able to rally late despite the homer, with a 6-4 win keyed by four hits from Eduardo Escobar and a go-ahead sacrifice fly by Kurt Suzuki in the bottom of the seventh.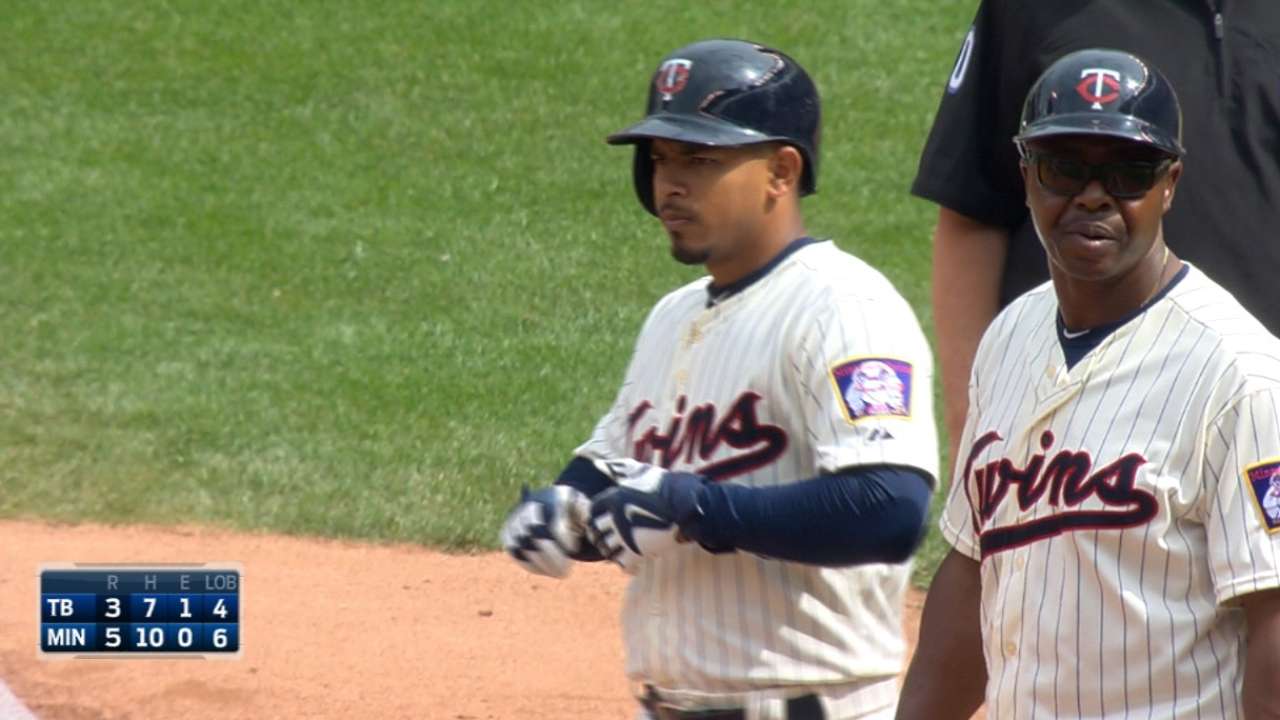 "If you look at trends here in the early stages, I'm trying to extend guys," Molitor said. "We're trying to build young pitchers who believe they can pitch deep into games even when it's close. Sometimes you have to suffer through learning experiences like Trevor did today, but he had a good attitude and I think it's going to make him better in the long run."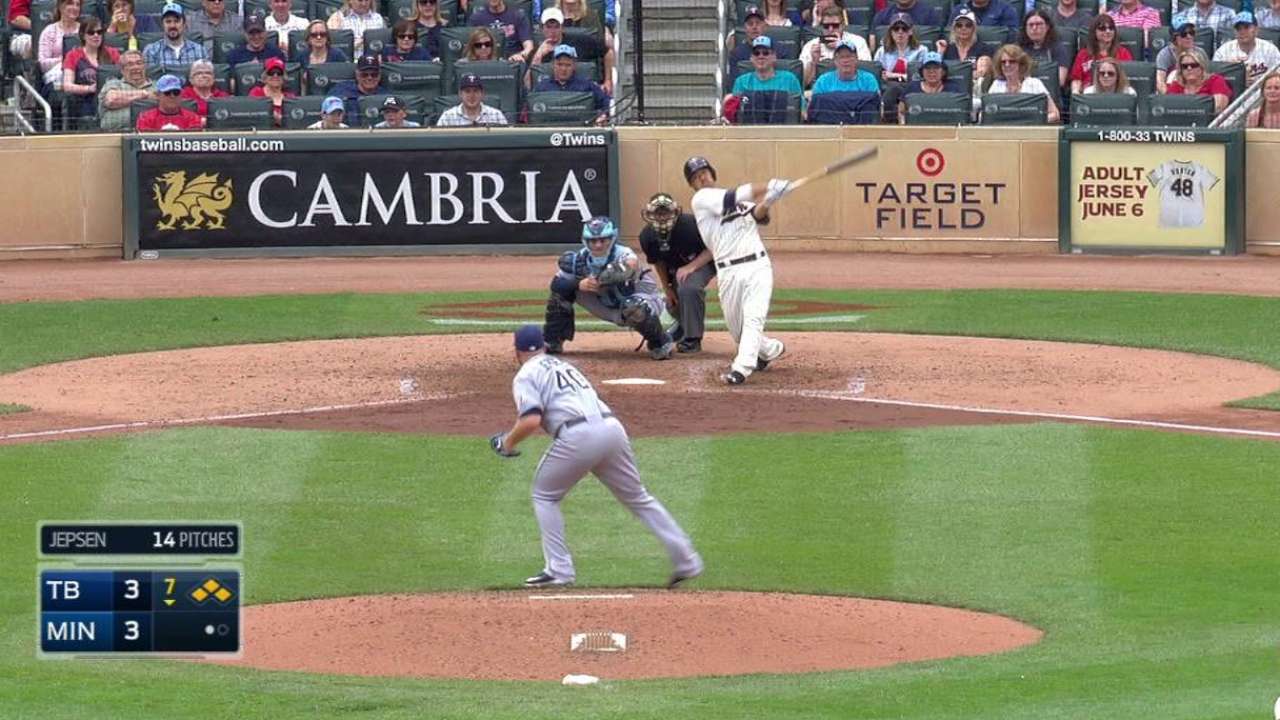 May was coming off his worst outing of the year, but bounced back to get a quality start, giving up three runs on seven hits over a career-high 6 2/3 innings. He also threw a career-high 104 pitches, and said the key was attacking the strike zone, as he didn't walk a batter this time out.
"I felt good," May said. "I was just trying to get ahead better than last time. It's been a theme I've been saying all year that I need to get deeper into games and get a little flow going into that bullpen. That's how you start stringing wins together."
May's strong outing opened the door for the late rally from the offense, as it marked the second straight game they allowed the Rays to tie it in the seventh, only to come back with a victory.
"I think it's a huge testament to how we've been," May said. "We do that a lot to teams. It's finding a way to win. Picking me up after that situation and scoring right after they tied it."
It was another win at home for the Twins, who improved to 14-5 at Target Field this season, winning seven of their last eight there. They're back at five games over .500, at 21-16, and have the chance to sweep the Rays in Sunday's series finale.
"It's home energy," Twins right fielder Torii Hunter said. "You have the fans, they're screaming your name, they're all for you, they're on your side. It's just all positive energy and when we come home, we feel good about it."
Rhett Bollinger is a reporter for MLB.com. Read his blog, Bollinger Beat, follow him on Twitter @RhettBollinger and listen to his podcast. This story was not subject to the approval of Major League Baseball or its clubs.