'Extremely strong' Pence debuts with two hits
Giants right fielder singles, doubles, walks, scores three runs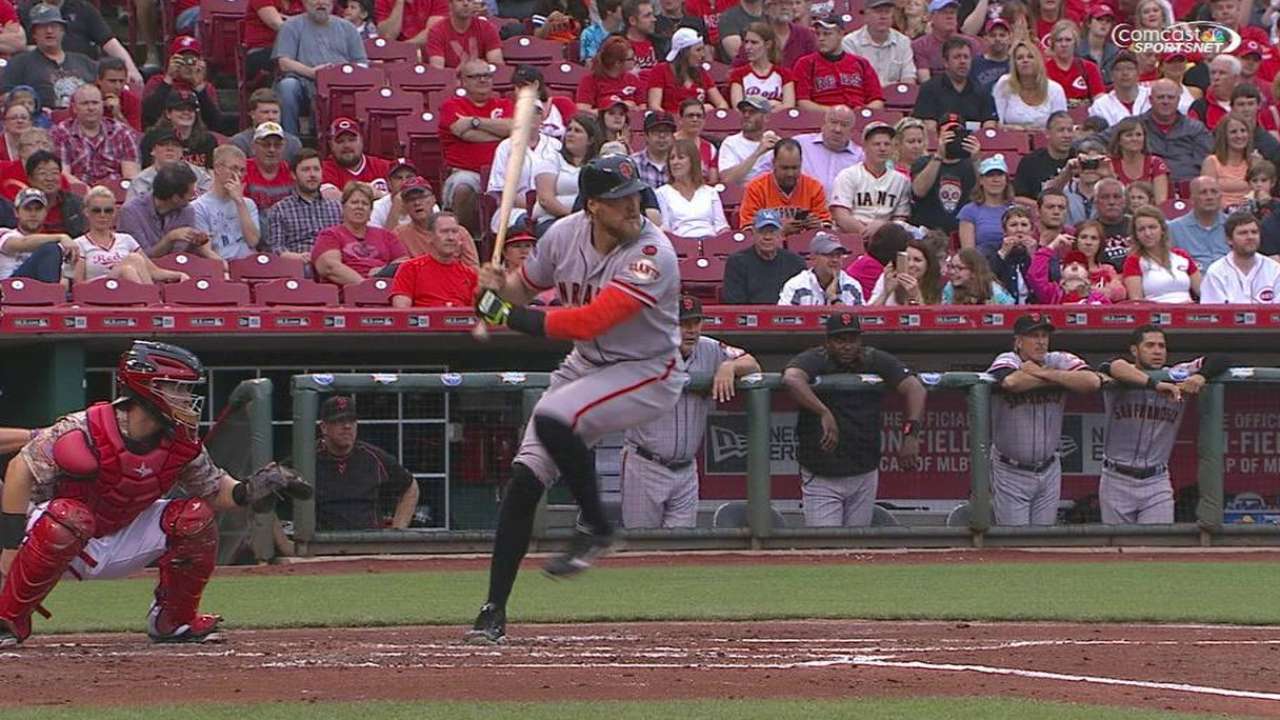 CINCINNATI -- Hunter Pence likes to say, "You can't see the end from beginning."
The beginning of his 2015 season was certainly ugly -- a broken arm during the first week of Spring Training. Now Pence gets to start down the path toward what could be a memorable ending.
On Saturday, San Francisco's three-time All-Star outfielder was activated from the 15-day disabled list, where he had spent the entire season. He started in right field and batted sixth in the Giants' 11-2 victory at Cincinnati, going 2-for-3 with a double and a walk and scoring three runs.
"Things happen to you," Pence said. "It's my belief they happen for a reason and there's something to learn from it. I got an opportunity to just work on just being a good teammate while I was hurt."
Pence was 100 percent positive that the time to return had arrived Thursday. He called club officials both before and after the final game of his Minor League rehabilitation assignment to tell them so.
"My timing feels good," Pence said. "I was seeing the ball great. I feel extremely strong and extremely fast and the wrist feels healthy. I feel like I am more than capable."
The return of Pence comes at an opportune time for the Giants, who have climbed back to .500 after some early struggles but were averaging 3.47 runs per game through Friday, next-to-last in the National League.
Giants manager Bruce Bochy said Pence will not be eased back into the lineup.
"He says he's good to go," Bochy said. "I don't think he needs to be monitored. This guy's a little different. He's in such incredible shape. Playing nine innings is not a chore for him."
An errant pitch from Corey Black of the Chicago Cubs during the first week of Cactus League play hit Pence's left forearm and put him on the DL with a non-displaced fracture of the left ulna bone.
The timetable for his return from that injury was uncertain.
"I've never had a broken ulna," Pence said. "I had no idea."
Pence started 331 consecutive games from September 2012 to September 2014 and had played in at least 150 games every season since 2008. He scored a career-high 106 runs for the Giants last season.
"This is big for us," pitcher Madison Bumgarner said. "We've missed him, not just as a player, but his presence in the clubhouse. He's awesome to have around. Even when he was hurt, he was good to have around."
Pence's clubhouse speeches have become legendary, but he had none planned for Saturday.
"I always have something to say," Pence said, "but no speech."
To make room for Pence on the 25-man roster, switch-hitting catcher Hector Sanchez was optioned to Triple-A Sacramento. Sanchez, 25, had played in 18 games (four starts) with a .194 average over 31 at-bats. The Giants had been carrying three catchers on their roster. Bochy said third baseman Casey McGehee could catch in an emergency.
Andy Call is a contributor to MLB.com. This story was not subject to the approval of Major League Baseball or its clubs.