Angels shake up lineup to spark offense
Aybar moved to cleanup; Giavotella nudged to bat fifth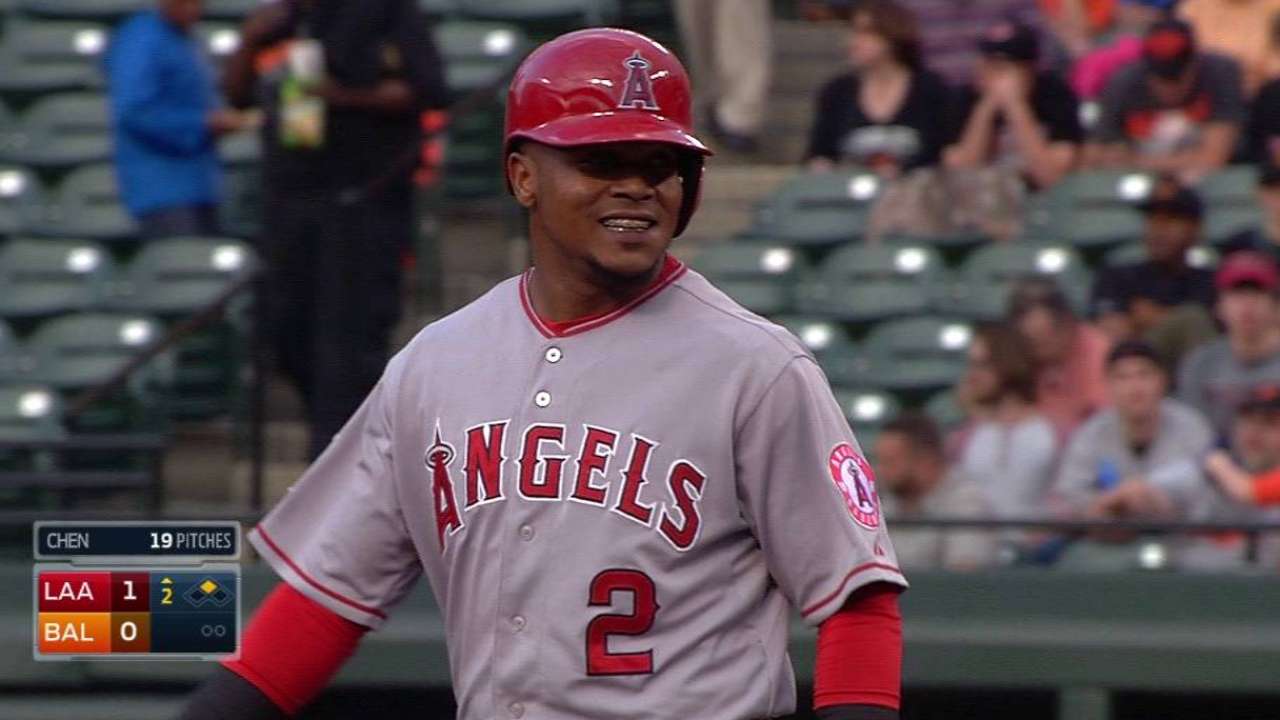 BALTIMORE -- Looking to jump-start a sputtering offense, the Angels are trying some different things.
For Saturday night's game against the Orioles, one strategy was to nudge the red-hot Erick Aybar up to the cleanup spot and Johnny Giavotella up to fifth, both for the first time this season. Aybar has started only two other games there over 10 big league seasons, both last year.
"Right now, I think necessity is the mother of invention, and we're trying to get a little continuity through the middle of our order," Angels manager Mike Scioscia said. "We've been struggling to find some guys that are going to hit behind Mike [Trout] and Albert [Pujols]."
The Angels entered Saturday 14th in the American League in runs and 15th in OPS. The biggest culprit has been the No. 4 spot, which had produced a .173/.257/.307 line and had two hits and no RBIs since May 2. Meanwhile, Aybar extended his streak of multihit games to four in Friday's series opener.
Most of the cleanup at-bats this season have gone to David Freese and Matt Joyce, who both are off to slow starts. Freese, who had hit fourth in three straight games, was dropped to sixth on Saturday, while Joyce hit seventh. The Angels also have put Kole Calhoun fourth on five occasions, but Scioscia prefers to have him bat ahead of Trout and Pujols.
"I think he's comfortable there, he's really good at it, and he's a guy that in front of Mike, he drives the ball and is taking his walks," Scioscia said. "He's doing everything you could ask. So having Erick one and Kole four is something we would consider, but right now I think we want to play it out just to see if some other guys that we anticipate hitting behind Mike and Albert get into their game, and we'll have more options available."
Meanwhile, Scioscia also started Marc Krauss at designated hitter over C.J. Cron, the left-handed batter's third straight start against a right-handed pitcher. A pair of soft singles on Friday only took Cron's OPS up to .535, and the team as a whole entered Saturday with a .611 OPS against righties, compared with .731 against southpaws.
"I think right now we're definitely looking to match up better against some right-handed pitching, because we've really struggled against them," Scioscia said. "And it doesn't mean it's a straight platoon, but until some of our right-handed hitters start attacking the ball like they can, we want to infuse some left-handed bats in there. Marc is a guy we're going to give some looks to."
Worth noting
• The Angels weren't too upset about missing Orioles right-hander Bud Norris during this series. Norris had been scheduled to start on Saturday but was pushed back due to bronchitis. Over the previous two seasons, Norris started six times against the Angels and went 4-0 with a 0.43 ERA
"He's been tough on us, no doubt," Scioscia said.
Andrew Simon is a reporter for MLB.com. Follow him on Twitter @AndrewSimonMLB. This story was not subject to the approval of Major League Baseball or its clubs.