Wood successful while 'trying to figure it out'
Lefty goes season-high seven, gets win despite continuing to work through mechanics issues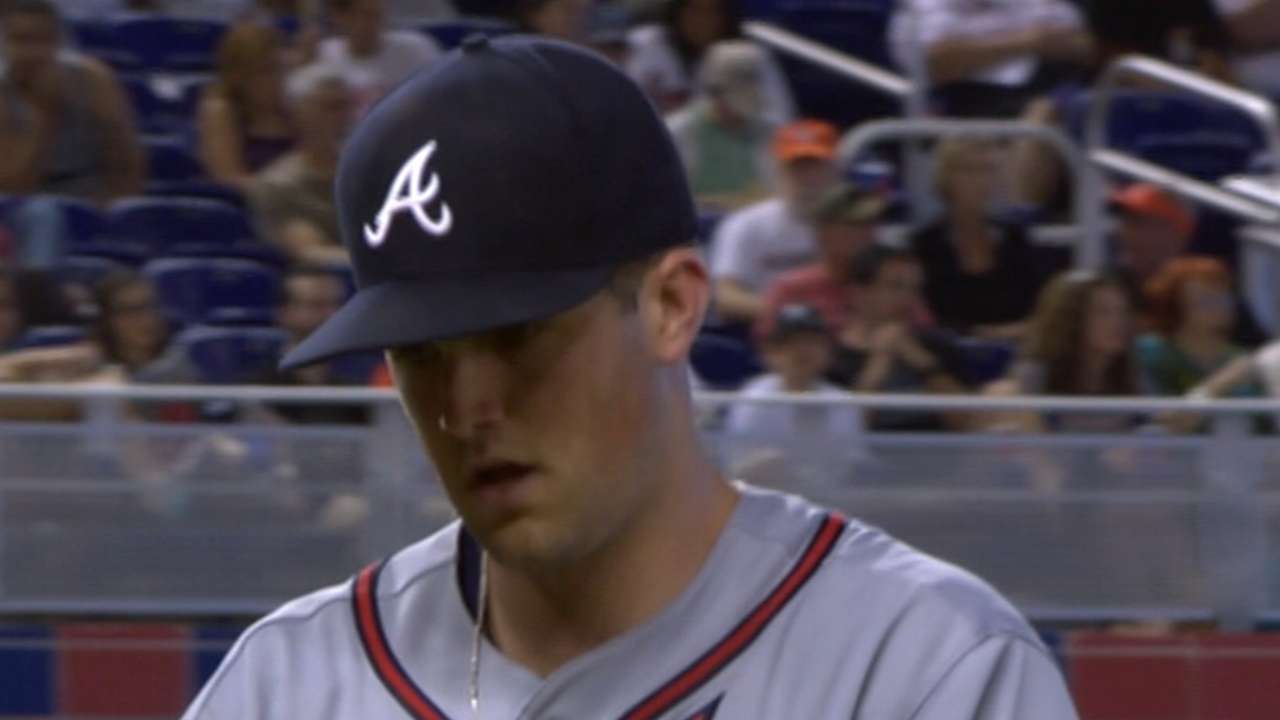 MIAMI -- Though he once again displayed his ability to compete without his best stuff during Saturday's 5-3 win over the Marlins, Braves left-hander Alex Wood understands that he has not yet fixed all of the mechanical flaws that have influenced the struggles he has experienced this season.
"We're still talking about some things and working on those," Wood said. "But the results the last two starts are definitely encouraging. It's nice to know when I'm working on things and trying to figure things out, I can still put up outings like today. I've just got to keep working and go from there."
Wood limited the Marlins to two runs -- one earned -- and seven hits over a season-high seven innings. His determined effort allowed him to build on the confidence he gained when he surrendered three first-inning runs to the Nationals last weekend and then allowed just three more hits over his final 5 2/3 innings.
But while Wood has seemingly distanced himself from the frustration he felt as he posted a 4.23 ERA and allowed opponents to produce a .375 on-base percentage during his first five starts of this season, he has not yet regained the successful form he had when he posted a 1.92 ERA during his final 11 starts last season.
"I'm still working on a lot of things and trying to figure it out," Wood said. "I'm piecing it together as we go, but as long as we get a 'W' and I throw up some zeroes, I'll take it any day."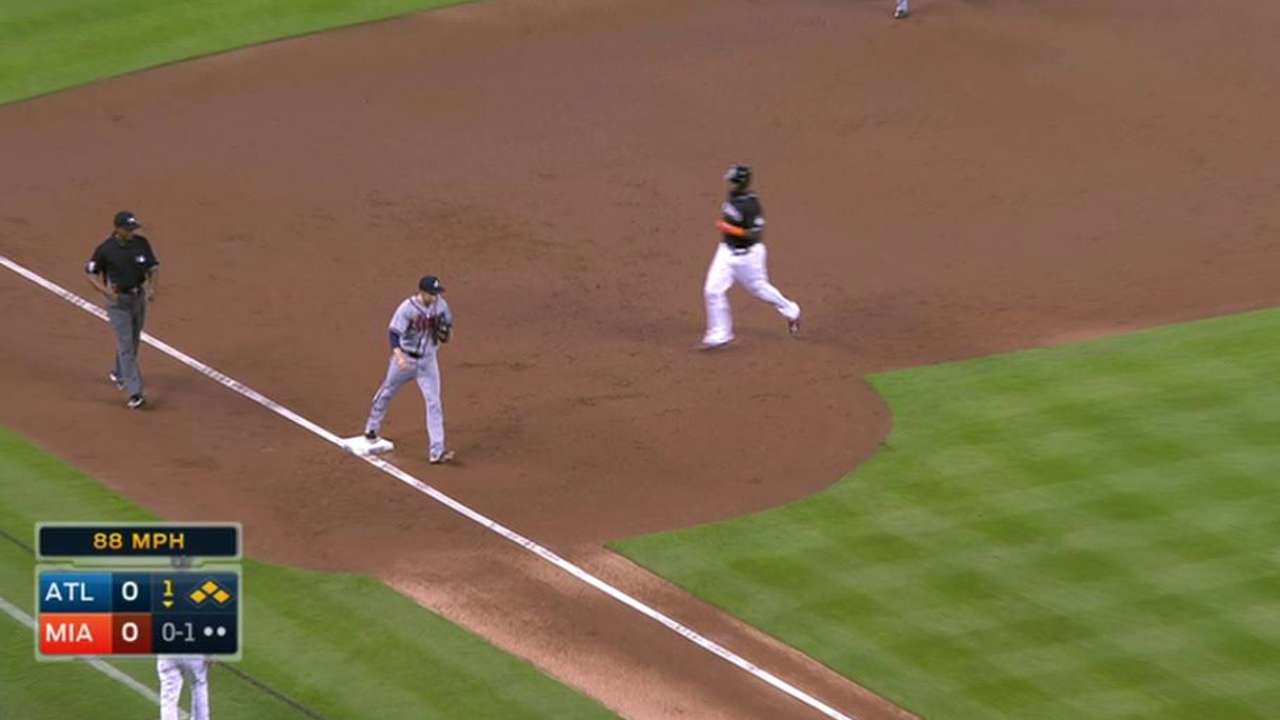 Wood escaped a bases-loaded jam in the first inning and then saw one hit and a Freddie Freeman error lead to an unearned run in the second inning. He also fell victim to the tremendous power of Giancarlo Stanton, who hit a 478-foot home run to straightaway center field in the third inning.
Two innings later, Wood backed Stanton off the plate with an inside fastball and then followed with another that was fouled. This combination set up the two-strike curveball that the Marlins right fielder watched cross the outside corner of the plate.
While the Stanton strikeout provided a glimpse of Wood's bravery, the determination and poise the Braves left-hander showed after the Marlins loaded the bases with just one out in a scoreless sixth inning provided a glimpse of why the Braves have remained confident Wood will do whatever necessary to get back to where he was at the end of last year.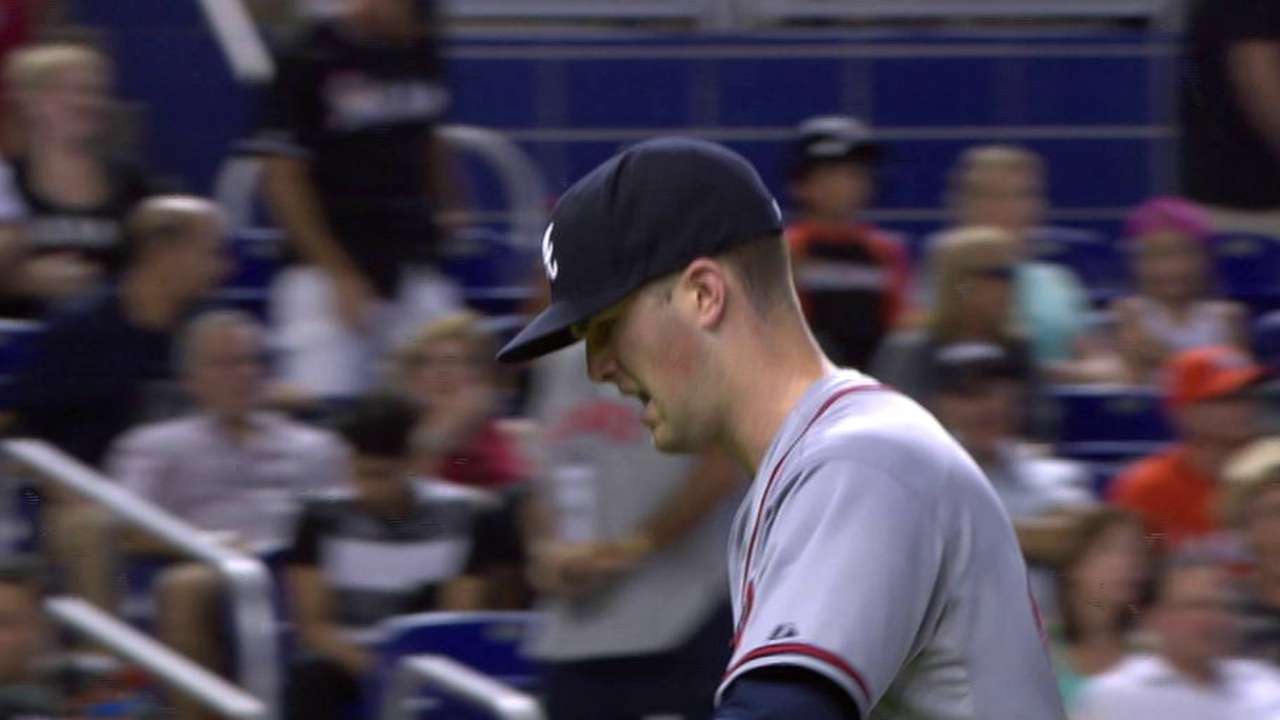 "He competed and then went out there and gave us a clean seventh," Braves manager Fredi Gonzalez said. "That is what separates him from a lot of the other guys in the league."
Mark Bowman is a reporter for MLB.com. This story was not subject to the approval of Major League Baseball or its clubs.