Bellatti's week in the Majors ends on a high note
Right-hander sent to Triple-A following scoreless relief outing vs. Twins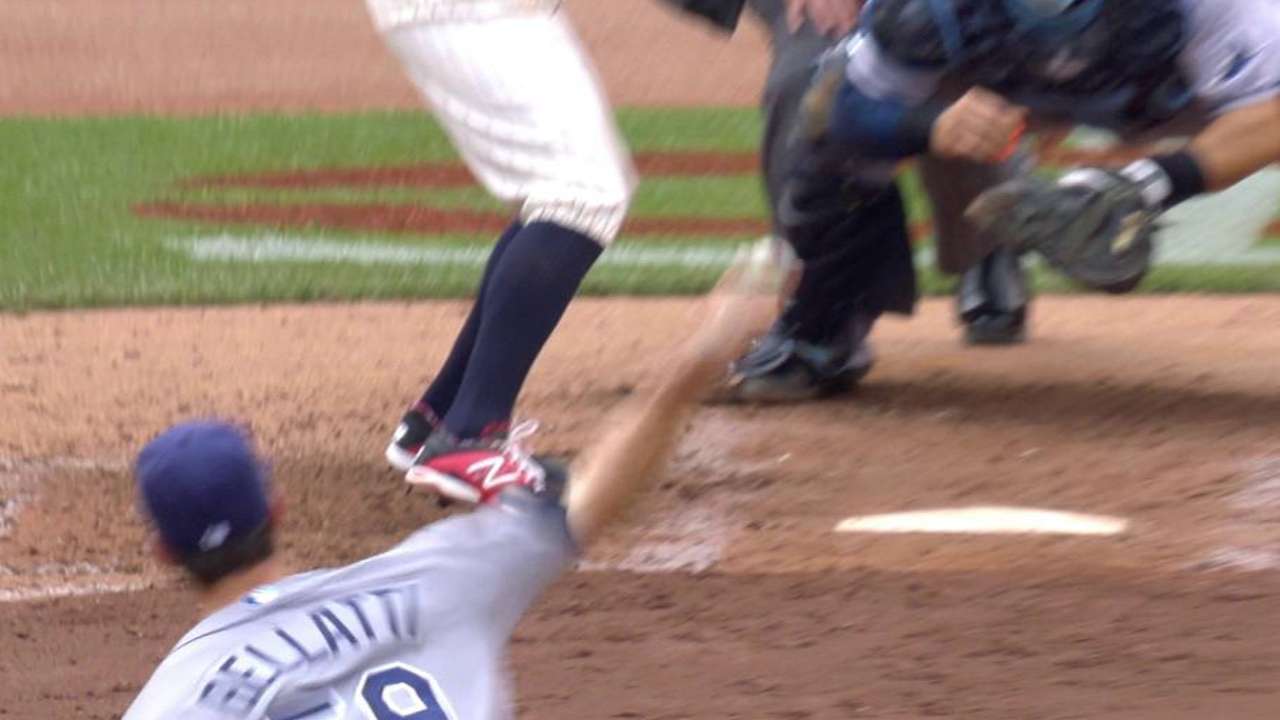 MINNEAPOLIS -- Andrew Bellatti's week in The Show ended Saturday, but the right-hander more than took advantage of that time to make a favorable impression with the Rays.
A week after joining the Rays, Bellatti was optioned back to Triple-A Durham after Saturday's game to clear room for infielder Nick Franklin, who has been on the disabled list all season with a left oblique strain.
"Andrew did a tremendous job in both of his outings, and going into the National League series [against the Braves], we knew we were going to need an extra position player," Rays manager Kevin Cash said. "Probably makes the most sense now to do that since he wouldn't be available to pitch tomorrow."
The latest installment of "Bellatti can pitch a little bit" came during the Rays' 6-4 loss to the Twins Saturday afternoon at Target Field.
Bellatti entered the game in the fourth inning with a runner on second and one out. The Rays trailed 3-1 at that point, and the rookie right-hander managed to quiet the storm.
After pitching a scoreless fifth, Bellatti walked Kurt Suzuki to start the sixth. Eduardo Escobar followed with a double to right. With runners at second and third and no outs, the Rays' infield drew in on the grass hoping to cut off a run from scoring. Bellatti proceeded to strike out Eddie Rosario, Aaron Hicks, and Danny Santana in order -- all swinging at changeups -- to end the threat.
"Basically, it was me telling myself to dig deep," said Bellatti of the sixth. "In that situation, that kind of game, close game. Just dig deep, throw strikes, get ahead. You know, trust the defense."
Bill Chastain is a reporter for MLB.com. Listen to his podcast. This story was not subject to the approval of Major League Baseball or its clubs.