Late runs power Halos to series win over O's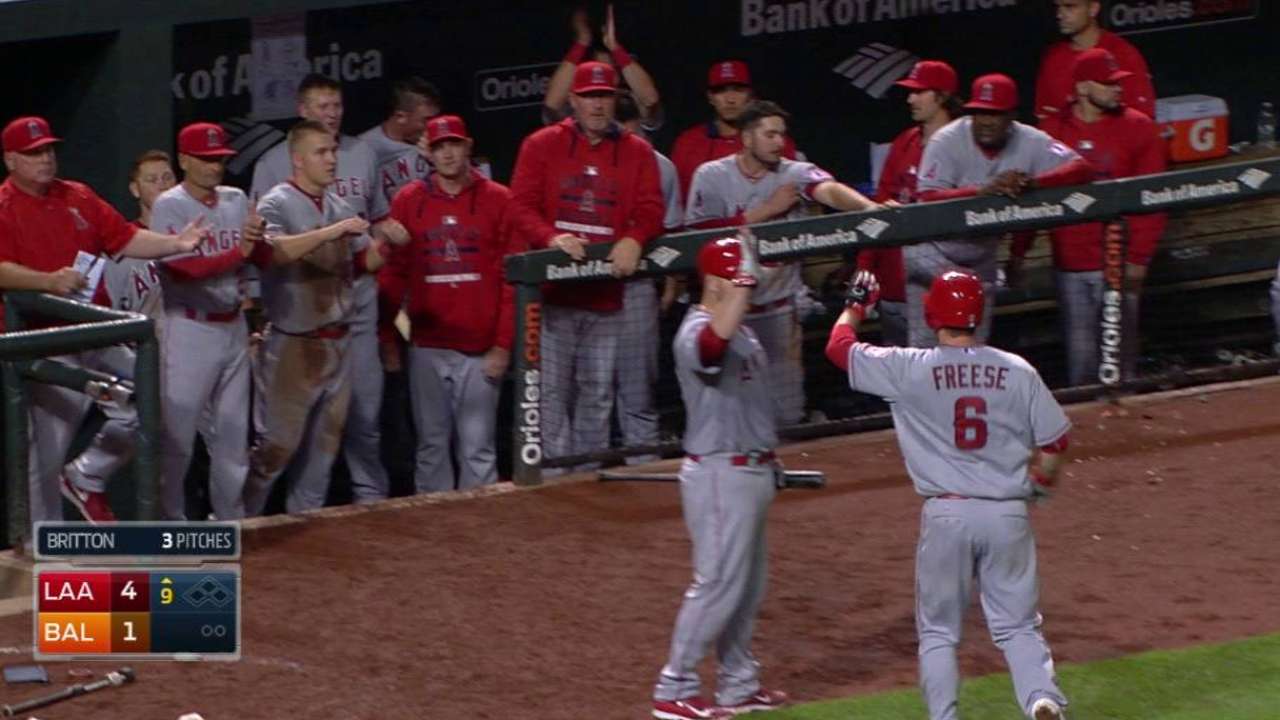 BALTIMORE -- The Angels scratched across a pair of runs in a seventh-inning rally, Mike Trout and David Freese later added home runs, and Matt Shoemaker pitched a gem in a 6-1 win over the Orioles on Saturday night at Camden Yards. The victory, which came after a 57-minute rain delay, was the Angels' fifth in a row and eighth in 10 games, putting them a season-best two games over .500.
The Orioles broke a scoreless tie in the fourth on Steve Pearce's solo homer to left off Shoemaker. It was Pearce's third homer of the season and first since April 7, as well as the 11th allowed by Shoemaker. But the Angels right-hander otherwise blanked the Orioles over seven innings, giving up fewer than three earned runs in an outing for the first time this year. He surrendered only three hits, walked none and struck out seven.
"For the most part, Shoe pitched with his back against the wall the whole game," Angels manager Mike Scioscia said. "That was definitely the most consistent we've seen Matty."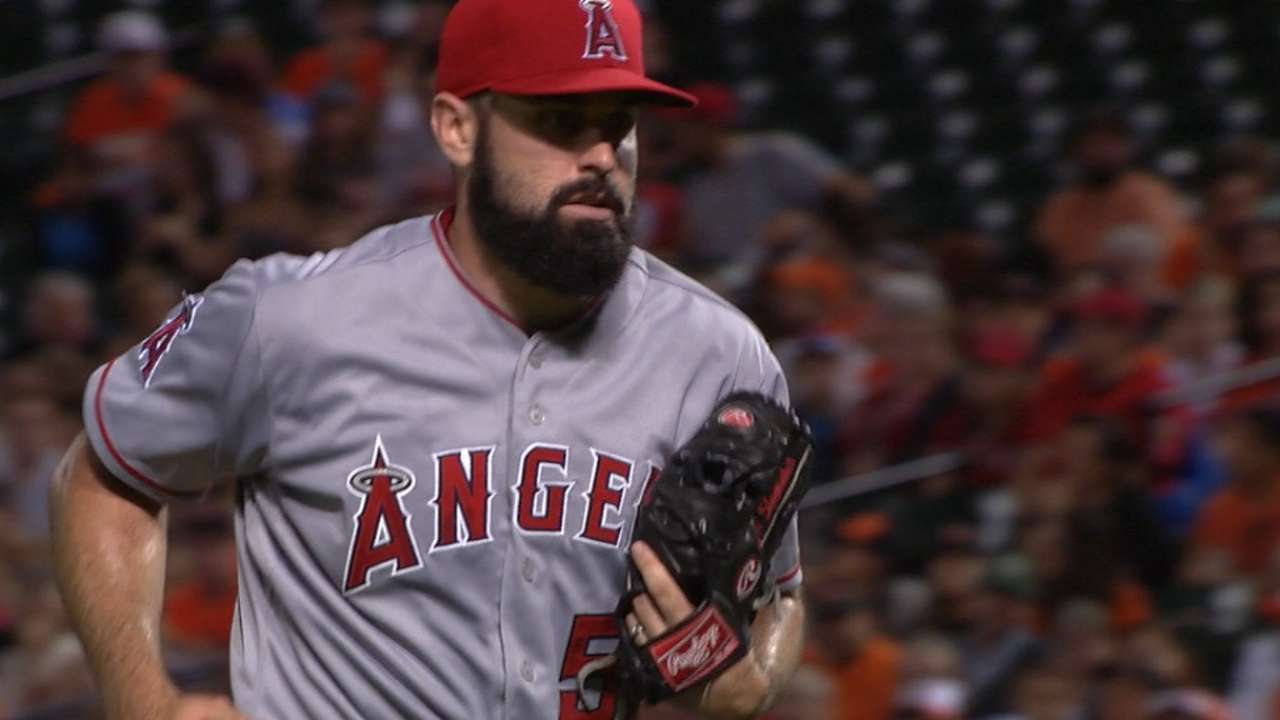 Baltimore's Ubaldo Jimenez had his start bumped up a day when Bud Norris was scratched due to bronchitis, and the right-hander responded. He didn't allow a hit until Kole Calhoun's single to lead off the fourth and shut out the Angels until the seventh. That's when infield singles by Erick Aybar and Johnny Giavotella and RBI singles by Chris Iannetta and Marc Krauss put the Halos in front.
Jimenez gave up two runs and struck out six over seven innings before giving way to Darren O'Day, who served up a homer to Trout leading off the eighth. David Freese added a solo shot against Zach Britton in the ninth, when the Angels tacked on three more runs.
MOMENTS THAT MATTERED
Unlikely sources produce: Going into the seventh inning, Iannetta was batting .099 this season, while Krauss was 0-for-7. But with two on, two out and the Angels down by a run, the Angels' Nos. 8 and 9 batters came through. First, Iannetta hit a bouncer to the left side that tipped off the glove of third baseman Manny Machado and into left field for an RBI single, Iannetta's eighth hit in 72 at-bats. Krauss, called up Tuesday from Triple-A Salt Lake, followed with a liner to left that gave him his first hit for the Halos and brought home the go-ahead run.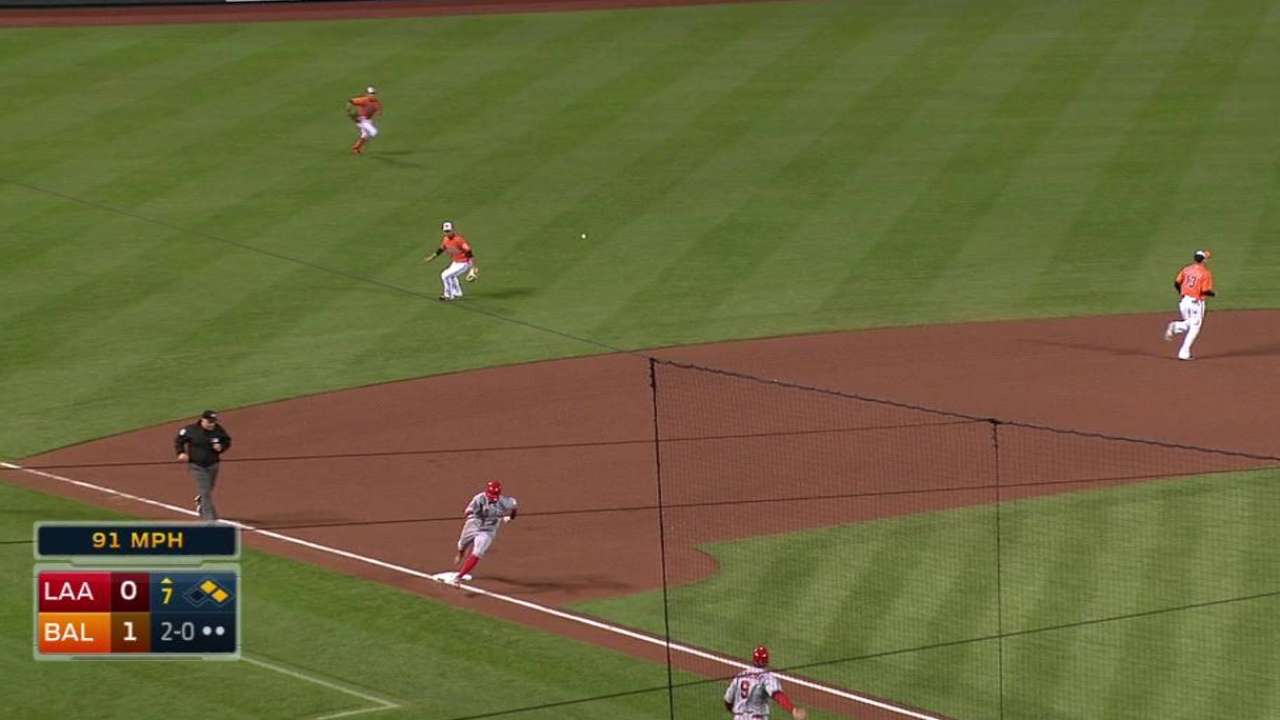 "Those are big hits with two outs, but we were scuffling for a while on the offensive side," Scioscia said. "That seventh inning was a big inning for us." More >
Trout provides insurance: With the Angels clinging to a one-run lead in the eighth, Trout stepped in against O'Day, a sidearming righty reliever who was holding right-handed batters to a .105 average this year. No matter for Trout, who worked the count to 3-2 before getting a fastball and slicing a drive that made it just over the right-field scoreboard while staying inside the foul pole. The homer was Trout's 10th of the season and snapped a four-game stretch without an extra-base hit.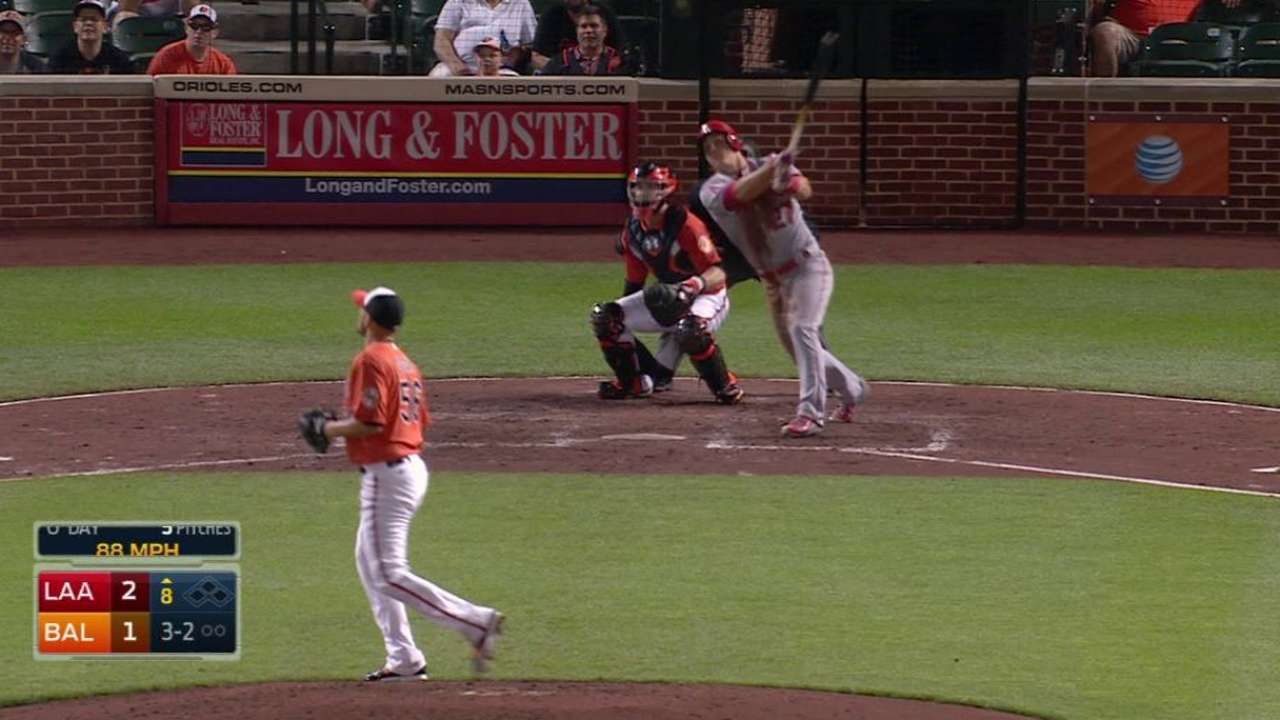 "It's not easy to hit a guy like Darren O'Day, especially as a right-handed hitter, and Mike stayed on it, drove it to right," Scioscia said.
Unlucky seventh: Jimenez gave up two runs in a very unlucky seventh. He allowed a pair of infield singles to start the seventh and later gave up a high-bouncing single that deflected off the glove of Machado and died in short left field. But the Angels scored the tying run on that play -- which set up the go-ahead hit one batter later.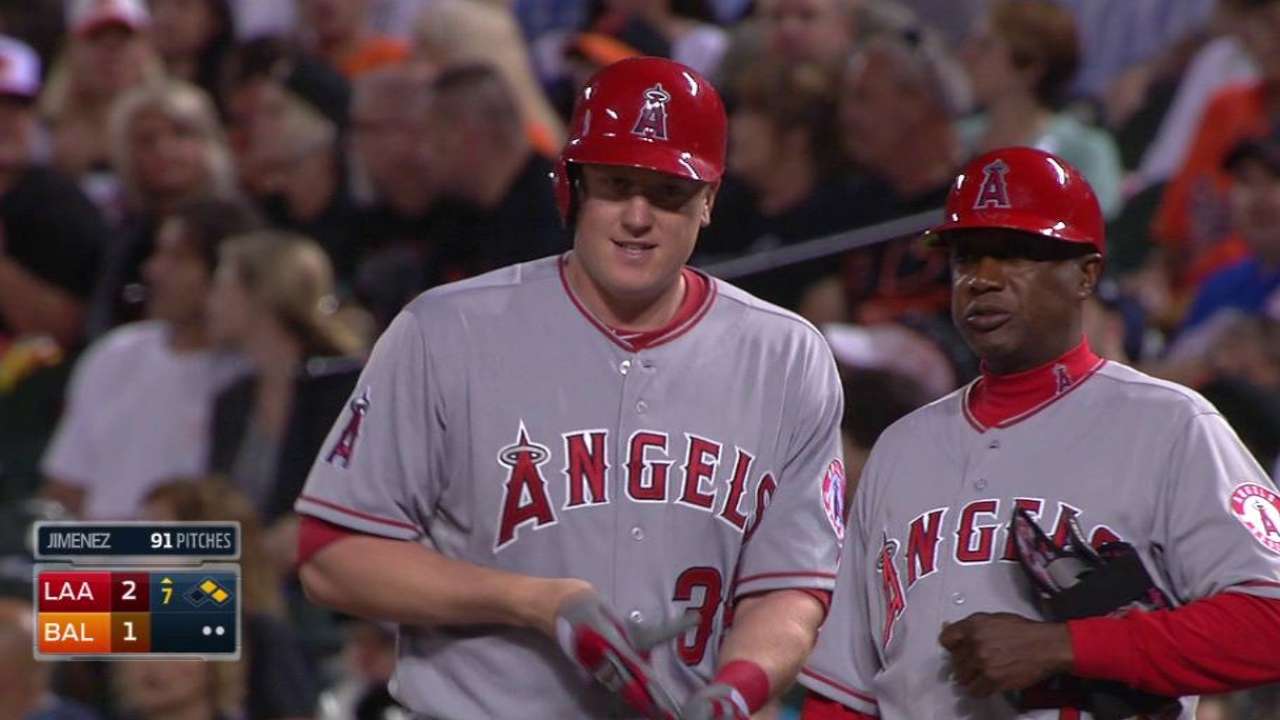 "It's part of the game," he said. "It's one of those crazy moments in the game. There's nothing you can do about it. I made some good pitches, and then they got three infield hits. What else can you do?"
Escaping trouble: Jimenez earlier worked his way out of a fifth-inning jam after breezing through the first four innings. A single and an error gave the Angels runners at first and second with one out, but Jimenez then retired Iannetta (line drive to right) and Krauss (fielder's choice) to get out of trouble and hold his 1-0 lead. More >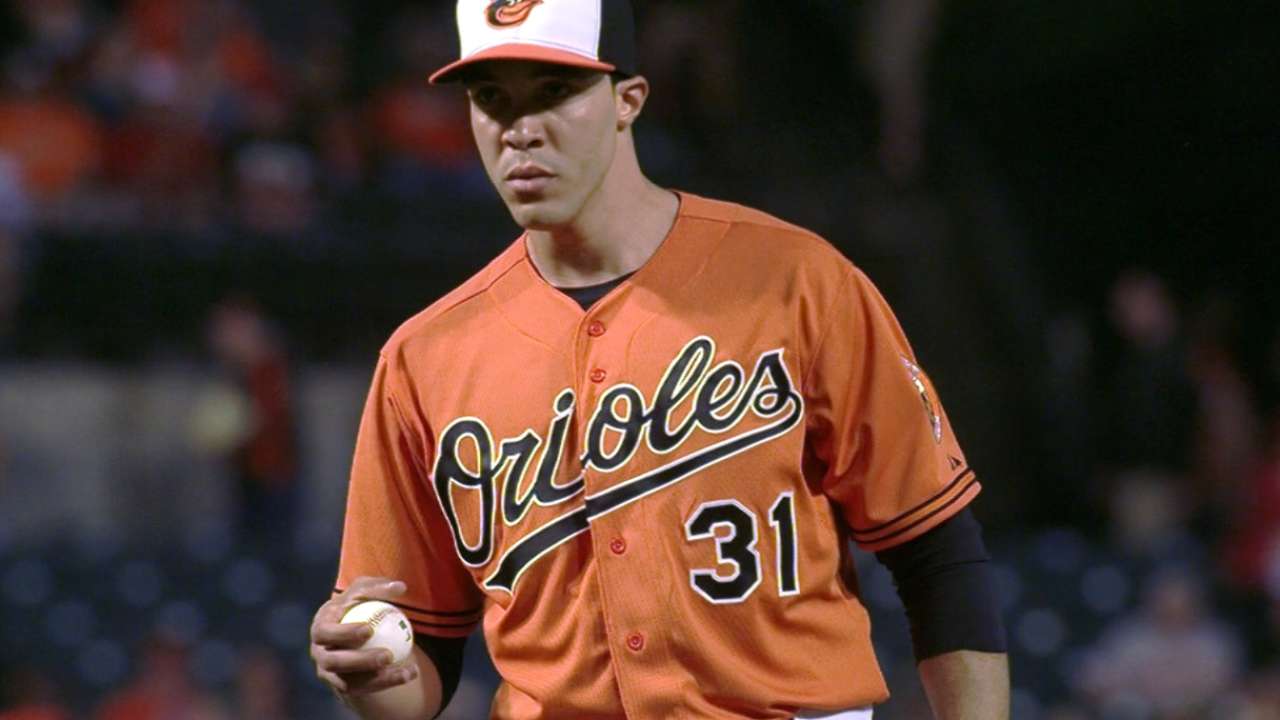 QUOTABLE
"It's part of the game. It's one of those crazy moments in the game. There's nothing you can do about it. I made some good pitches, and then they got three infield hits. What else can you do?" -- Jimenez, on giving up two runs in the seventh inning thanks to three softly hit balls, including two infield singles. That gave the Angels a 2-1 lead, and they went on to a 6-1 victory
SOUND SMART WITH YOUR FRIENDS
The Angels' six runs were their most since a 6-5 win over the A's on April 30. They haven't topped six since a 14-1 victory over Oakland on April 21. Coming into Saturday, the Halos were averaging three runs per game in May and had scored three or fewer in five of their past seven games.
The Orioles' starting pitchers have given up just four runs in 14 innings in the first two games of this series. But both Wei-Yin Chen and Jimenez took the hard-luck losses as the Baltimore offense has scored only two runs total in the first two games.
WHAT'S NEXT
Angels: Garrett Richards will make his sixth start of the season on Sunday as the Angels finish their three-game series in Baltimore at 10:35 a.m. PT. Richards has allowed only one run in three consecutive outings, and last Sunday against the Astros, he came within eight outs of a no-hitter, giving up one run on one hit over 6 2/3 innings, with 10 strikeouts.
Orioles: The Orioles confirmed after Saturday's game that right-hander Mike Wright will make his Major League debut in Sunday's series finale at 1:35 p.m. ET. He was 3-0 at Triple-A Norfolk and a pitcher the Orioles have been keeping their eye on. Chris Tillman was supposed to make the start, but lower back stiffness has pushed him back a few days.
Watch every out-of-market regular season game live on MLB.TV.
Andrew Simon is a reporter for MLB.com. Follow him on Twitter @AndrewSimonMLB. Jeff Seidel is a contributor to MLB.com. This story was not subject to the approval of Major League Baseball or its clubs.