Surprise slam continues Peterson's hot streak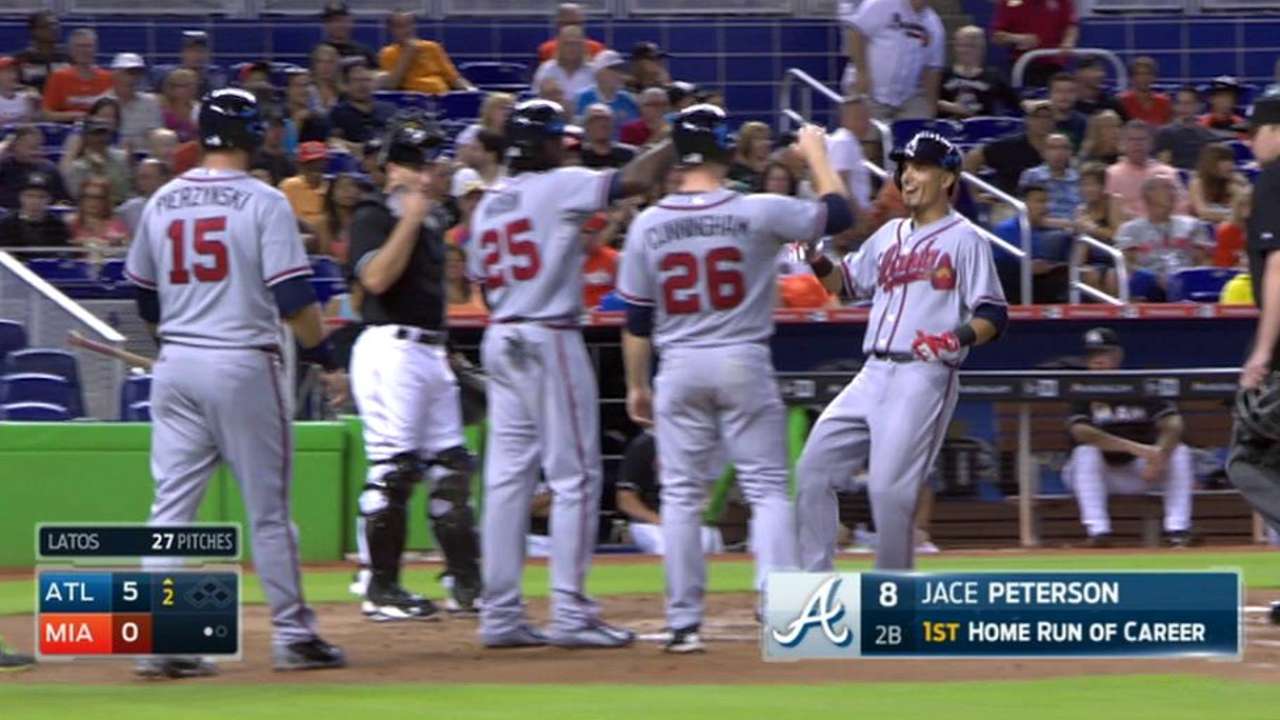 MIAMI -- Jace Peterson has proven to be one of Atlanta's most consistent and valuable offensive contributors over the past few weeks. But there weren't many who could have expected him to do what he did for the Braves during the second inning of Saturday's 5-3 win over the Marlins.
With the bases loaded and one out, Peterson turned on a Mat Latos fastball and sent it over the right-center-field wall. The game-winning shot capped a five-run second inning and made the rookie second baseman just the fourth player in Atlanta history (since 1966) to have a grand slam account for his first career home run.
"Any time you can get the first one out of the way and it be a grand slam, it's awesome," Peterson said before revealing that he had never previously hit a grand slam at any level of his baseball career.
After being acquired from the Padres in the December trade that sent Justin Upton to San Diego, Peterson came to Spring Training and essentially won the second-base job during the first week of the Grapefruit League season. But after getting off to a slow start during the regular season, Braves manager Fredi Gonzalez opted to significantly reduce the young infielder's playing time.
Fortunately for Peterson, the Braves quickly decided to get him back on the field on a regular basis. While starting each of the past 17 games, the athletic second baseman has batted .344 with a .397 on-base percentage. His success led him to be moved to the leadoff role when Nick Markakis replaced the injured Kelly Johnson in the cleanup spot on Friday.
"He's a steady baseball player," Gonzalez said. "He just keeps getting better the more you run him out there."
While Peterson is a steady defender who provides some offensive value with his legs, he has yet to indicate he will provide consistent power. When he notched his first extra-base hit of the season -- a double during Tuesday's loss to the Reds -- he received some good-natured ribbing from some of his Braves teammates.
"We gave him some grief in Cincy when he hit that first double -- and he comes up with a big-boy knock today," Braves pitcher Alex Wood said. "It's good to see him swing the bat like he is."
While Cameron Maybin and Todd Cunningham both recorded three-hit performances during Saturday's victory, Peterson took center stage with his surprising grand slam. He had totaled just 14 home runs in 1,465 Minor League at-bats, and his most recent was a three-run shot he hit for Triple-A El Paso on May 24, 2014.
Marcus Giles (2001), Barry Bonnell (1977) and Vic Correll (1974) stand as the only other players in Atlanta history who have had a grand slam account for their first career home run.
Giles was optioned to Triple-A Richmond a few days after gaining that distinction. Fortunately, for Peterson, he will not have to deal with that same cruel twist of fate.
"I was just trying to hit the ball hard, and I had one go out," Peterson said. "I couldn't be more happy, for sure."
Mark Bowman is a reporter for MLB.com. This story was not subject to the approval of Major League Baseball or its clubs.