Latos day to day after taking liner off left shin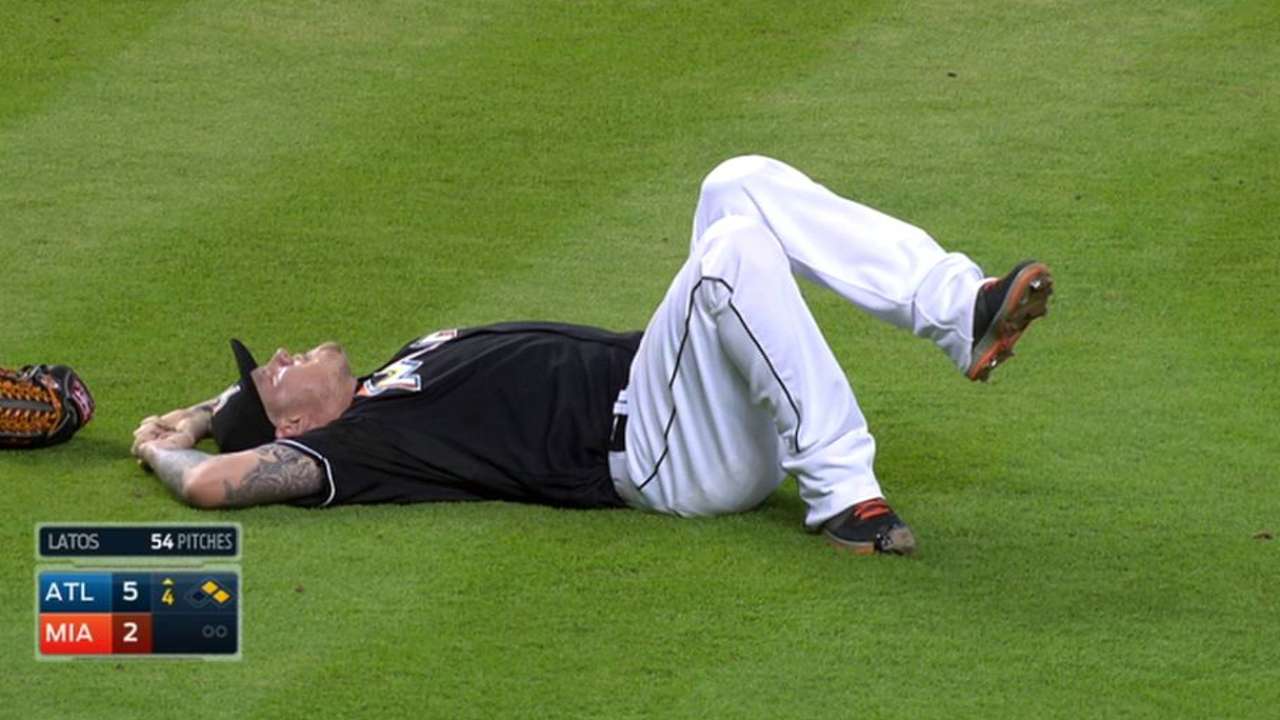 MIAMI -- Marlins starter Mat Latos suffered a left shin contusion in Saturday's 5-3 loss to Atlanta in the fourth inning, when Braves center fielder Cameron Maybin's line drive hit him in the leg.
He's listed as day to day. X-rays came back negative and Latos exited the clubhouse on one crutch.
"Anything from my left knee and above, I feel fine," he said. "... I just know that, right now, I'm a little achy. But it is what it is. I'll just get with the training staff here to get the swelling down, get the knot out of my leg and go from there."
Manager Mike Redmond wasn't overly concerned.
"It's just a bruise," Redmond said. "There's nothing there, so he's going to be sore. He's going to be fine."
After being struck by the ball, Latos (1-4, 5.54 ERA) went down, and he was promptly assisted by the team's trainers. He hobbled off the field under his own power.
Statcast™ tracked Maybin's line drive at 90 mph, which came with no outs, a runner on first and a 5-2 Atlanta lead.
"I tried to go after it. But from where it hit me, all the way down it was completely numb," Latos said. "Basically, I tried to push off it and couldn't go anywhere. When I got the feeling back, it really started hurting."
Latos exited after throwing 54 pitches. He allowed five runs on eight hits over three-plus innings -- including a second-inning grand slam to Braves second baseman Jace Peterson. It was the third time Atlanta defeated Latos this season.
While he was relieved the X-Rays were negative, Latos said he's unsure if he'll make his next start.
"It's always a relief when there's potential to not miss a start," Latos said. "If it's a broken bone, I don't think they're going to put metal spikes in a cast and let me pitch. It was kind of a sigh of relief. It [stinks] that I'm still dealing with it now. But, hopefully, it turns around and I'm ready to make the start."
Steve Wilaj is an associate reporter for MLB.com. This story was not subject to the approval of Major League Baseball or its clubs.