MLB.com Columnist
Tracy Ringolsby
400 homers no certain ticket to Cooperstown
Of the 53 players to reach milestone, only 25 are in Hall of Fame thus far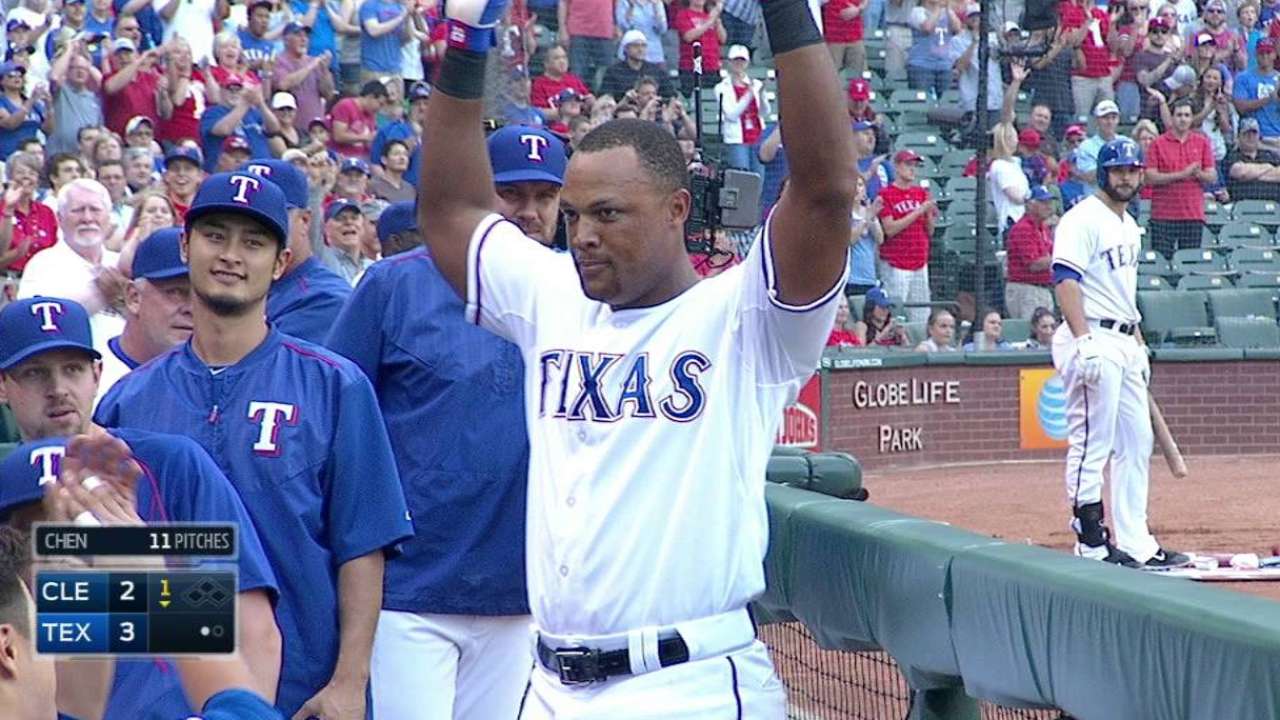 Rangers third baseman Adrian Beltre joined the 400-homer club on Friday night. Tigers first baseman Miguel Cabrera joined the club Saturday afternoon in St. Louis.
The milestone is nice, and while it enhances the eventual Hall-of-Fame candidacy for both men, it does not come with any guarantees. Cabrera became the 53rd player in history to hit 400 home runs. So far, 25 have been inducted into the Hall of Fame.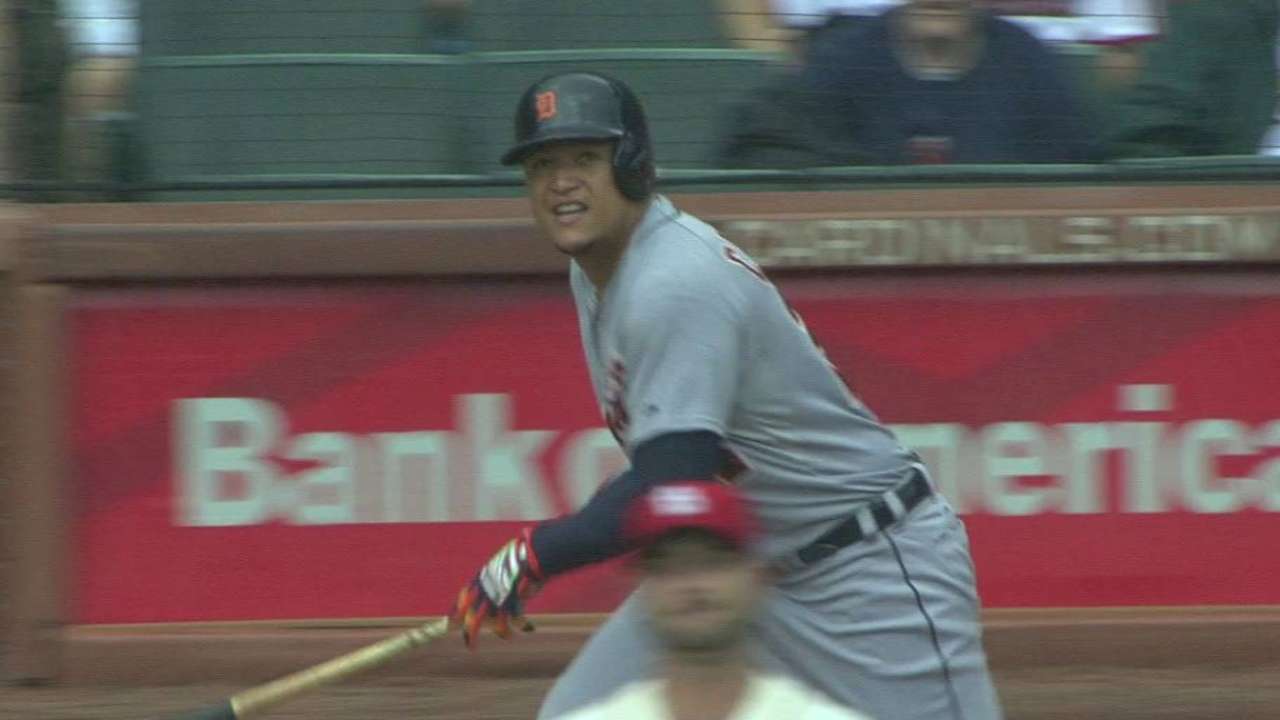 Six others were given consideration, and voters passed on them, including four who were one-and-done on the Hall of Fame ballot. Dave Kingman, who was named on less than one percent of the ballots cast in 1992, and Darrell Evans, who had support from 1.7 percent of the voters in '95, were the first members of the 400-homer club excluded from enshrinement. Kingman's 442 home runs rank 40th all-time, and Evans' 414 homers rank 49th.
In recent elections, PED suspicions have been considered key reasons that Rafael Palmeiro fell off the ballot after he had only 4.4 percent support in 2014 -- his fourth time on the ballot. Juan Gonzalez was gone after receiving only four percent support in '12 in his second time on the ballot, and Jose Canseco had only 1.1 percent support in '07 in his first time on the ballot.
Palmeiro ranks 12th all-time with 569 home runs, Canseco is tied for 35th with 462, and Gonzalez is tied for 44th with 434.
More on the way
There are seven other members of the 400-homer club still on the ballot. This group is led by all-time home run leader Barry Bonds, who hit 762 in his career but got only 36.8 percent of the vote in 2015 -- his strongest support in three years of eligibility. Mike Piazza, who ranks 47th all-time with 427 home runs, would seem a possibility for election next January. He received 69.9 percent support in '15, the strongest this year of any player who came up short of the 75 percent vote needed for induction.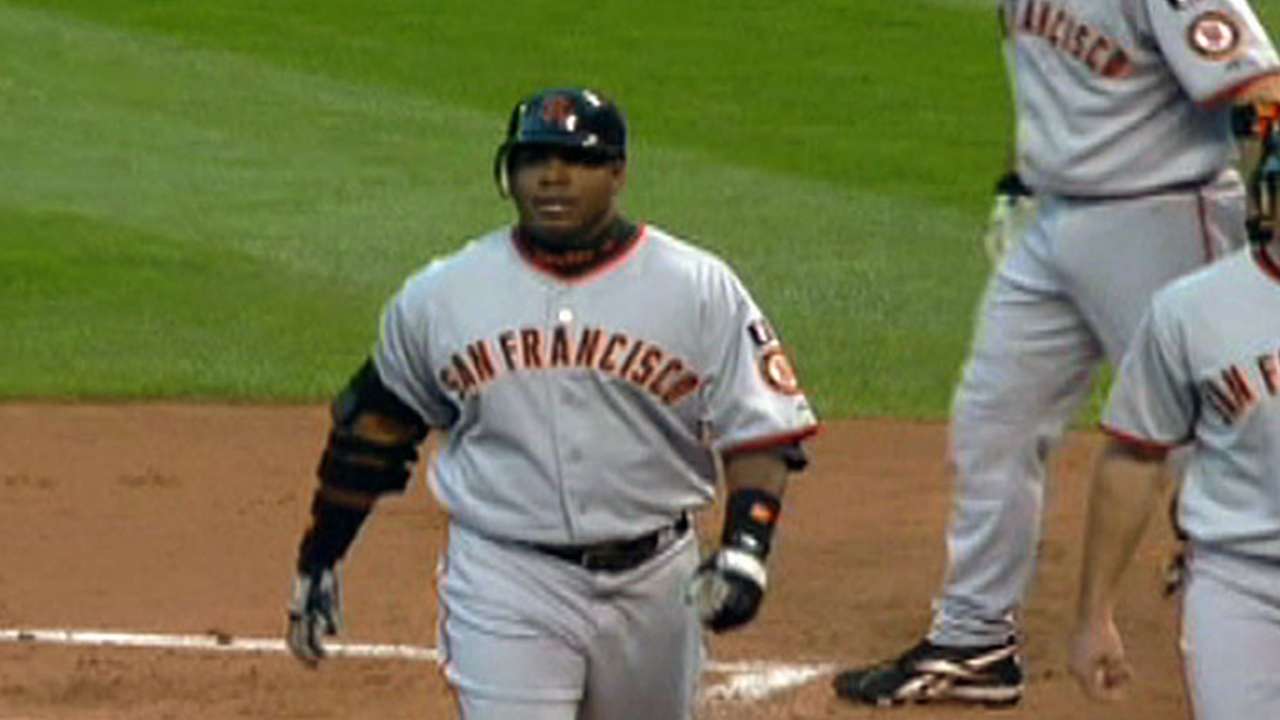 Jeff Bagwell, who is tied for 38th with 449 home runs, received 55.7 percent, making him the only other eligible member of the 400-homer club who had 13 percent or more support. Fred McGriff was on 12.9 percent of the most recent ballots, Gary Sheffield was at 11.7 percent, Mark McGwire was at 10 percent and Sammy Sosa was at 6.6 percent. Sosa (eighth, with 609 home runs) and McGwire (10th, 583 homers) join Bonds as members of the top 10 who are eligible for induction but have not been elected.
The future awaits
Ken Griffey Jr., who ranks sixth all-time with 630 home runs, will be eligible for the Hall ballot for first time in 2016.
Others who will be eligible for the first time in coming years include:
2017: Manny Ramirez (14th, 555) and Vladimir Guerrero (tied for 38th, 449)
2018: Jim Thome (seventh, 612), Chipper Jones (33rd, 468) and Andruw Jones (tied for 44th, 434)
2020: Jason Giambi (41st, 440 home runs), Paul Konerko (42nd, 439), Adam Dunn (tied for 35th, 462) and Alfonso Soriano (50th, 412)
Five members of the 400-homer club remain active: Alex Rodriguez (fourth, 663), Albert Pujols, (18th, 526) David Ortiz (32nd, 470) and Beltre and Cabrera (tied for 52nd, 400).
In position
All-time leaders for home runs hit while playing a position:
Pitcher: Wes Ferrell, 37
Catcher: Piazza, 396 of 427 career homers
First base: McGwire 566 of 583
Second base: Jeff Kent, 351 of 377
Third base: Mike Schmidt 509 of 548
Shortstop: Cal Ripken 345 of 431
Left field: Bonds 725 of 762
Center field: Willie Mays 623 of 660
Right field: Babe Ruth 656 of 714
Designated hitter: Ortiz, 419 of 470
Happy anniversary
Saturday is the 50th anniversary of Hall of Famer Jim Palmer, at the age of 19, earning his first big league victory. He worked 3 2/3 innings, allowing one run, in the Orioles' 7-5 victory against the Yankees, and he also hit a two-run home run off Jim Bouton in the fourth inning. Palmer was making his seventh big league appearance, the sixth in relief.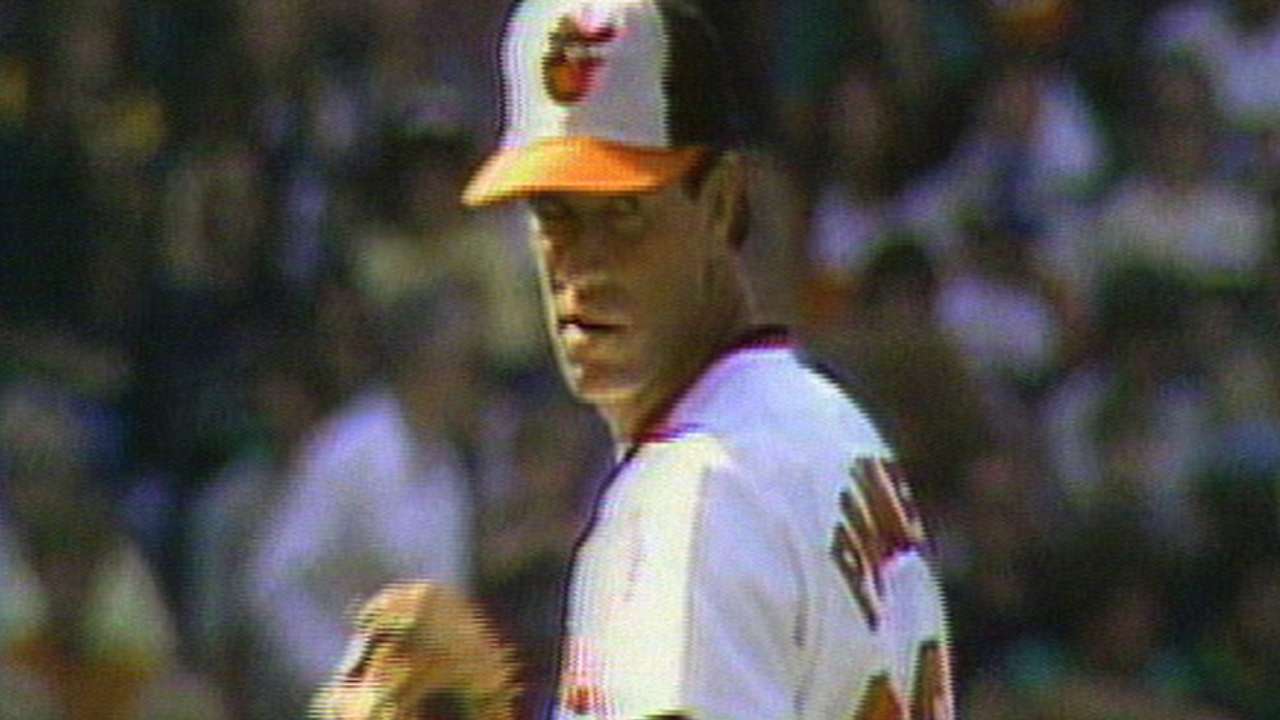 Monday is the 25th anniversary of Cubs second baseman Ryne Sandberg's error in the fourth inning of the Cubs' 7-0 win at Houston, ending his Major League record streak of 123 consecutive errorless games in which he handled 584 chances. Sandberg made an errant throw that allowed Astros third baseman Ken Caminiti to go from first to third on an Eric Anthony infield single.
Quickly
• Five of the 85 players with 300 or more home runs but fewer than 400 are still active, led by Carlos Beltran (375), Mark Teixeira (374), Aramis Ramirez (372), Ryan Howard (341) and Torii Hunter (337).
• Frank Robinson, who ranks ninth all-time with 586 home runs, hit the most of any player who became a manager. Ted Williams, tied for 19th with 521 home runs, is the only other player among the game's top 20 all-time home run hitters to manage in the big leagues.
• There have been 819 players who have hit 100 or more home runs in their big league career.
Tracy Ringolsby is a columnist for MLB.com. This story was not subject to the approval of Major League Baseball or its clubs.