Cubs recall Schlitter, option Szczur to Triple-A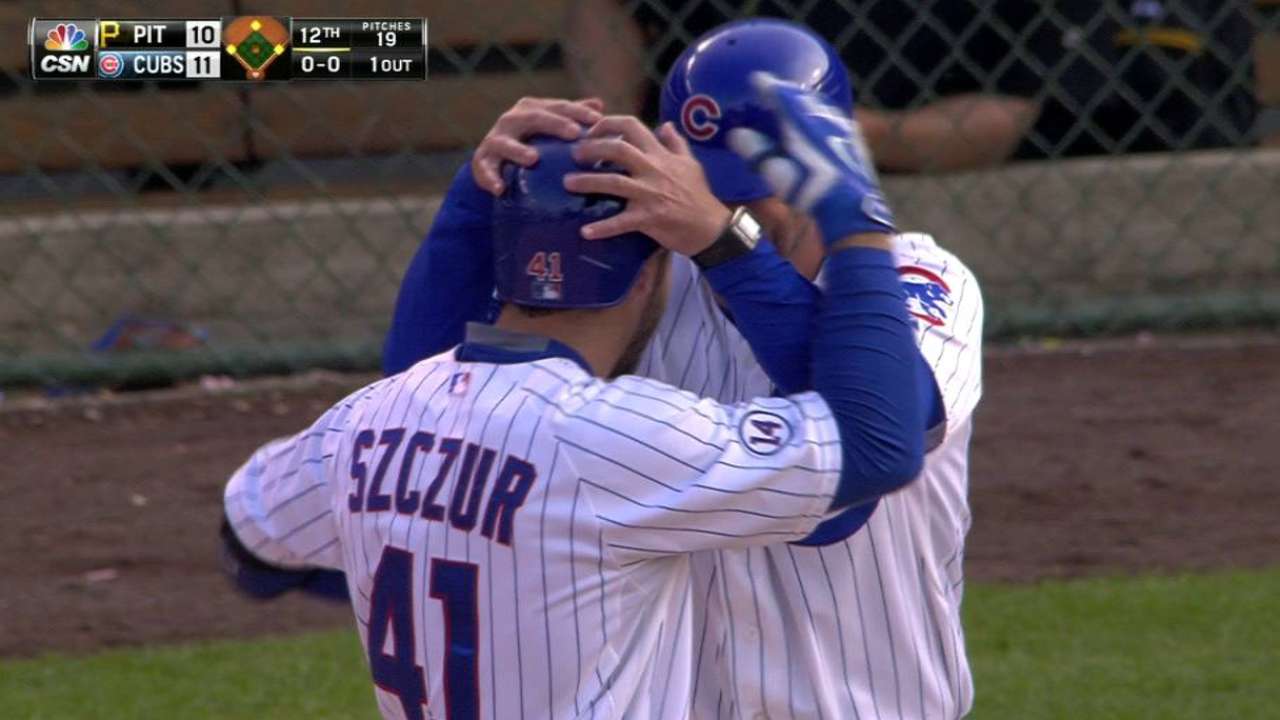 CHICAGO -- The Cubs bullpen has been scuffling, and after Friday's 12-inning, five-hour game against the Pirates, the team needed a fresh arm.
So the Cubs recalled right-hander Brian Schlitter from Triple-A Iowa on Saturday morning before their game against the Pirates. To make room for Schlitter, the Cubs optioned outfielder Matt Szczur to Iowa. The move gives the Cubs 14 pitchers.
Cubs manager Joe Maddon indicated the current setup might be temporary.
"We want to do this for today and then we'll figure out tomorrow," Maddon said.
Schlitter went 0-2 with a 9.53 ERA in seven appearances with the Cubs from April 10-26. At Iowa, he threw six scoreless innings and earned two saves.
"The biggest thing with him is, if the guy gets the ball down, we're in good shape," Maddon said. "He's a bowling ball thrower. He should be on the PBA. Once he gets to be that on a consistent basis, he should be real good."
Szczur hit the winning single in the 12th in the Cubs' 11-10 victory over the Pirates on Friday. He hit .172 in 18 games.
"Matt was wonderful. He understood," Maddon said. "Of course, he didn't like it, but he understood it. That's just the way it has to be. We had to thicken up the 'pen, and there were no other options."
Cubs relievers had a 4.31 ERA entering Saturday.
"We have to get better," Maddon said after Friday's game.
Extra bases
• Maddon said the team is discussing what to do with left-handed starter Tsuyoshi Wada, whose rehab assignment is expiring. He has been on the disabled list since March 27 for a mild left groin strain.
• In a perhaps unconventional move, Maddon brought in left-hander Zac Rosscup to face right-handed batter Andrew McCuthen with the bases loaded in the sixth Friday. Rosscup got McCutchen to fly out to end the inning. "It's been pounded into our mindset for too long that it has to be righty on righty and lefty on lefty," Maddon said. "Cup falls into the category of getting anybody out."
• Anthony Rizzo's team-leading eighth home run on Friday was his first this season against a lefty.
Sarah Trotto is a contributor to MLB.com. This story was not subject to the approval of Major League Baseball or its clubs.