Cosart reports no issues after bullpen session
Righty tests ailing right hamstring and is set to make his start on Tuesday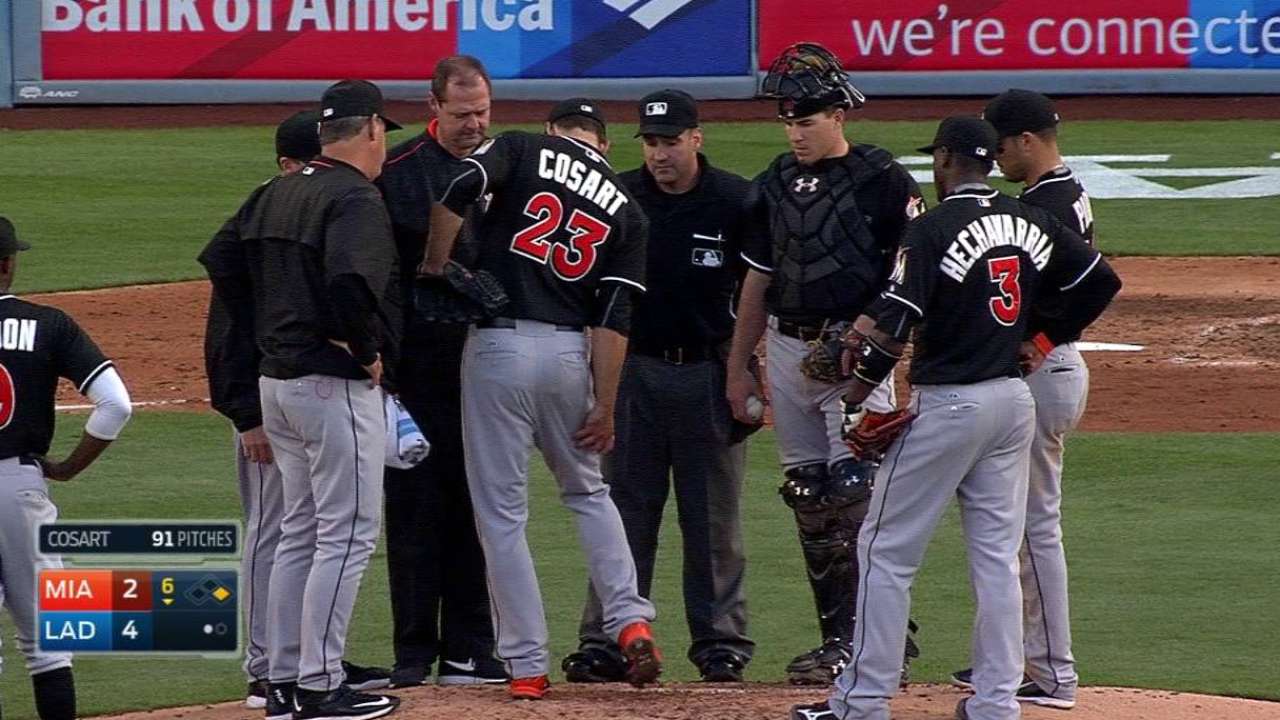 MIAMI -- Marlins right-hander Jarred Cosart tested his ailing right hamstring in a bullpen session on Saturday morning and finished without any issues.
In turn, manager Mike Redmond announced after Saturday afternoon's 5-3 loss to Atlanta that he will start as scheduled on Tuesday night against Arizona.
The 24-year-old exited his start on Wednesday against the Dodgers in the sixth inning and underwent an MRI on the hamstring on Friday. Following Saturday's successful bullpen session, he categorized the ailment as a cramp.
"I let it go -- threw all three pitches like a game," Cosart said of his bullpen. "I tried to act like some hitters were in there. I don't want to get to Tuesday and have something come up when I was warming up and throw the bullpen under the bus."
Cosart will keep his starting spot despite recent changes to the Marlins' starting rotation. Henderson Alvarez, on the disabled list since April 13 with right shoulder inflammation, will return to the rotation on Sunday.
"I feel better about [the hamstring]," Cosart said. "I ran some sprints. It feels good, so I'll keep the rehab part going for three more days and then get ready to go."
So far this season, Cosart is 1-3 with a 4.08 ERA over 39 2/3 innings. After allowing one or fewer runs in his three of his first four starts, he's surrendered three, four and four runs in his past three outings.
"I've thrown a lot more good pitches than bad, but the bad ones have come at inopportune times," Cosart said. "I've thrown some fastballs right down the middle to some good hitters -- and you can't do that with guys on base or guys not on base. So I just have to get better at execution later in games, I guess."
Steve Wilaj is an associate reporter for MLB.com. This story was not subject to the approval of Major League Baseball or its clubs.