Despaigne runs out of Petco Park magic
SAN DIEGO -- Odrisamer Despaigne's return to what had been the friendly environs of Petco Park was less than welcoming on Friday night. Despaigne was hit hard, early and often, allowing seven runs over just three innings as the Padres fell, 10-0, to the Nationals in the second game of the four-game series.
Despaigne (2-2) had been particularly successful at home (4-1, 2.11 ERA) over his career, and he was looking to rebound from his last outing, when he served up eight runs in five innings in Arizona. This one was rough from the start, however, as Despaigne allowed four consecutive singles to open the game, then issued a bases-loaded walk, all before recording an out. Washington plated four runs in the inning, and Despaigne threw 41 pitches as nine batters came to the plate.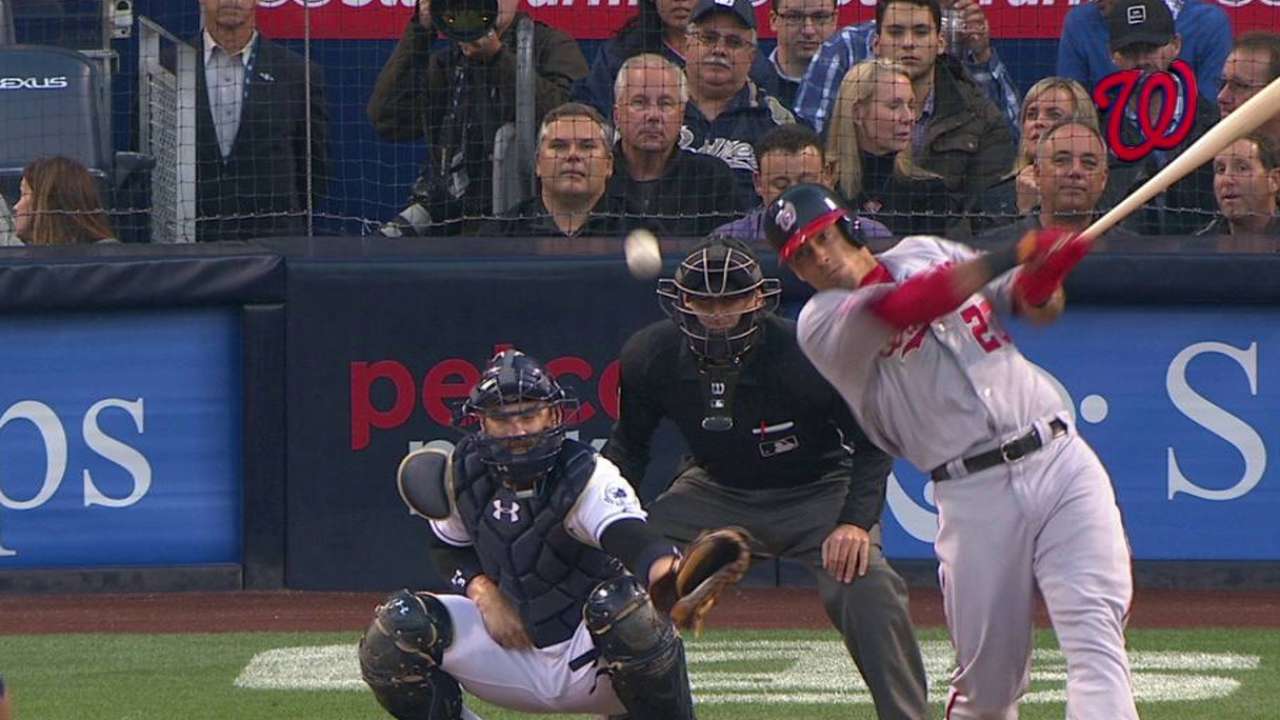 "He just couldn't get anything going," Padres manager Bud Black said. "Secondary pitches didn't come into play. They jumped on him pretty quick, and he just couldn't get going. He got himself in a hole and couldn't get out."
All told, Despaigne yielded 10 hits and two walks while striking out one. His ERA increased to 6.75.
"My control has been a little off, a little inconsistent," Despaigne said through an interpreter. "One time it's my fastball that is off, then another time my curveball. It's just a matter of consistency."
Filling in for injured starter Brandon Morrow, Despaigne won his first two starts but has slipped since. Morrow, meanwhile, played light catch before Friday's game, the first time he has thrown since going on the DL May 5 with shoulder inflammation, but his return date remains uncertain.
Despaigne's command was clearly off from the get-go, and it was especially apparent when he hit Jayson Werth with a pitch on the left wrist in the second. Werth was slow to get up but stayed in the game to run the bases. He was replaced in left field in the bottom of the inning by Tyler Moore.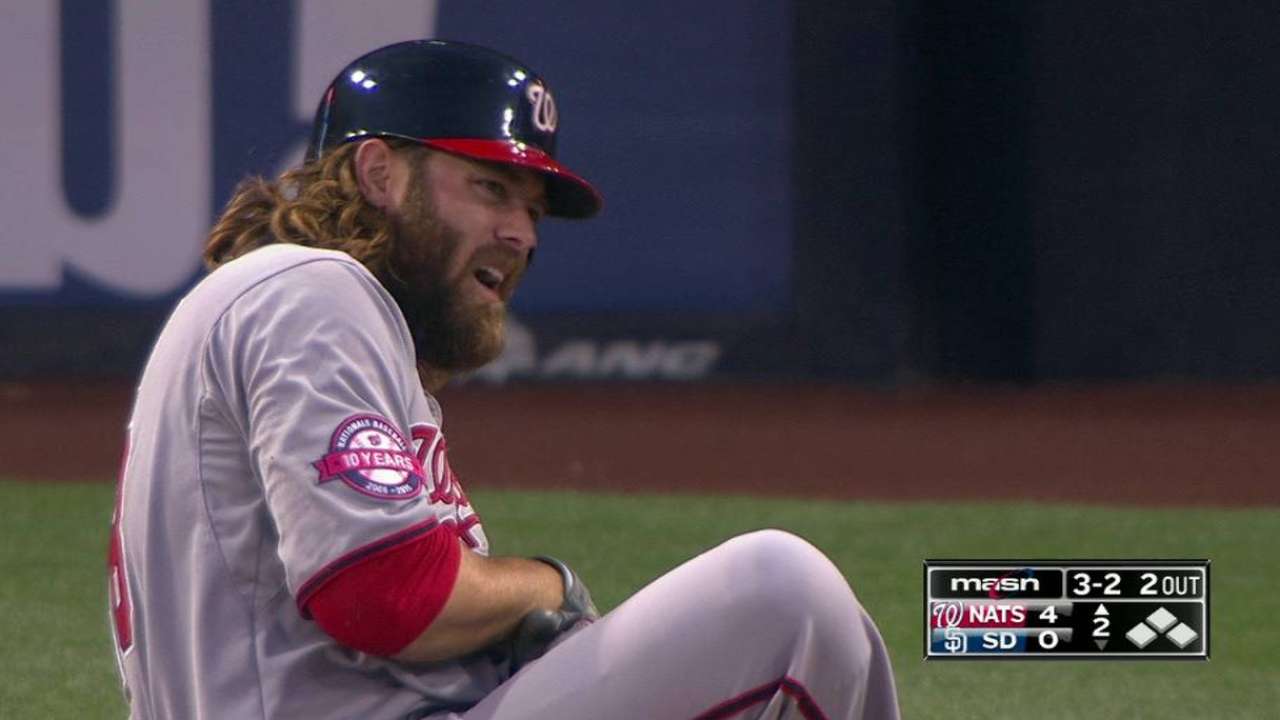 "I don't know whether you go back to the drawing board, but he's got to make better pitches," Black said. "It seems like they are laying off the secondary stuff and just waiting for a fastball."
The Padres' offense was shut down by Jordan Zimmermann, who tossed a shutout the last time he visited Petco Park, on June 8 last season. Zimmermann cruised through this one, throwing scattering six hits and striking out six over six innings. He walked one batter.
San Diego's best chance to get to Zimmermann (3-2) came in the fifth, when three consecutive singles loaded the bases with no outs. But the righty escaped by striking out pinch-hitter Jedd Gyorko, then inducing a popup from Cory Spangenberg and a groundout from Abraham Almonte.
"[Zimmermann] had his good stuff tonight," Spangenberg said. "He was using the fastball like he has been doing very successfully."
Shawn Kelley relieved Despaigne in the fourth and fell victim to Bryce Harper's National League-leading 13th home run, a solo shot into the Jack Deck in right field.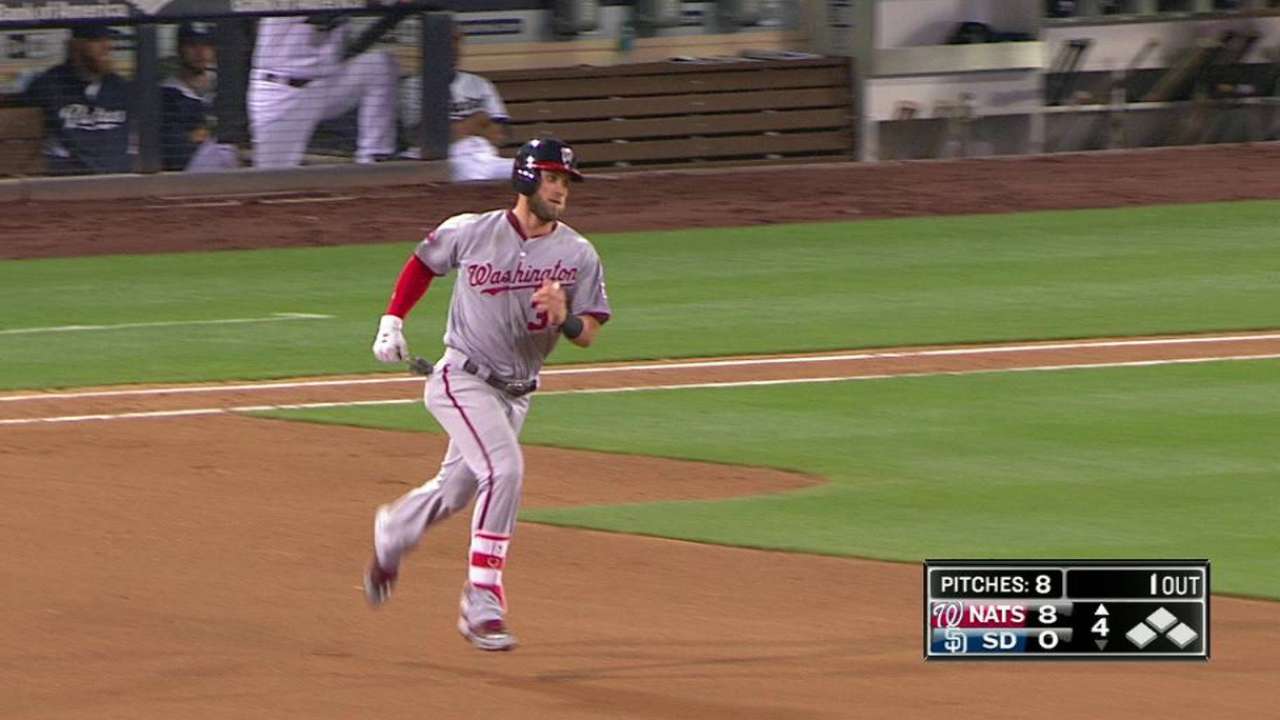 Frank Garces contributed three much-needed innings, allowing two runs in the longest outing of his career.
"The bullpen gave us six innings and three runs," Black said. "You don't draw it up like that, but you have games that go that way. You don't like to see it happen, but over the course of 162, these types of games happen."
No San Diego batter collected an extra-base hit, as the Padres were shut out for the sixth time this season and fourth time in 11 games. Once the NL leaders in runs scored, they now rank third behind the Dodgers and Nationals.
"When a pitcher is throwing good, it is hard to hit," Spangenberg added. "That's why baseball is a pitcher's game."
Tim Powers is a contributor to MLB.com. This story was not subject to the approval of Major League Baseball or its clubs.