Miggy's No. 399 ties countryman Galarraga
Cabrera matches Big Cat for most among Venezuelan-born players; 52nd on all-time list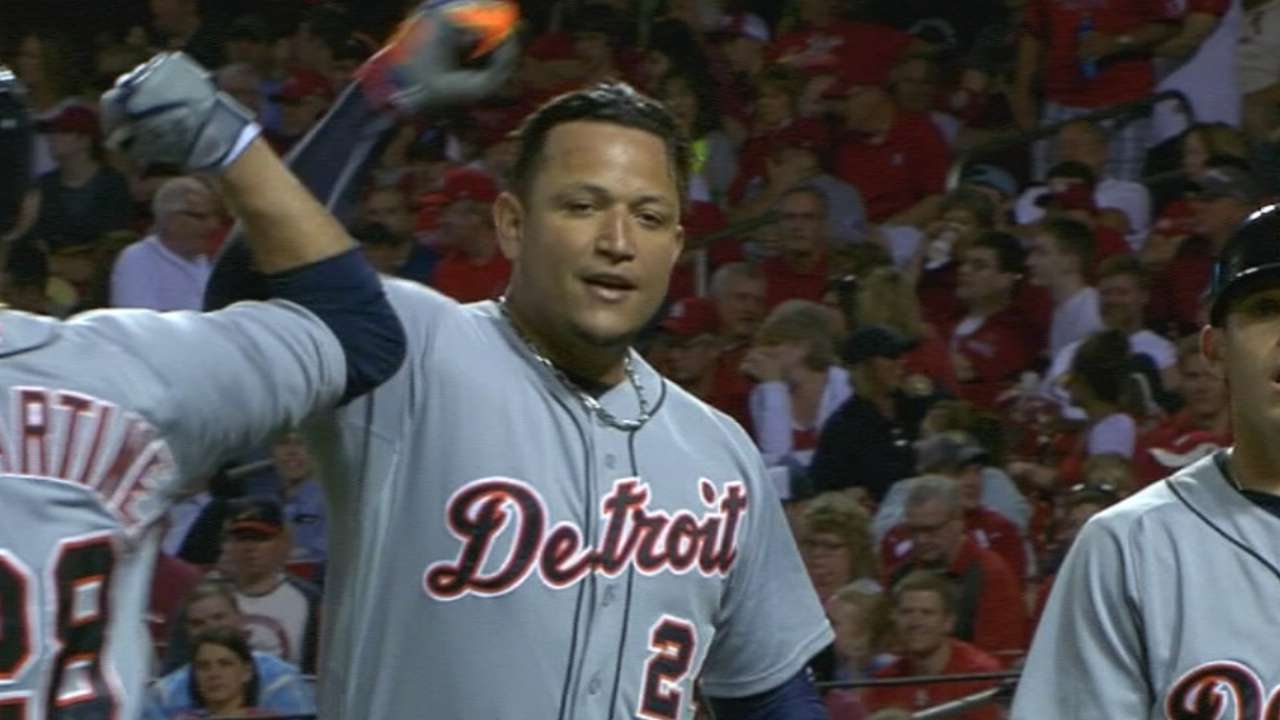 ST. LOUIS -- Miguel Cabrera has officially chased down his hero.
Cabrera's two-run home run to straightaway center in the seventh inning of Friday night's 10-4 win over the Cardinals was No. 399 in his career, tying him with Andres Galarraga for the most homers hit by a Venezuelan-born player.
"He was one of the best baseball players coming from Venezuela," Cabrera said. "I watched him, everybody watched him. He was a big-time hitter."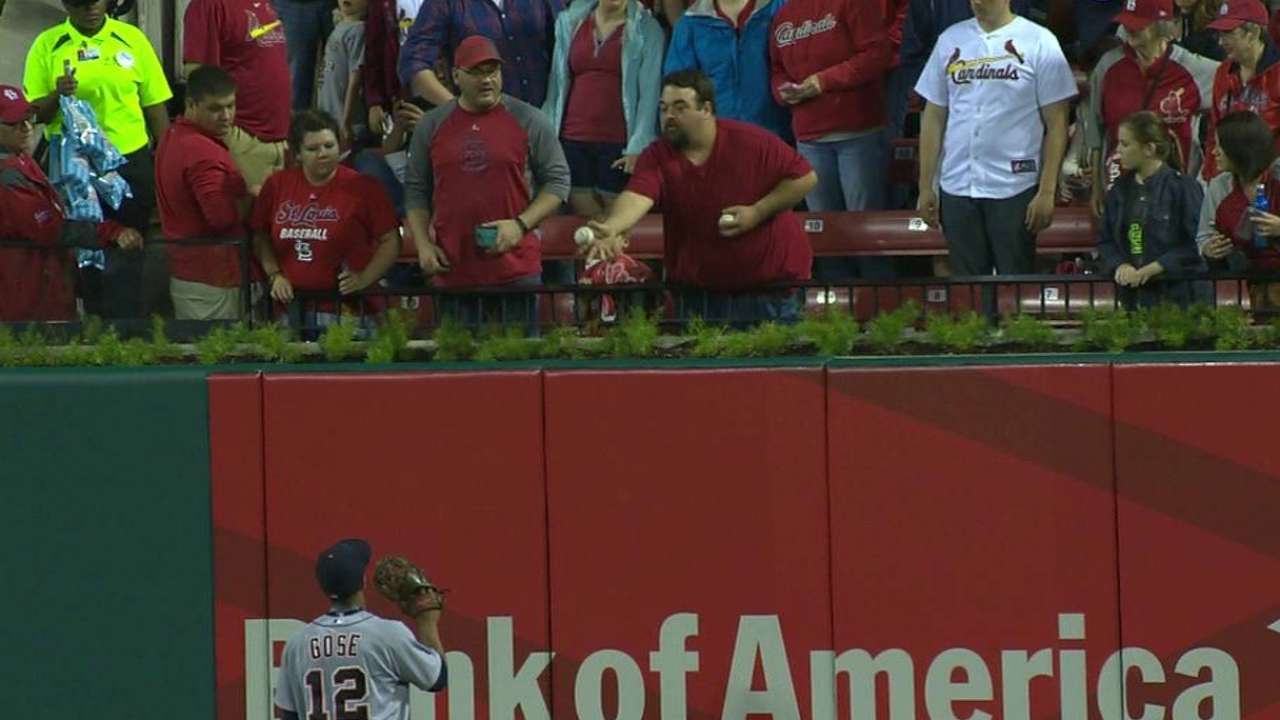 Cabrera's homer gave the Tigers a 4-0 lead and stood up as the big hit in the victory over the Cardinals, who have the Majors' best record and a gaudy 14-4 mark at home this season.
It also broke a curious day-night split for Cabrera, who entered the game with just nine total hits and a .158 average in the Tigers' 17 night games this year. On Friday, Cabrera went 3-for-5 with two RBIs two runs scored.
"He was cool for a little while and he's heated up quickly with a couple homers yesterday and one today, a couple other hits today," Tigers manager Brad Ausmus said. "So he looks like he's really staying back and able to drive his bat through the zone right now."
Cabrera's home run was the highlight of another power display by the Tigers' offense. Yoenis Cespedes gave Detroit an early lead with a solo shot in the second and J.D. Martinez followed Cabrera's homer to go back-to-back for the first time this year.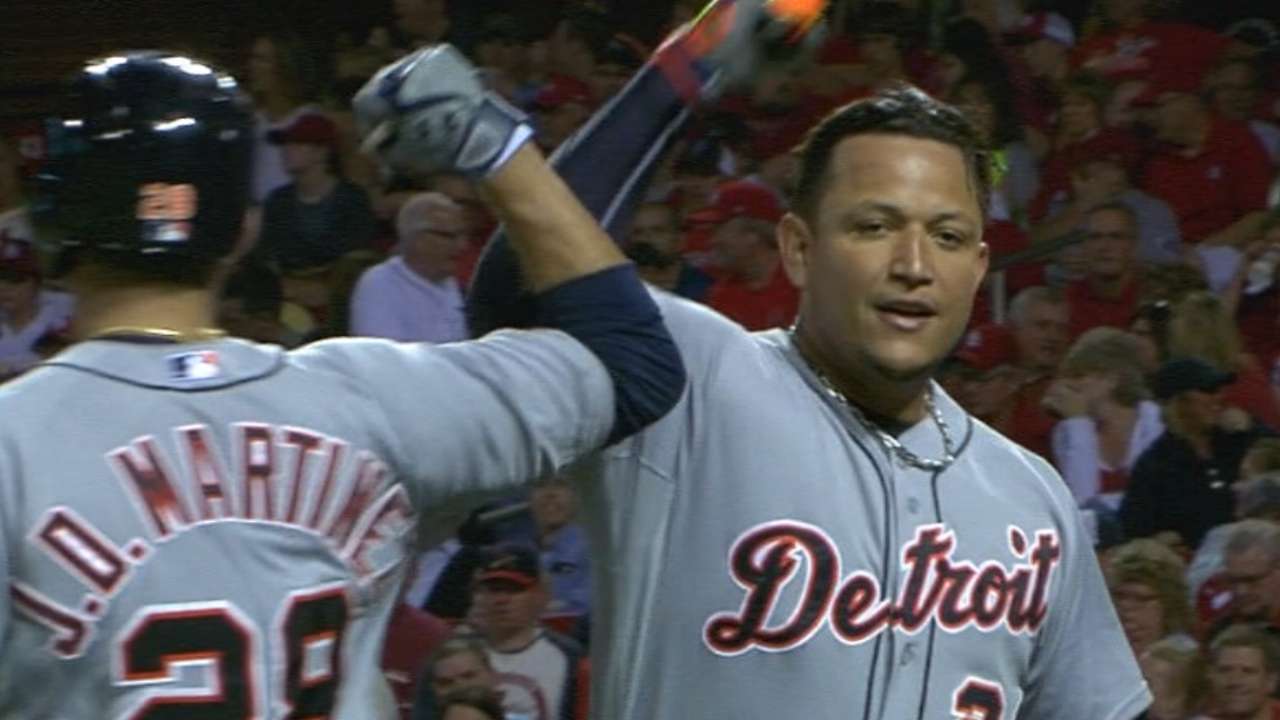 The three homers gave the Tigers seven home runs in their last two games. Not coincidentally, a once dormant offense that didn't score more than two runs in the previous four games has exploded for 23 runs in the past two.
"Hitting's contagious," Martinez said. "Any time you get a hit off a pitcher, his confidence goes down. And then boom another one, then boom another one, and then before you know it, he's scared to throw a strike, and that's how you open the gates ... This game is all about confidence."
No one is more confident than Cabrera right now. He's hitting .538 in his last three games, with three homers, seven RBIs and two runs scored.
"You've got to go with the flow," Cabrera said. "You've got to go. We're an aggressive team, we know we can score runs any time and we don't have worries. We just go out and play."
And of course there's tying Galarraga, who played for seven teams over 19 seasons, retiring after the 2004 season. In addition to Galarraga, Cabrera also tied Tigers great Al Kaline for 52nd on the all-time home runs list.
"I think Miggy doesn't even look at that stuff," Martinez said. "That's what makes him so good.
"A lot of people, like fans can kind of like boo him and hate him, but you just can't. In the clubhouse, he's such a leader. He leads by example. He's hurt, he doesn't care, he plays. Any type of individualism that happens in the clubhouse, he squashes it right away, and he makes sure that the guys know that he's not with that, and he's the last person that would be thinking about trying to hit that 400th home run."
Joe Harris is a contributor to MLB.com. This story was not subject to the approval of Major League Baseball or its clubs.