Offense responding with runners on base
Phillies answer Arizona's 3-run outburst with one of their own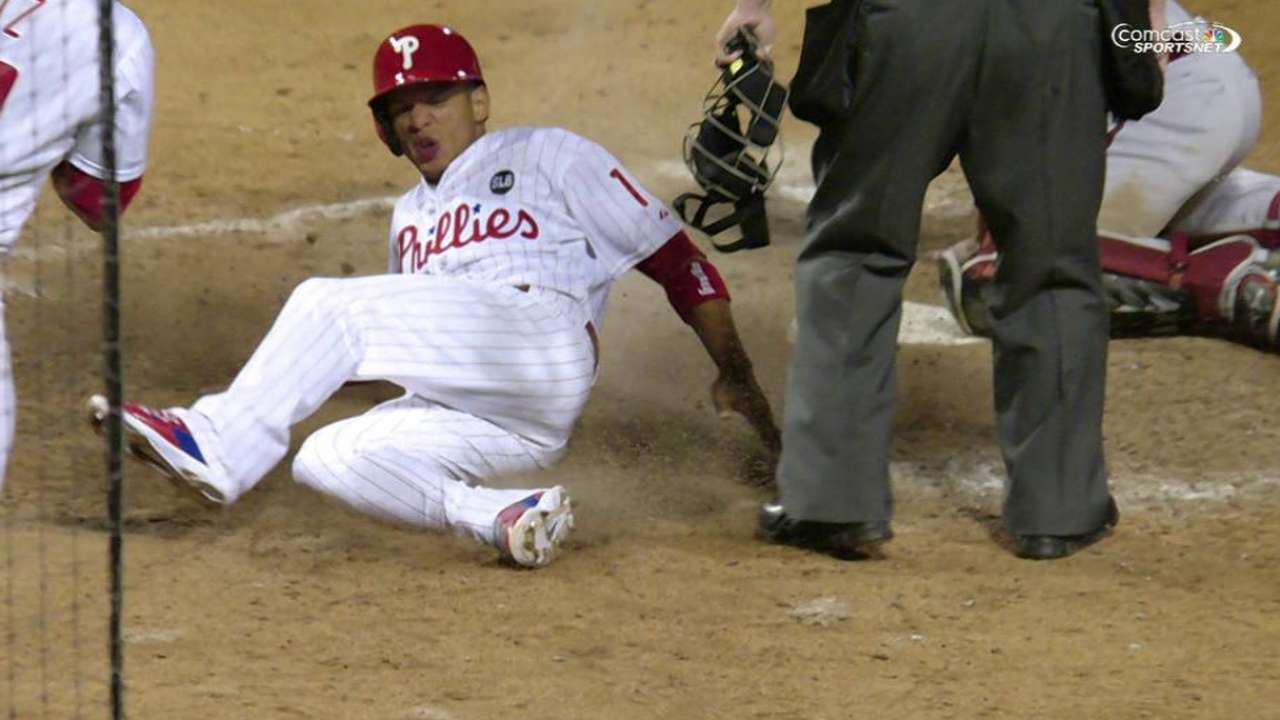 PHILADELPHIA -- With the way his team has been hitting this year, manager Ryne Sandberg just wants to see the positives.
That's why after his Phillies finished Friday night's 4-3 win over the D-backs 3-for-13 with runners in scoring position, Sandberg wanted to focus on the three successful plate appearances, not the 10 missed opportunities. When your team is batting .232, slugging .335 and averaging 2.89 runs per game, four runs and a win is something worth celebrating.
In the second, third and fifth innings Friday, the Phillies had men on second and were unable to get them to third. In the sixth inning, the Phillies scored a run and had runners on second and third with no outs and followed that rally with a strikeout, a shallow flyout and a ground ball back to the pitcher.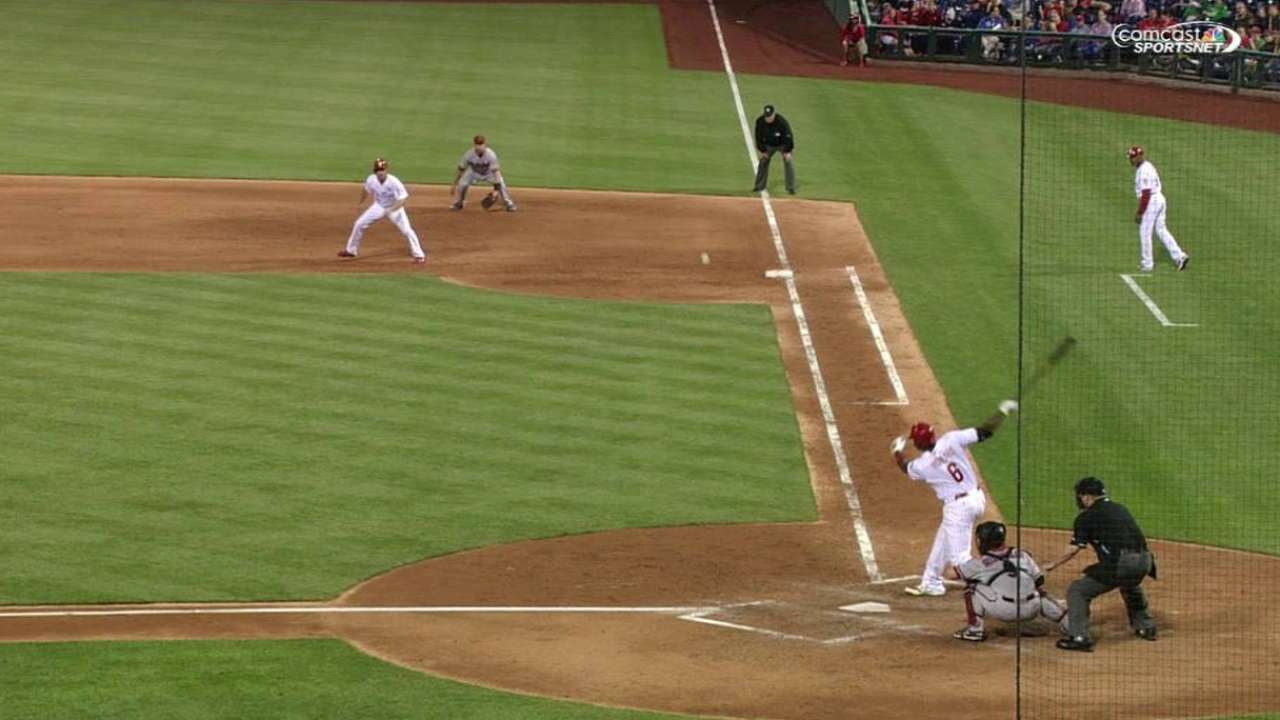 But in the seventh inning, the Phillies broke through, as both Freddy Galvis and Jeff Francoeur singled with men in scoring position, driving in three runs.
To Sandberg, those at-bats were the ones that mattered.
"We'll take what we've got up to this point," Sandberg said. "[Converting with runners on base is] something we'll get better at."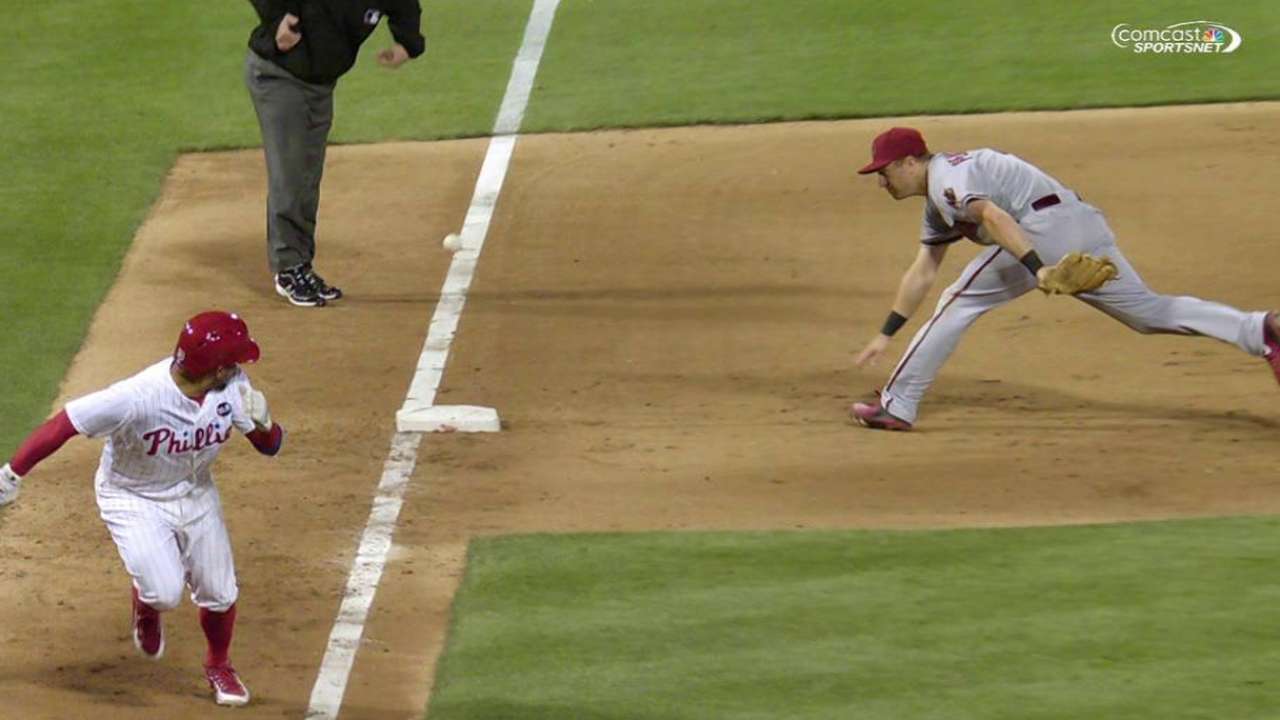 The Phillies have rattled off three straight wins for the first time this season, and this streak has seen some much needed offensive consistency. It's the first stretch since April 26-28 that the Phillies have scored three or more runs in three straight games and just the third such stretch all season.
In two of the wins on this streak, the Phillies have come back with big offensive innings after allowing runs to the other team. To Galvis, the display of resiliency is exactly what the Phillies need to continue these winning ways.
"I think that's what we have to do," Galvis said. "We kept fighting today."
Sandberg agreed that this responsive hitting is a good omen for the team moving forward.
"It's good to see those at-bats," Sandberg said. "Some have come in the middle of the game and late in the game with clutch hitting. That's good for us."
Nick Suss is an associate reporter for MLB.com. This story was not subject to the approval of Major League Baseball or its clubs.